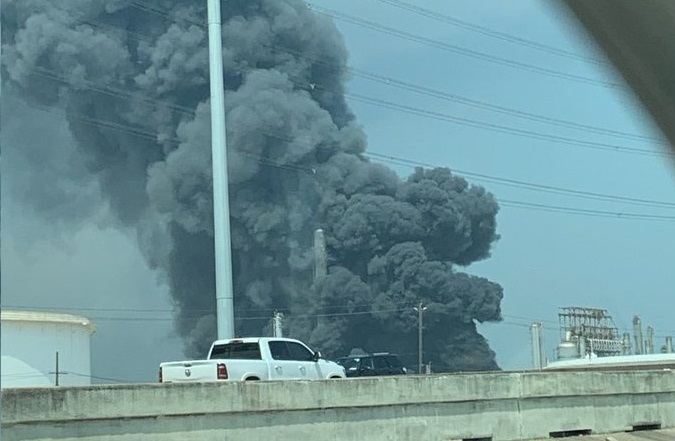 Nine people were briefly hospitalized after a massive fire at a Deer Park industrial plant on Friday afternoon.
The fire at the Shell Deer Park plant took place shortly before 3 p.m. in the 5900 block of State Highway 225 in Deer Park. Nine people were sent to a hospital for evaluations out of precaution and were released within a few hours.
According to Shell Deer Park, the fire started at their chemicals facility in the olefins unit and involved several gas oils. Fire crews were seen dousing the fire with water and by 5 p.m. the flames were mostly out.
Massive fire after an explosion at the Shell plant north of 225. No shelter-in-place in Deer Park at this time.@HoustonPubMedia pic.twitter.com/JcLy6Axup0

— Lucio Vasquez (@luciov120) May 5, 2023
Until then, the smoke could be spotted for miles. It was so thick that it was also picked up on weather radar in the region.
Shell Deer Park said there was "no danger to the nearby community" and air monitoring for impacts was ongoing.
"The cause of the fire will be the subject of a future investigation, and our immediate priorities remain the safety of people and the environment," the plant operator said.
Officials say all personnel were accounted for.
Deer Park ISD officials opted against a shelter in place order "because the wind is blowing away from the City of Deer Park and our schools" and a usual dismissal schedule took place.
Harris County Fire officials planned to remain on site throughout the weekend to monitor the fire site and investigate.
"You're looking at a large number of people that need to be interviewed," said Harris County Fire Marshal Captain James Singleton.
In 2020, the Shell plant was fined by OSHA for what they determined were serious violations. They also faced more than $400,000 in fines from the EPA over the past five years.
Happening now: Large fire in the Deer Park area visible on our TranStar cameras. Avoid the area if you can.
Follow @DEERPARKTXGOV for updates. pic.twitter.com/o3G4SSI6Gf

— Houston TranStar (@houstontranstar) May 5, 2023