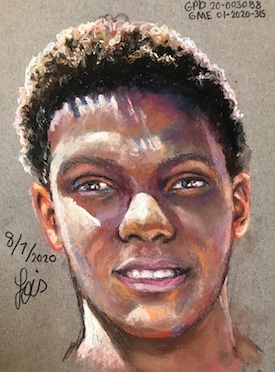 The identity of a man who drowned in Galveston in 2020 was confirmed by authorities nearly three years after his body was discovered on the beach.
Calvin Mbwambo was a native of Tanzania and was 23 years old at the time of his death, according to the Galveston County Medical Examiner's Office, which said his identity was confirmed in January. Billy Kilburn, an investigator with the ME's office, said it has since met with Mbwambo's family to go over the case.
Mbwambo's body was found May 10, 2020, on the western part of Galveston Island, on the beach near the 19100 block of Kahala Drive, according to Sgt. Derek Gaspard, a spokesperson for the Galveston Police Department. Gaspard said Mbwambo was found with flip-flop sandals around his wrists, suggesting they might have been used as swimming aids or flotation devices.
In the immediate aftermath of Mbwambo's death, Gaspard said investigators tried a series of techniques in an attempt to identify him, such as releasing a composite sketch to the public, running fingerprint comparisons, following up on tips and missing persons reports and studying tides and currents to try to pinpoint where Mbwambo entered the water.
The Galveston Police Department and ME's office eventually partnered with Othram, a Woodlands-based company that does DNA testing. It built a DNA profile for Mbwambo and conducted a genealogy search to determine that his biogeographical ancestry was East African, according to a Friday web post by Othram.
Authorities in Galveston used that information to zero in on Mbwambo's origins and ultimately his identity, with it being confirmed by a fingerprint comparison, according to Kilburn.
"This was not the ultimate deciding factor, but did contribute to the investigation," Kilburn said of Othram's DNA testing.
The web post by Othram, which did not respond to a request for comment, says Mbwambo had been in the Houston area as an exchange student.
Mbwambo's cause of death was drowning, according to the Galveston County Medical Examiner's Office, which said the manner of his death remains undetermined.