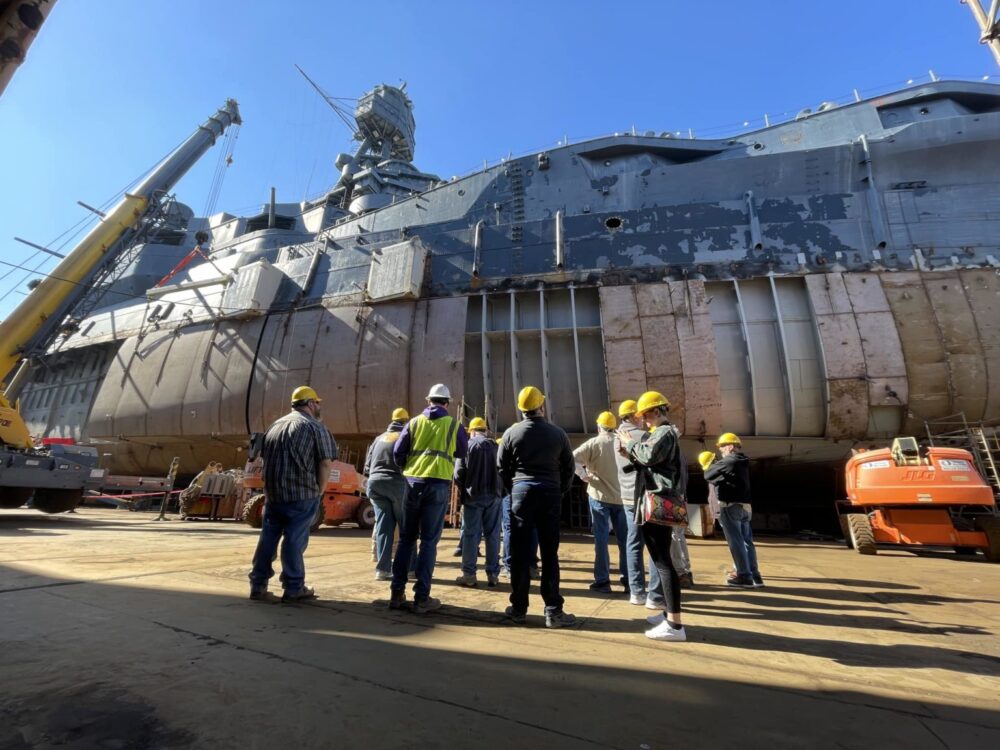 Battleship Texas, which for most of the last 75 years sat across from the San Jacinto Monument in La Porte, will head to a new home after getting some long-awaited repairs.
It has not yet been decided where that new home will be, but it won't be Baytown or Beaumont.
The two municipalities were recently informed by the Battleship Texas Foundation, the state-appointed caretaker of the last remaining battleship to be used in both World War I and World War II, that they were no longer in the running for that distinction. Foundation executive director and chief operating officer Bruce Bramlett declined to say Friday which locales remain under consideration, citing ongoing negotiations, but said there are "multiple" candidates.
He also said it was stipulated by state officials that the century-old ship-turned-museum be permanently removed from the San Jacinto Battleground State Historic Site – where its number of annual visitors had been too low for financial feasibility – and relocated somewhere along the upper Texas coast. The state defines the upper coast as Brazoria, Chambers, Galveston, Harris, Jefferson and Orange counties, an area that stretches roughly from the San Bernard National Wildlife Refuge to the Louisiana border.
"Get you a map out and a piece of string and draw an arc," Bramlett said. "And you can start figuring out, 'Well, these are the only possibilities.' "
Bramlett said a final determination likely will be made in the coming months as Battleship Texas undergoes more than $35 million in hull and superstructure repairs while dry-docked at Gulf Copper shipyard in Galveston. It was moved there last Aug. 31 and is scheduled to be there until Aug. 31 of this year, according to Bramlett, who said additional repairs could be made after that point if there is a need and funding is available.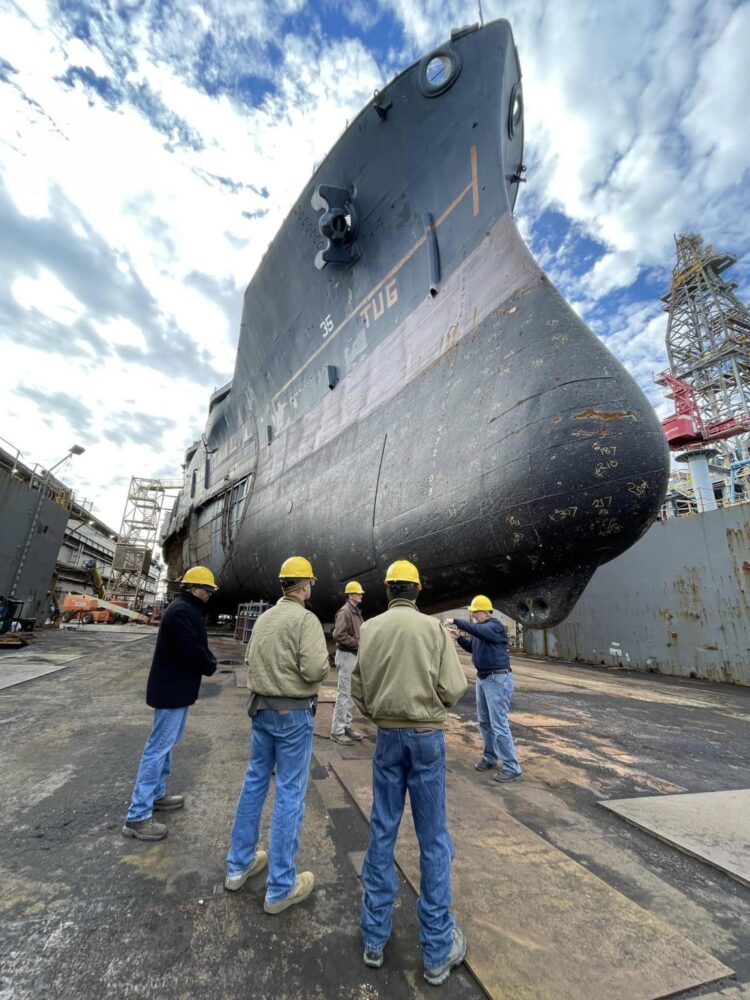 The work figures to extend into 2024, Bramlett said. And when Battleship Texas is ready to reopen to the public, Bramlett said the foundation wants it to be in a location with high visibility and high traffic.
Galveston would figure to be a prime candidate, because of its proximity to Houston and standing as a popular tourist destination. Bramlett would not confirm whether it is in the running, but Galveston Mayor Craig Brown wrote in an email Saturday that his city has been in talks with the foundation and would "love" to be selected as the permanent home for Battleship Texas.
"I and other individuals in the city have been in discussion with the group for the past year to make this a reality," Brown wrote.
Added Bramlett: "We would certainly like to add to and benefit from a geographic location where there's already a lot of people that come, a lot of traffic. That certainly has not been true at San Jacinto State Park. That's been one of the downfalls. … In the end, where is she in the best position that people and children can see her and visit her and have ease to get in and out to do that?"
In the cases of Baytown and Beaumont, which have the largest populations among cities along the upper Texas Coast, Bramlett said Beaumont "got in late" and Baytown's bid came with logistical and financial concerns. The Battleship Texas Foundation got state funding and a federal matching grant for repairs but no money to relocate, Bramlett said, so it's looking for a host site that is willing and able to invest in a long-term home for the ship.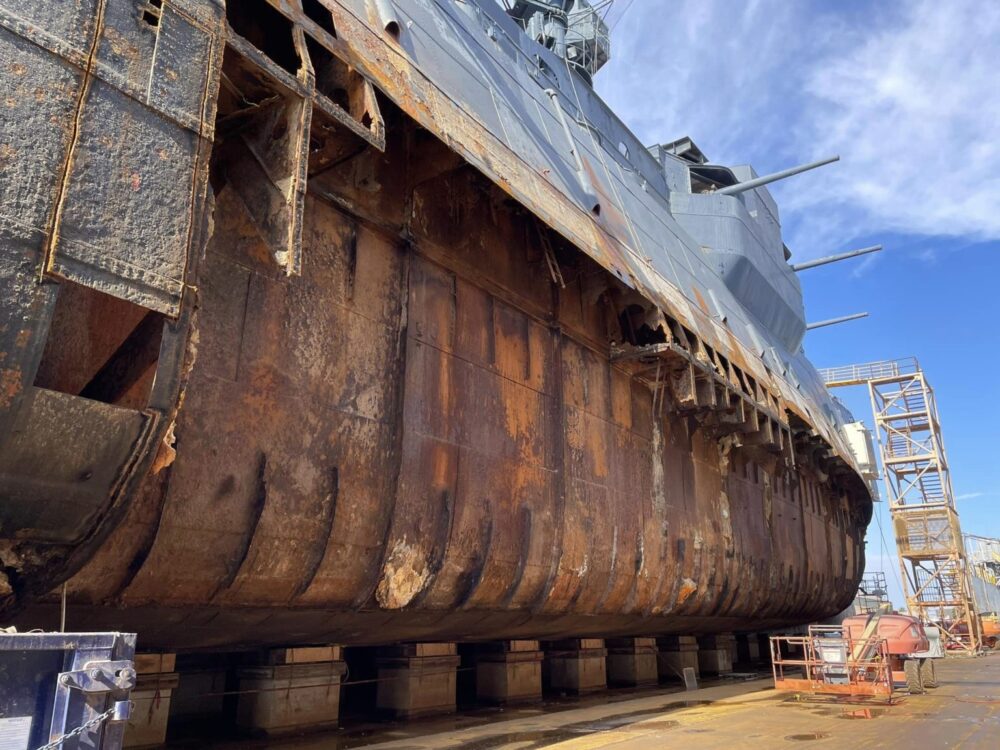 Baytown Mayor Brandon Capetillo acknowledged the city's constraints in that regard.
"Together with many Baytownians, we believed this great city and Bayland Island would have been an ideal location for showcasing its rich history," Capetillo said in a statement. "In the end, the financial implications and resources required for bringing such a monument to Baytown were simply too extraordinary to overcome."
Per an agreement it entered with the state in 2019, the Battleship Texas Foundation was given operational control of the ship for a period of 99 years. Bramlett said the foundation wants to ensure that once the battleship is moved to a new location, it stays there for decades. So the foundation is not in a hurry to make a decision, he said.
In the meantime, Houston-area residents can still see the historic battleship – even up close – while it's out of the water and being worked on in Galveston. The foundation is offering guided dry-dock tours every Sunday through the end of April. Tickets cost $150 and can be purchased online at https://battleshiptexas.org/drydock/.
"You'll be able to walk up and underneath it if you want to. You can see the work that's happening," Bramlett said. "It truly is a bucket list kind of thing. To be able to get on the dock and take a tour around it with the docents and have them explain what's going on, it's pretty amazing."