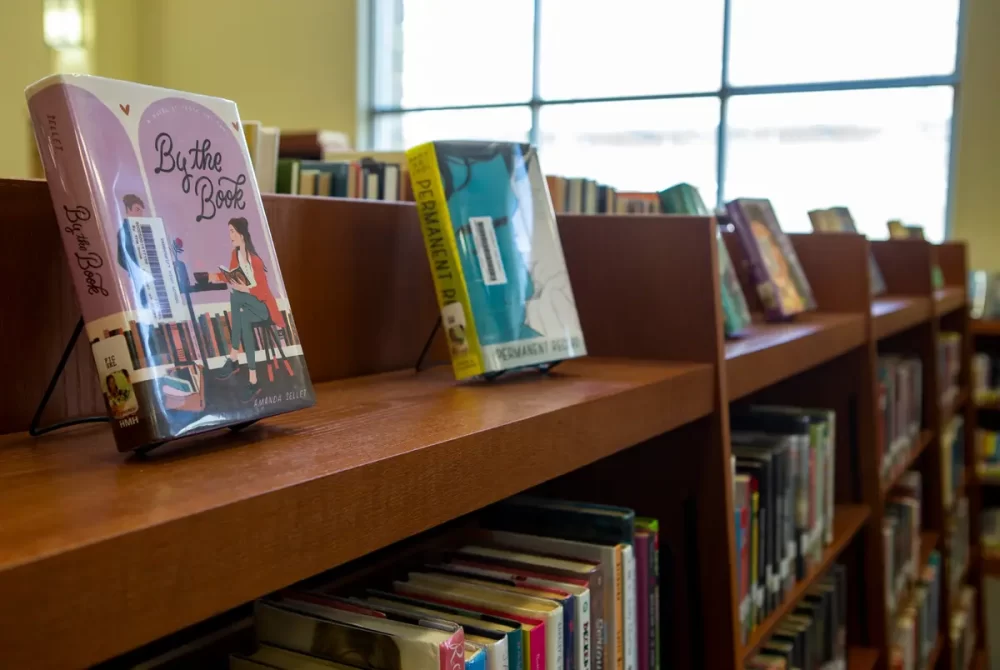 League City leaders are considering whether to create a new committee to review the appropriateness of materials at its public library, even though such a group already exists and the measure has prompted pushback from community members.
Elected officials in the community of about 112,000 residents southeast of Houston will consider Tuesday whether to create a "Community Standards Review Committee" that would be specifically charged with fulfilling one of the duties historically handled by its existing library board.
City council member Chad Tressler described the proposed ordinance, which he opposes, as unnecessary and a form of "political pandering." He also said he worries the committee, which would have a majority of its members appointed by the League City mayor and confirmed by the city council, could be manipulated to censor certain library materials and might ultimately make the city vulnerable to First Amendment lawsuits.
"Everyone who wants to create this new committee, they keep arguing that the (library board) failed," Tressler said. "They've shown no evidence of such."
The proposal for a new review committee comes a little more than two months after the city council, in a 4-3 vote, passed a resolution saying books that are determined to be "obscene" should not be purchased with city funds and must be moved from the children's section to adult section if they already are in circulation. The proposed ordinance at Tuesday's meeting entails the creation of a new, seven-person committee as well as a new "Library Materials Challenge Policy" that would guide the committee's actions and decisions.
Under the proposed policy, materials would not be allowed in the children, youth or teen sections of the League City library if they contain "obscenity or other content harmful to minors." That would apply to materials that "feature pedophilia, incest, rape, or bondage" or "graphically discuss or depict any type of sex or nudity or related topics where the intended audience is below the age of 10," according to the proposed policy.
Ironically, the League City Sunset Commission recently completed a review of the board of trustees for the town's public library, finding that the group is adequately fulfilling its mission. According to the online agenda for Tuesday night's city council meeting, it will be recommended that the League City Library Board continue until the next scheduled sunset review in 2027.
The library developments in League City have the attention of the American Civil Liberties Union of Texas, which submitted letters of opposition to city leaders before they passed the resolution in December and also before Tuesday's council meeting. ACLU attorney Chloe Kempf said federal courts have historically ruled that reshelving books from a children's to adult section is a violation of community members' rights under the First Amendment of the U.S. Constitution.
Kempf also said it's problematic that some of the terms in League City's proposed library challenge policy – such as "obscenity" and "other content harmful to minors" – are not clearly defined.
"When a law is vague, it invites arbitrary and discriminatory enforcement," Kempf said. "So this committee that's being established could impose its own views on what is appropriate and proper to censor these books. That's exactly what is prohibited by the First Amendment. Government may not remove books from the library simply because they dislike ideas contained in those books."
City council member Justin Hicks, who co-authored the December resolution and said he supports the proposed ordinance on Tuesday night's agenda, said he's not worried about potential legal challenges, adding, "What are they going to do? Sue us for creating a committee? Nobody sued us over the resolution."
Hicks also said a new committee charged with reviewing library materials is necessary, citing deficiencies in the existing review process. He said he was told by some community members that their previous challenges had not been properly forwarded from library staff to the library board and were therefore overlooked.
He also said members of the library board, because of their close association with the library, might be biased about certain materials.
"It takes the bias out of the library and allows just regular citizens who have not served in a library capacity to ultimately make a judgement call as to whether it's obscene or not," Hicks said of the proposed committee.
Tressler said he does not question the appropriateness of books already in the League City library, because it must adhere to state laws governing obscene material in public places like public libraries.
He also characterized the situation as a natural cultural issue bleeding into local government. There have been calls to remove books from public schools as well as libraries across the country and in Texas. In Huntsville, north of Houston, city officials ordered library staff to remove an LGBTQ+ Pride display last fall and subsequently voted to turn over operations of its public library to a private company.
"This is a national cultural issue," Tressler said. "This has nothing to do with city government. I would love us to get back to our schedule for repairing sidewalks."