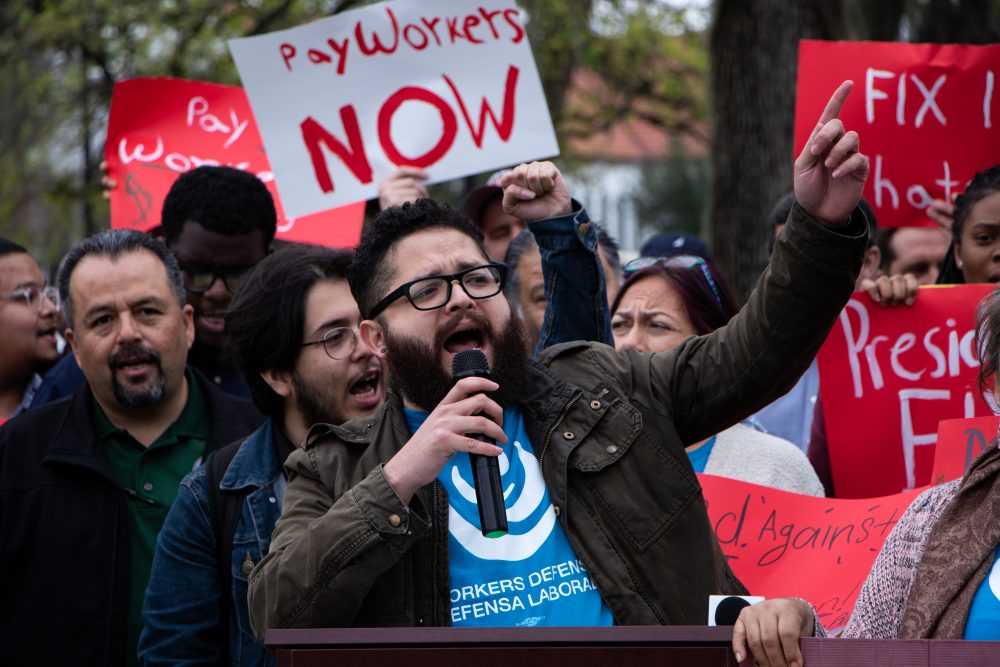 Organizers with the Workers Defense Project held a demonstration at the University of Houston Thursday to show support for construction workers claiming they were underpaid for a year. They called on UH Chancellor and President Renu Khator to make sure the workers get their wages.
Eight construction workers laying drywall within what's known as the quadrangle filed a complaint in November 2019 to the Houston chapter of the Workers Defense Project, saying they had been underpaid for their work on the renovations to the quad, a $124 million project.
"It [feels] demoralizing going to work and seeing how there are contractors who pay you less than what you are supposed to earn," said Samuel Cruz, one of the workers who filed the complaint.
The eight workers who were employed by a contractor working for the university claim they are owed at least $43,000 in back pay, including unpaid overtime wages. The Workers Defense Project said UH should be held responsible for paying the men.
"This all started when I met with a group of four workers, then a week later I was meeting with eight workers and a week later it was 16 workers," said Chele Iglesias, a Workers Defense Project campaign organizer. "In my experience as an organizer that is not normal for workers to come forward in that amount."
The organizers were joined by students, faculty and union leaders in a protest outside Khator's office. A University of Houston spokesperson responded to the allegations, saying the men are not employees of the university and that an independent CPA firm investigated the contractor, Austin Commercial, and found no payroll irregularities.
"The University of Houston values every person that is working on campus," said Shawn Lindsey, executive director of UH Media Relations. "[The university has] done its due diligence looking into the concerns, we're just not the right agency to help rectify the situation."
Lindsey suggested the men could take their complaint to the Texas Employment Commission or U.S. Department of Labor.
At the time of publication, Austin Commercial had not yet responded to a request for comment.