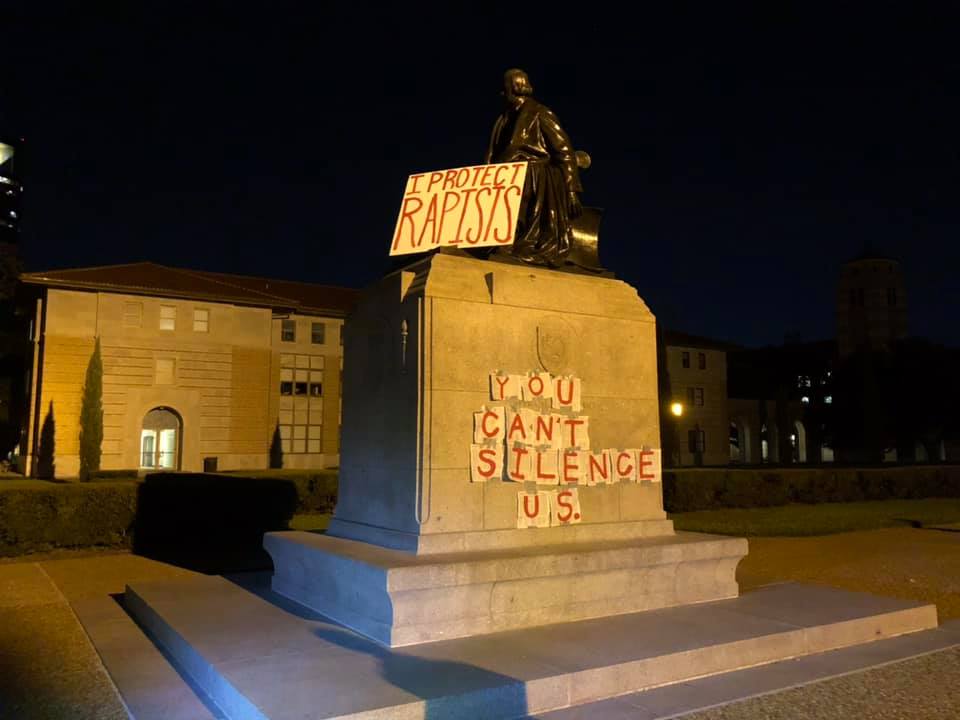 In an anonymous opinion piece published Tuesday in the student newspaper, The Rice Thresher, a recent Rice University graduate said the university awarded another student a degree, even after finding credible allegations that he sexually assaulted her. On Friday evening, the university sent out an apology, saying their decision to award the degree was a mistake — and in the future, they're changing the way they handle these cases.
The anonymous woman who wrote the piece spoke with Houston Public Media about her experience reporting the sexual assault case to the school, and the aftermath of the school's decision in the case. We're not identifying the woman, but we've verified information about her case.
She said Rice officials took six months to complete the investigation into her reported sexual assault.
"There were so many things that could have been done during that six or seven months to recognize that he was trying to prolong this process so that he could graduate early, so that he could avoid these sanctions," she told Houston Public Media. "From what I heard, there was communication between [Rice's Student Judicial Programs office] and the academic offices — both parties knew that he was trying to graduate, and both parties knew that he was en route to be suspended. And they didn't do anything about that. They just let it happen."
Rice officials told Houston Public Media in a statement Wednesday that the university imposed significant sanctions against the student, but that he had amassed enough credits to graduate when the sanctions were imposed. But a letter to the woman from Rice officials showed those sanctions didn't go into effect for several weeks.
According to the letter we reviewed, Rice allowed the man to remain enrolled and complete his courses before his suspension went into effect. The letter further stated he could apply for readmission the following year.
"I was there. I know exactly why it dragged on," the woman told Houston Public Media. "It's because he requested extensions at every possible turn. You're required to submit a witness statement. You're required to come in and read the statements that people have made about you. And at each of the steps, he was able to request an extension, so the process took a lot longer."
MORE: Victim's Extended Conversation on Houston Matters
She said her alleged attacker hired a lawyer. By mid-November of last year, the school had reached a decision in the case.
"The other student violated the Code of Student Conduct when he initiated sexual contact with you without your consent on the night in question," school officials told the woman in a letter in November. "As a result, the other student has been suspended from Rice, effective at the end of the current semester."
He was required to move off campus immediately and only visit campus for academic purposes.
Still, she said, "I definitely saw him two or three times, and every time it was really difficult for me in a way that I didn't anticipate."
She decided to write the anonymous letter to the Rice Thresher when she realized the school awarded her alleged attacker a degree, despite the sanctions.
"I think it sends a very strong message that it doesn't really matter. That he sexually assaulted me, but it's fine," she said. "He can still have a Rice degree. He can still have that name that will get him a job at a lot of different places."
The piece was widely shared on social media. Rice students reacted on campus, covering the statue of the school's namesake, William Marsh Rice, with printed copies of the anonymous opinion piece late Thursday night, according to the Rice Thresher. Protesters left signs on the statue that warned "I protect rapists," "pay attention," "you can't silence us."
In response, Rice officials scheduled a meeting with the woman.
"They're only reaching out now because they know that they've been caught doing this really terrible thing," she said. "I think it's kind of nice because now I've been validated by all these people, and there are all these people that know my story so I can't just be shoved in a closet or under a rug anymore."
On Friday, after meeting with the woman, Rice issued another apology, this one signed by University President David Leebron and Dean of Undergraduates Bridget Gorman.
"At the time the decision was made," Leebron and Gorman wrote, "Rice had no explicit policy in place about how a suspension should be applied to a student who is able to graduate before the suspension could take effect. We have determined that there should be such a policy, and that the decision made in this case was in fact a mistake. For that, we sincerely apologize. In the future, our policy will be to not allow anyone to graduate without serving their sanction."
The woman told Houston Public Media her alleged attacker now works at an engineering firm. Her goal, she said, was for the school to make changes to prevent another student from ending up in a similar situation. She didn't ask the school to revoke his degree.
"It's a bit too late for anything to be done in my case since he has already been given a degree, and I don't think I'm comfortable asking Rice to try to take that degree back. I think that's going a bit too far," she said. "I just think that I would like it to not happen again."