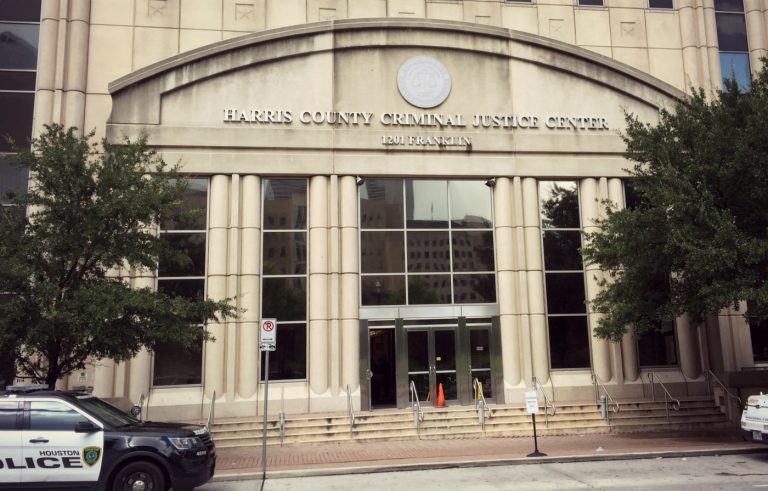 A federal judge has approved a tentative settlement in the historic lawsuit over Harris County's bail system.
Commissioners Court had previously OK'd the deal in July.
Melissa Spinks, executive managing attorney with the Harris County Attorney's Office, told News 88.7 that Chief Judge Lee Rosenthal, of the Southern District of Texas, rejected objections to the settlement, which only covers misdemeanor cases.
The controversial system pitted poor people against the justice system and has been subject to a lawsuit since 2016. Rosenthal ruled it unconstitutional in 2017.
The tentative settlement means that most people with misdemeanor charges — about 85%— would be released on personal recognizance bonds, meaning they wouldn't have to pay a bail bond.
Other key parts to the tentative agreement:
People with a bail hearing would receive free legal counsel through the Harris County Public Defender's Office.
A judge would decide if certain cases need to be subject to bail, such as family violence cases, certain assault cases and people who have violated court orders.
Harris County would create an "open hours" court where people facing misdemeanor charges could reschedule hearings if they miss their court date; and
Court-appointed monitoring for a period of time.
Harris County District Attorney Kim Ogg, who had objected the settlement, said in a statement that Rosenthal's ruling underscored that bail reform is important.
"It is now upon our elected judiciary to responsibly use the power the court has given them to ensure defendants show up in court and to protect the public from violent, high-risk offenders," Ogg said.
A final "fairness hearing" on the settlement agreement is set for Oct. 21.
Below is a copy of Rosenthal's ruling: