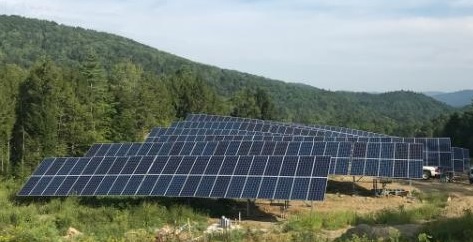 A project to build one of Texas' largest urban solar farms in south Houston is underway. The City of Houston has selected Wolfe Energy to develop the farm in Sunnyside on a 240-acre landfill that has been closed for decades.
The project is part of the city's participation in the C40 Reinventing Cities competition, which Houston joined in 2017.
The farm's 70 megawatt solar array could generate electricity for 12,000 homes and provide discounted rates for Sunnyside residents, according to the city.
"We're taking a former landfill and making it into a productive, useful neighbor," Dori Wolfe, owner of Wolfe Energy, told News 88.7.
The company says the solar farm is also part of the city's strategy to combat climate change.
"Within the first five years of its operation, it will offset the carbon it took to create the farm," said Wolfe, "and then it will be net carbon inducive because it's offsetting fossil fuel carbon output."

Solar farms are a new trend
While Houston is touting this development as one of the largest of its kind in the state, the concept of urban solar farms is already taking off. Energy expert Joshua Rhodes said urban solar farms are becoming a trend in Texas.
"Since the price of solar (energy) has been dropping significantly, it's making more and more sense on these smaller scales," said Rhodes, a researcher at the University of Texas at Austin's Energy Institute. "We're starting to see more development, you're starting to see communities decide that they want this."
Rhodes said it's sometimes hard to build new energy infrastructure in cities, so solar farms are seen as beneficial for the local power grid. Those grids don't store energy, so when a solar farm produces power "that means some other power plant, one that likely produces carbon dioxide, is not going to be producing as much power."
Sunnyside revitalization
City leaders also see the farm as a step toward revitalizing the Sunnyside neighborhood. Larissa Williams is the energy manager in the city's Office of Sustainability. She said the landfill where the farm will be built had become an "eyesore" and pointed at more affordable electricity as a positive outcome for residents.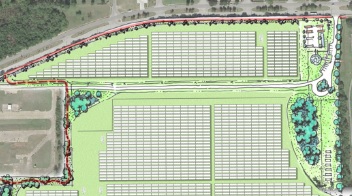 The city and Wolfe Energy are currently working out the details of the lease for the land and a environmental feasibility study will be conducted.
Wolfe said she expects the farm to start operating in late 2020 or early 2021.