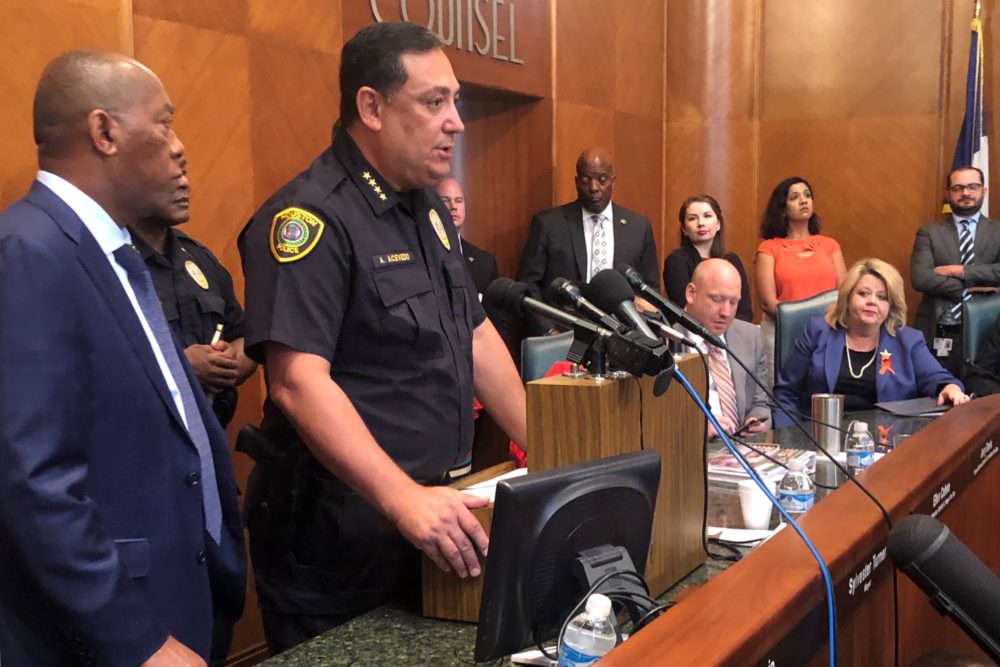 The Galveston Police Department drew national outrage after a controversial photo went viral online depicting two white police officers mounted on horseback, leading a black man by a rope down the street.
The photo recalls historical images from the time of slavery and the Jim Crow era. It was posted by a Twitter user on Monday and quickly spread, catching the attention of national news.
On Wednesday, Houston Police Chief Art Acevedo weighed in on the backlash to the Galveston police department's policy.
"It's not going to happen here because that's not the way we train," Acevedo said. "It will definitely not happen here. It's not happened here before. It's not the way they're trained. It's not in our policy. And I have a very strong suspicion that it will never happen again in the city of Galveston."
THIS IS WRONG! #interruptracism #confrontbigotry #galveston #police pic.twitter.com/8nzUakDbJ9

— Erin Tobz (Tobz) (@ErinTobz) August 5, 2019
Acevedo said the Houston mounted unit handles hundreds of protests every year and the feedback is generally positive. According to Acevedo, mounted police in Houston would not lead a suspect by a rope.
"That's not our policy," he said. "Our policy is actually to dismount to make an arrest. And if they make an arrest, they either have to walk them to the location where they're actually going to meet the transport van or the transport unit, or just wait for the transport unit."
Police departments are likely to make changes based on the incident, according to Acevedo.
"Optics matter, and I'm sure they'll never do that again there," Acevedo said. "And quite frankly, in the world of cyberspace and law enforcement agencies, we learn from each other's good acts and we learn from each other when we have some controversy. And I have a feeling that departments that may not have had a policy like we have will be changing their policy as of probably yesterday, if I had to guess."
In a statement on Monday, Galveston Police Chief Vernon L. Hale, III said mounted officers were trained to use this method to detain people during some crowd control scenarios, though in this case, officers should have waited for a patrol vehicle to transport the suspect. He said the officers showed poor judgment and the department will no longer transport people in this way.
According to the police department, the suspect was arrested for trespassing.