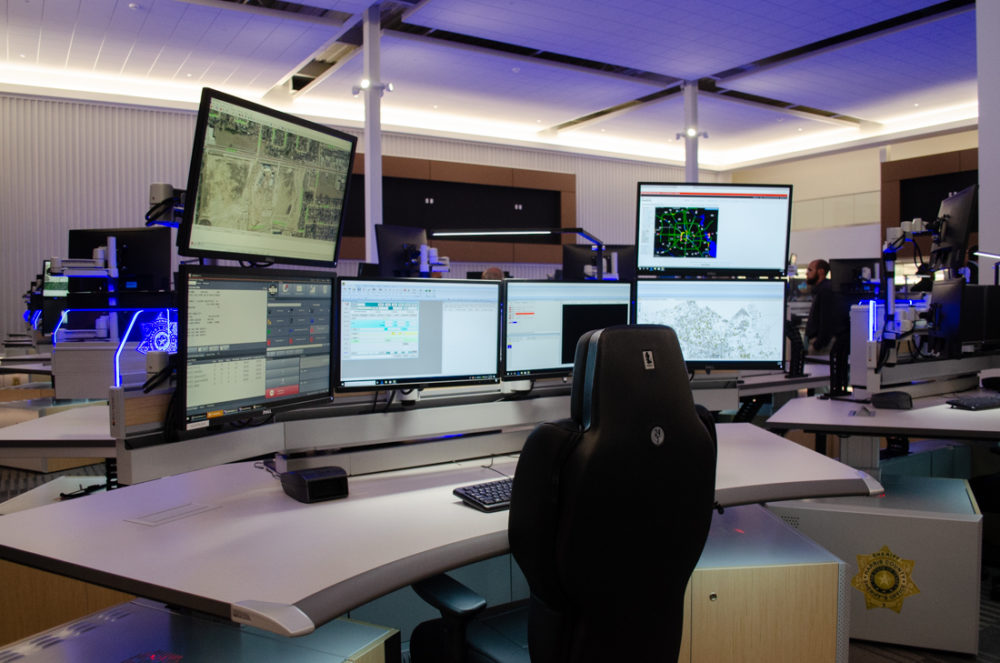 Harris County officials unveiled a new 911 call center in northeast Houston Friday. The new center can house 72 operators, and officials say it's designed to weather even the worst natural disaster.
During Hurricane Harvey, Greater Harris County's primary 911 call center on Buffalo Bayou flooded, forcing operators to relocate. That meant longer wait times when people needed help.
This new 911 facility in northeast Houston won't be as vulnerable, according to Harris County Sheriff Ed Gonzalez. He said the site didn't flood during Harvey. The center is also supported by three backup generators and two uninterruptible power supplies. It has laundry facilities and sleeping quarters for operators in a disaster.
"We won't lose operations for just about any disaster," Gonzalez said. "Obviously, there's always that one that is unforeseen that we just didn't think about, but by and large, with anything that we would see, storms or anything, we should be sustainable."
Jason Spencer, a spokesman for the Harris County Sheriff's Office, said the center uses next-generation 911 technology. It's a technical advance that helps the 911 system handle calls more efficiently.
Rather than the regular analog telephone routing system, which only allows voice calls with limited location data, next-generation 911 allows callers to transmit data to the 911 call center via the internet, according to the National Highway Transportation Safety Board. Callers won't notice much difference on their end — most of the improvements happen behind the scenes.
One major benefit of next-generation 911 is the ability for call centers to share the load when dealing with high call volumes during a natural disaster or mass casualty event. That was a big problem during Hurricane Harvey, when wait times for 911 spiked — the New York Times reported that over 40% of callers hung up before their call was answered when wait times were longest.
Next-generation 911 also helps emergency services work together better. During Harvey, 911 calls went first to the sheriff's office, then were transferred elsewhere if the caller needed medical service. They then had to re-explain their problem. Next-generation 911 allows services to share information more effectively.
The new center will come online Tuesday, April 30.