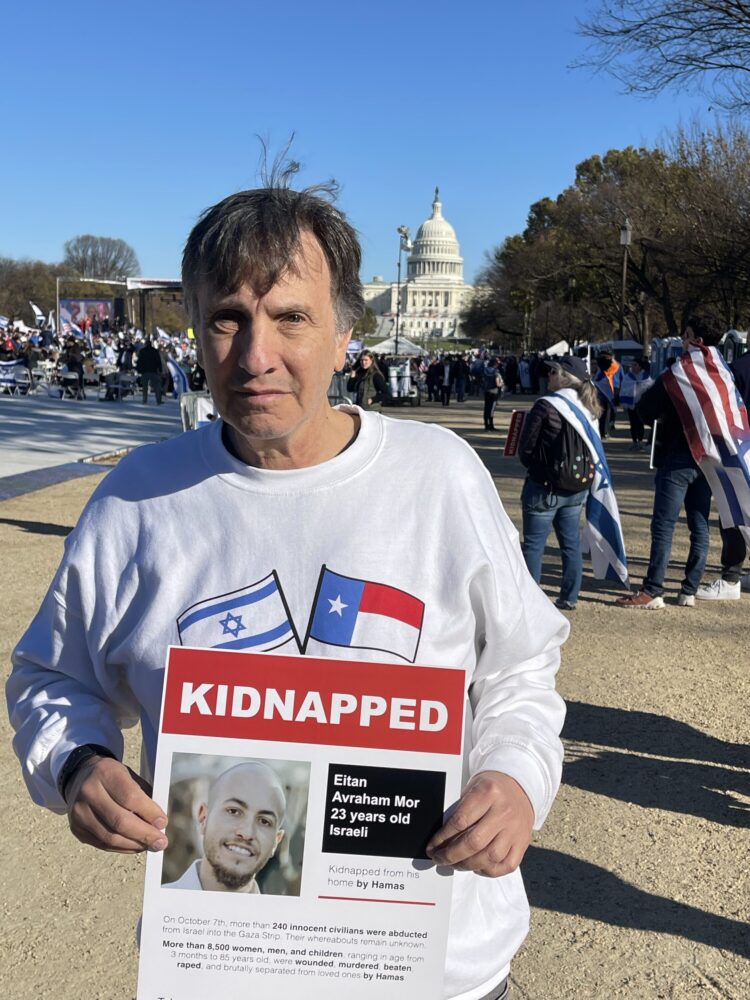 Eitan Avraham Mor is one of more than 200 people taken hostage after Hamas attacked Israel on October 7. Dr. Alan Kellerman, a cousin of Mor's, lives in southwest Houston. Reporter Andrew Schneider spoke with Kellerman about his cousin's situation.
This interview has been edited for length and clarity.
What happened to your cousin Eitan?
I had an opportunity to talk to Eitan's father this morning. And Eitan's father told me that he's 23 years old, and he had finished his IDF service, and that he was living in an apartment in Jerusalem. And he had two jobs. He had a job working in a restaurant and also a job doing various security things. And Eitan, at the time, was working at the music festival near Gaza, doing security on that morning. And (his father) told me that Eitan was with a friend who was also doing security, and that when, in the early morning hours, the terrorists came and did their horrible savage things, Eitan had escaped, but he felt like he needed to go back and help people. And so, he went back several times. He took a truck and went back and took people and kept going back. And then he was going to finally leave the situation and protect himself. But he came across the bodies of two dead women. And he didn't want to leave them there. So, he went back, and he got one of the bodies, and he put it on a truck. And he found some pit to bury or put the body in so it wouldn't get taken back to Gaza. And then he went back for the second body somewhere around 2:30 In the afternoon. That's when he and his friend were last heard from, and then he went missing. About 10 days later, somebody from the government came to Eitan's parents' home and told him that he was a hostage in Gaza.
What should people know about what Eitan is like as a person?
I actually asked his father to tell me two stories about his son that make him smile. And so he said, Eitan's apartment was an open apartment. Everybody knew that they could just come to his apartment unannounced, and he would feed them and offer them drink. And he was somebody who offered them a lot of comfort and emotional support. He was just that kind of guy that people were drawn to him, because he was just this very open, giving human being. And he was known to be this, just very kind, you know, what-I-have-is-yours-also-type person. And so, that was one thing he said to me. And then the other thing he said to me was that he has a memory of Eitan being in the post office with him on a long line. He says the line was very long, and there were a lot of older people on the line. And he said Eitan spent most of the time in the post office trying to find seats for the older people so that they could sit down and not have to stand while on this long post office line.
It's now been more than a month since the attacks occurred. What has it been like for you not knowing what Eitan's situation is?
Yeah, that's a question that I asked the grandfather, my first cousin Eli, and I also asked the mother and the father of Eitan. And they all answered, actually, in the same way. They all said, "We pray to hear good news, and we prepare ourselves for the worst."
Watching the news for me has been an obsession. So, you know, I think what's going on in Israel, for me, is not something that's going on for somebody else. For me, what goes on in Israel is happening to us, not just to them. So, I feel this tremendous sense of, like, this is my family, you know, all of them, you know, not just the 500 people that are really in my family. But I think of all of the Jewish people as my family. And I feel that very profoundly in this moment, more so than ever before.
Is there anything that I haven't asked you about that you think people ought to be aware of?
Just to say that, the world doesn't have a lot of patience for seeing the destruction in Gaza. And when they see Palestinian suffering and the devastation that Gaza has undergone over the last several weeks, the world wants a ceasefire. And I think that, it's frustrating to me that the world isn't saying, "Let the hostages go." And I would love the world to be aware of the hostages and for that the world to send a message just like we sent a message at the rally in Washington a couple of days ago, which is, "Free the hostages. Free the hostages." That's such a huge thing. And somehow, there's no visual, like we don't have visuals of the hostages. We have visuals of people in Gaza suffering. But the world needs to have a consciousness about these hostages. There are 240-odd hostages. There was a baby that was just born. And it just seems like the world is silent, and that's disturbing to me.