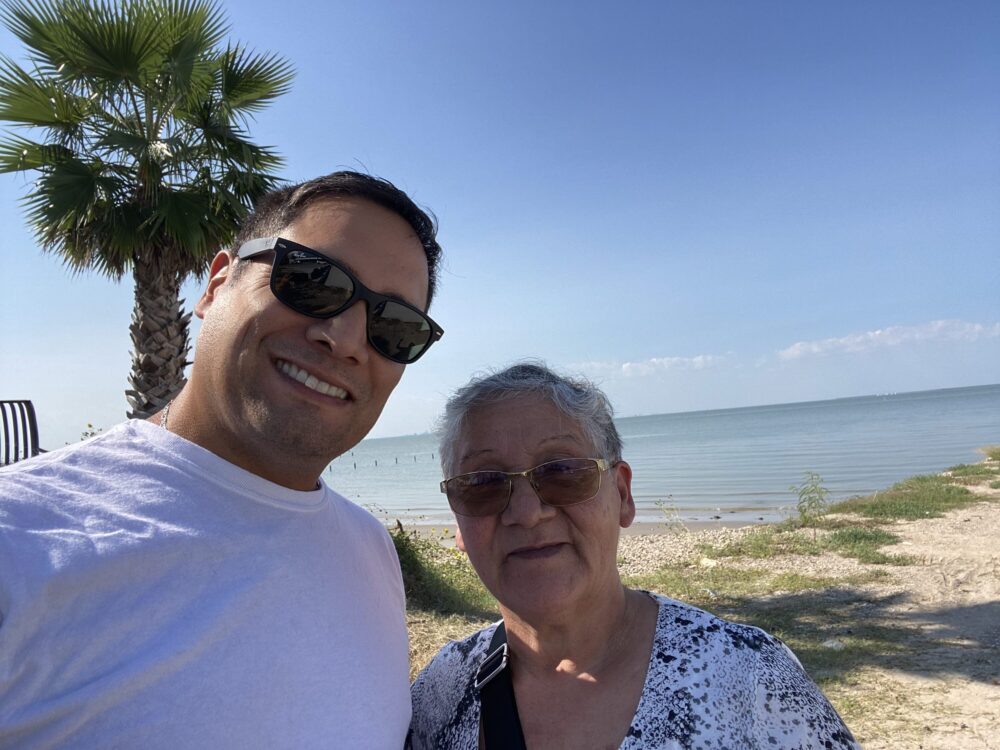 Tyler Graf has a hard time explaining what his last 16 months have been like.
Learning about his biological mother and sharing an embrace with her for the first time – as a grown man with a child of his own – were joyous occasions. They also provided a renewed sense of belonging for Graf, a 39-year-old Houston firefighter who said he spent much of his life thinking he had been unwanted and abandoned.
There have been feelings of anger and sadness as well, because their decades of separation were rooted in deceit. Graf and Hilda Quezada Godoy both wonder what it might have been like if they had remained together in Quezada's hometown of Temuco, Chile, instead of her son being taken at birth and put up for adoption in the United States.
And the budding relationship between mother and long-lost son, while rewarding, also has been a bit disorienting for Graf. A language barrier hinders their communication, and in some ways his mother and three sisters seem like strangers he is gradually getting to know.
"It's difficult," Graf said. "But also, I want this for so many other people."
Last October, about a month after mother and son were reunited, Graf launched a nonprofit organization called Connecting Roots in which he helps other Chilean adoptees discover their heritage and reconnect with their biological families. He said he likely is one of thousands of Chilean children who were separated from their mothers during the 1970s and '80s under the military dictatorship of the late General Augusto Pinochet, who was in power from 1973-90 and encouraged overseas adoptions as a means of reducing poverty.
A Chilean judge in 2018 opened a criminal investigation into the country's international adoptions and found that at least 500 children had been illegally adopted through a widespread, coercive practice that involved healthcare professionals, social workers and other agents of Chile's government.
Graf said his adoptive parents, who raised him in Minnesota and Colorado, were told his biological mother already had other children and chose to give him up because she could not afford to care for him. Quezada, meanwhile, had been sedated for a cesarean section and was told her son, born three months prematurely, had died soon after, according to Graf, who said his mother was denied the opportunity to see the baby's body.
Quezada, in a written statement that was provided in Spanish and translated into English, said it was a "surprising moment" to meet Graf's adoptive mother, Carol Graf Carnish, and hear her account of the adoption. Quezada has visited Graf and his family in the Houston area each of the last two Septembers.
"Being here with him at home is a dream come true," Quezada said. "Meeting his wife and my grandson is the most beautiful thing that has ever happened to me."
Graf said his nonprofit operates with five volunteers, including himself and his youngest sister from Chile, Claudia Antinao Quezada, and has so far helped 28 other families reunite. He said the organization is close to facilitating reunions for six others and has several more it is working with.
Connecting Roots helps both adoptees and mothers find each other, utilizing associations in Chile, the U.S. and elsewhere, and provides DNA tests through a partnership with MyHeritage, according to Graf. He said his organization also has a partnership with Babbel, an online learning app, and provides reunited families with a free, one-year subscription to the service.
Along with reconnecting families, Graf said one of the missions of Connecting Roots is education so mothers like his can better protect themselves and their infants. He said he has learned to identify potentially coerced adoptions by using an identification number, similar to a Social Security Number, found on Chilean adoption paperwork. Those numbers are removed from a Chilean database if they belong to a person who has died or left the country, according to Graf, who said a still-active number tied to someone no longer living in Chile, such an international adoptee like himself, indicates an irregularity.
Graf said he discovered he still is considered a Chilean citizen, under the name Sergio Andreas Quezada.
"All these adoptees, we actually have two identities," he said. "We're two people."
Graf said his nonprofit has the support of both his biological and adoptive families. The League City resident runs it while balancing his career as a firefighter with his role as a husband and father to a 1-year-old son.
The seedlings for Connecting Roots were planted more than a decade ago, when Graf was assigned to work with firefighters from Chile who had come to Houston to learn and train. He befriended Juan Luis and told him about his beginnings in Chile, and Luis told Graf he would try to help him find his biological family once he returned to South America.
Then, in May 2021, Graf got the surprising news that Luis' years-long search had been successful. Graf got on a Zoom call two days later that included one of his sisters and had a video call with Quezada shortly thereafter.
A few months later, on Sept. 18, 2021, Luis and a television journalist in Houston helped Quezada make a surprise trip to Houston to meet her son. Graf started his nonprofit shortly thereafter, and he said Luis now helps Connecting Roots by greeting adoptees at an airport in Chile when they arrive to meet with long-lost loved ones.
"This is also helping me heal. I don't think I've fully dealt with my trauma (of being separated at birth)," Graf said. "I just jumped in headfirst to start the foundation. It's rewarding, knowing how it felt for me to get this. To see someone else go through and get their match, it just fills my heart."