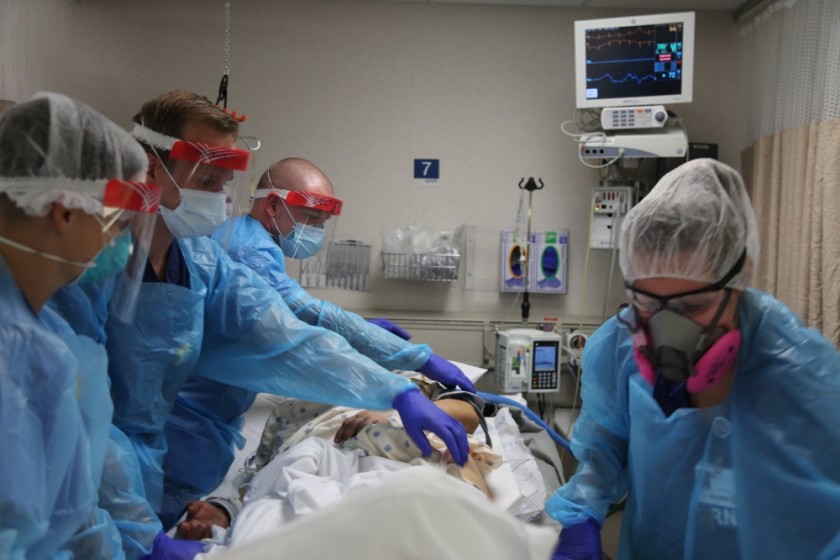 When Jerry Guerinot was in Houston Methodist Hospital's intensive care unit with COVID-19 and double pneumonia, the doctors thought his last breath was near.
They said Guerinot, who was admitted on Jan. 10, 2021, had less than 5% chance of surviving. The criminal defense attorney spent 35 days in the ICU.
"It's the worst thing that ever happened to me," he said.
He spent the next three months in the hospital unable to walk or sit up in bed and he struggled to breathe. They sent him home to recuperate, but he was back at the hospital a month later with bacterial and viral pneumonia and bronchitis — a result of his previous COVID-19 infection. He would be hospitalized two more times as the side effects of COVID lingered.
Guerinot had long-COVID, a lasting effect of the virus for many COVID-19 patients. Symptoms vary depending on the patient. According to the Centers for Disease Control, common signs of long-COVID include difficulty breathing, fatigue, brain fog and chest or stomach pain. Guerinot said he's suffered from almost every symptom.
A majority of COVID-19 patients who were hospitalized at Memorial Hermann Hospital experienced long-COVID, according to Dr. H. Alex Choi, the director of the hospital's ICU.
The hospital followed these patients for a year and found that around 70% of them were experiencing long-COVID three months after being discharged. That number went down to 20% after six months and 5% of the patients still had lingering effects of COVID one year after being discharged.
Choi, who also works as a critical care neurologist at UTHealth's long-COVID clinic, said he became concerned about long-COVID in spring of 2020. Two years later, he said scientists still don't know much about what causes it.
"I wish we could say we know a lot more," Choi said.
What doctors do know is the breadth of long-COVID's impact, which is larger than what they had expected at the beginning of the pandemic, Choi said.
Some of these patients with long-COVID are showing up at in-patient rehabilitation centers like TIRR – The Institute for Rehabilitation and Research at Memorial Hermann. That's where Dr. Nikola Dragojlovic, an assistant professor in the Department of Physical Medicine and Rehabilitation at UTHealth Houston, treated Guerinot after his second hospitalization.
Dragojlovic and the physical therapists at the rehab center worked with Guerinot on regaining his physical endurance and mobility — things like sitting up in bed, getting up to brush his teeth and increasing the distance he walked.
"That would be exhausting for him, just to do one or two of those things," Dragojlovic said. "His endurance improved dramatically while he was here for rehab."
There's therapy to rehabilitate from the physical symptoms of long-COVID that can help patients find some normalcy. Still, that type of therapy treats only the body.
Dragojlovic said there are many patients with persistent anxiety and depression who also need to treat their mental health.
Choi said the mental health impact of long-COVID is one of the main challenges he's seen his patients struggle to overcome. As the physical symptoms subside and patients start to breathe normally again, the anxiety lingers. It can make someone whose oxygen levels are normal feel like they're struggling to breathe.
A year after he was first discharged from the hospital, Guerinot worries he'll get COVID again.
"If I get a cough or if allergies affect me, the first thing I think of is 'am I going to be re-infected with this stuff, and am I going to end up dead this time?'" he said.
Doctors working to treat long-COVID are trying to determine if mind-body therapies — that treat both physical and mental health symptoms — can help patients like Guerinot. The theory is that if a person's mental health improves, their physical health will also improve.
Dr. Lorenzo Cohen, the director of the integrative medicine program at The University of Texas MD Anderson Cancer Center in Houston, has been using yoga as mind-body therapy with cancer patients for more than 20 years.
Yoga, which can help the body regulate its stress hormones, has been shown to improve patients' quality of life by decreasing sleep problems and controlling fatigue, Cohen said. He added that cancer patients and long-COVID patients have some overlap in symptoms — they both experience chronic fatigue, brain fog and physical pain.
Cohen is now piloting a study with a Vinyasa yoga group and UTHealth to try it with long-COVID patients.
"If you were to just have somebody do breathing exercises without incorporating aspects of relaxation, it may actually lead to more anxiety," Cohen said.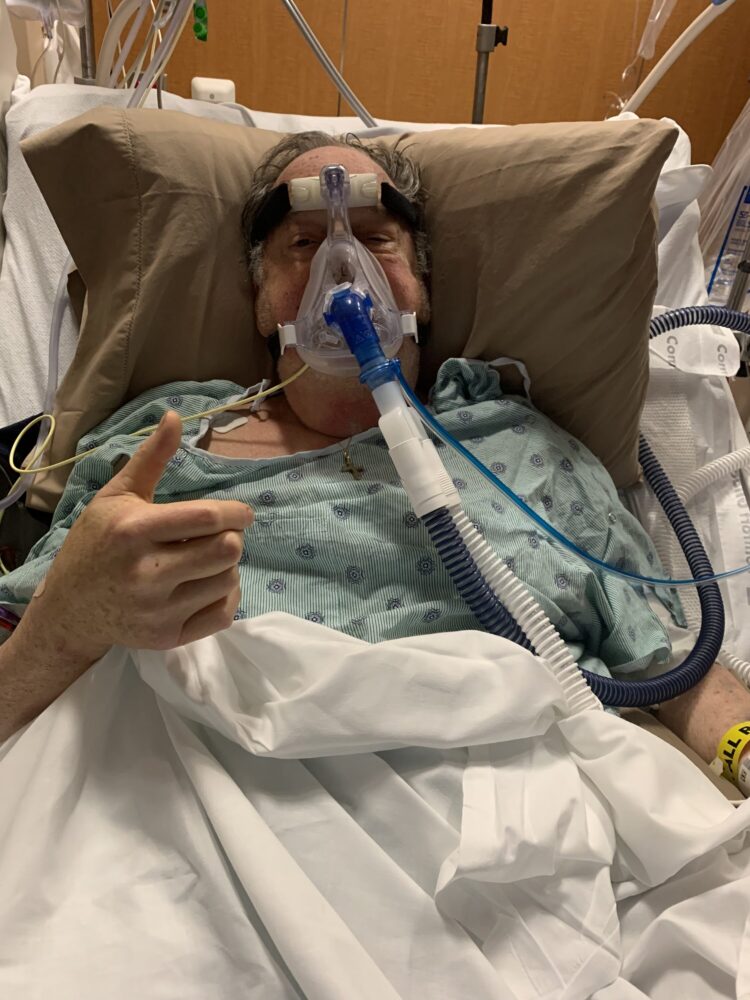 Guerinot said he found his strength through his support system and that he wouldn't here today without the medical team at TIRR or his wife, Bette. They spoke over video calls every night while Guerinot was in the hospital and she slept in his room at the in-patient rehab center, where she brought him his favorite velour blanket and put up pictures of their family to inspire him to persevere.
However, Guerinot's recovery isn't complete. He said he has to take a nap to get through a full day of work and the anxiety whenever he gets a tickle in his nose hasn't subsided. Still, the attorney said he has hope that he'll fully recover from his infection someday.
"I'm going to keep doing what I can to give me the best chance to recover fully and to keep in the fight," he said. "I have hope for that, and I think when you lose hope, you lose a lot of your steam to get after it."