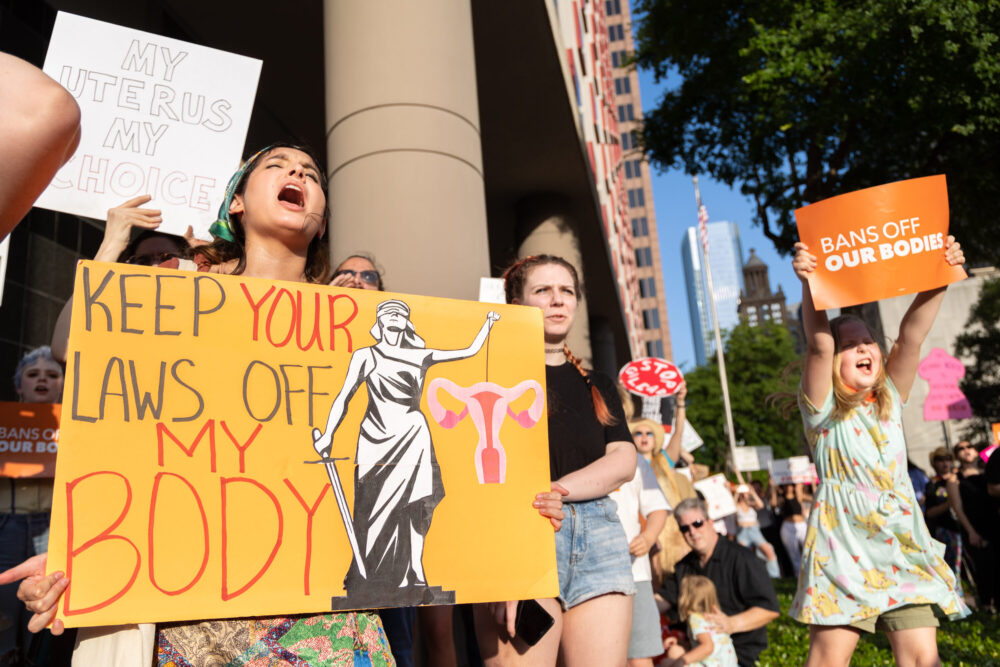 Hundreds gathered at Houston City Hall Tuesday evening after a leaked draft opinion by the United States Supreme Court brought the state of Texas one step closer to a complete ban on abortion.
The protest was held in response to a majority of the justices who reportedly voted to overturn Roe v. Wade, which established the right to abortion nearly 50 years ago, according to a leaked draft opinion published by Politico late Monday, NPR reported. The authenticity of the document was later confirmed by Chief Justice John Roberts, who directed the Marshal of the Supreme Court to investigate the source of the leak.
Tuesday's protest was among several held throughout the city of Houston, with similar demonstrations taking place across the state and country.
Outside of City Hall, Stephanie Quintero chanted alongside protesters while holding a sign that read "respect female existence or expect our resistance." She said she felt frustrated and shocked after learning of the leaked draft opinion.
"It's like we're going back in time," Quintero said. "If we take a step back on this, it's just the first of many rights being taken away. It could be gay marriage or any other issue we've had to fight for."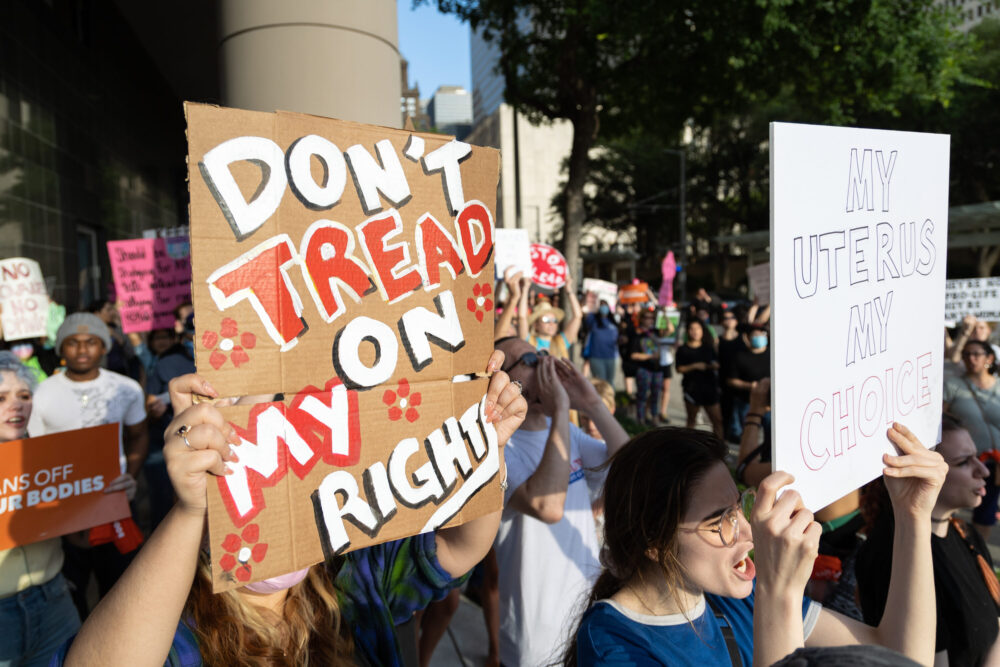 Representatives from several advocacy groups were present during the protest, including the ACLU of Texas, Planned Parenthood, and Avow. Caroline Duble, the political director for Avow, said that she believed the fight for abortions rights would continue at the state level, regardless if Roe v. Wade is overturned.
"The fight stays the same," Duble said. "We keep pushing at our state legislature and we keep pushing progressives and candidates who say they support abortion access to be better on this issue and bolder on this issue."
The state of Texas had previously made efforts to restrict abortions with the passing of SB 8 in September, which outlawed abortions after the first six weeks of pregnancy and allowed citizens to sue people or organizations who perform or helps someone get an abortion. The state also passed a so-called "trigger law" last year, which would make performing an abortion a felony if Roe v. Wade is reversed — Texas would be one of more than a dozen states that would completely ban abortion.
Across the state, five Texas district attorneys from Fort Bend, Dallas, Bexar, Travis, and Nueces counties have already said that they wouldn't purse criminal charges if Roe v. Wade is overturned. In a statement, Harris County DA Kim Ogg publicly denounced criminalizing abortion, but stopped short of saying whether she would refuse to follow through with abortion-related charges.
"I am concerned that the justices of the nation's highest court may overturn long-standing precedent of a woman's right to make decisions about her own healthcare, specifically her right to privacy to choose abortion," Ogg said.
Rachel Hinds, who attended Tuesday's protest with her 22-year-old daughter Olivia, said she had fought for abortions rights when she was younger, and was disappointed that the fight was still continuing during her daughter's lifetime.
"One of the things that I remember, most clearly, is women dying from illegal abortions," she said. "People taking advantage of women out of their desperation, cheating them out of money and many times out of their very lives. And I can see that kind of thing happening all over again."
Abortion opponents in Texas have voiced their support of the draft ruling. Bobbie Zamminer, the executive director of the Community Pregnancy Center of Pasadena, said she supported the overturning of Roe v. Wade, but was worried that it would cause more division in an already polarized community.
"I am not for abortion as a choice, obviously, but I know there are a lot of people who can't see past that crisis," she said. "There need to be some people who can walk with those women who have had this right, what they believe is a constitutional right, taken away from them."
MORE | After leaked draft of Supreme Court opinion, abortion-rights supporters brace for total ban in Texas
Debora Evans stood near the back of the crowd at the end of Tuesday's protest. She said that the protest would change nothing unless people make their voices heard during the upcoming November election.
"If we don't vote in high numbers and try to change the scheme of what's going on, then this means nothing. It's just a bunch of screaming and hollering," Evans said. "You get those people that's continually making these decisions and laws out of office, then there may be some changes."