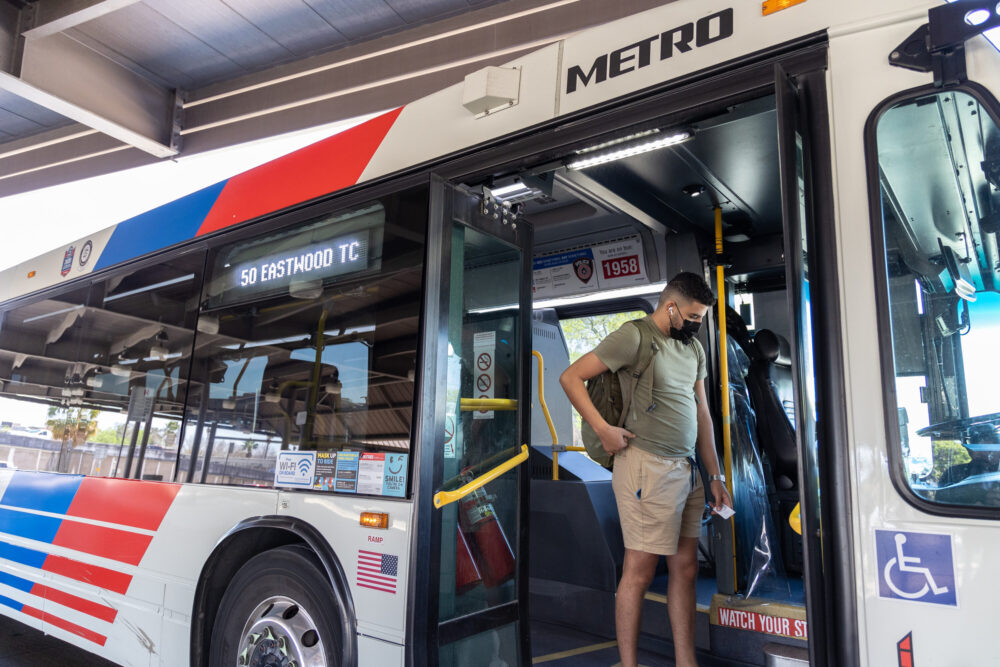 After a pandemic slump, METRO says it's starting to see more people on its buses and trains.
Officials say big events like the Houston Livestock Show and Rodeo have helped boost ridership. They're also looking into whether high gas prices have something to do with it.
But the agency says it still isn't seeing the kind of ridership it had before the pandemic.
METRO's Tracy Jackson spoke to Houston Public Media about what the agency needs to do to bring those numbers up even more.
Read or listen to the interview below, edited for length and clarity:
How much does the increased ridership have to do with high gas prices?
Anecdotally, we have certainly heard stories about people wanting to give transit a try because of the rising gas prices. At this point, though, it's really too early to attribute our increased ridership to gas prices. We would certainly need some more time for our service planners to analyze that. And there are all these other variables.
Now, one of the biggest growth areas that you saw in terms of February ridership was on the park and ride buses. And I know Metro said earlier that might be one of the last services to come back. But right now you are starting to see some growth on those routes. So are you pretty much where you want to be right now in terms of sort of rebuilding that ridership?
No, we're still nowhere near pre-pandemic levels when it comes to ridership, particularly on our park and ride routes. We know it'll take time to get back there. We know a lot of employers are still allowing their employees to do a hybrid schedule. But as you mentioned, we have seen some significant growth. And so our goal is to continue to match service to the ridership.
One of the challenges that we're facing right now, quite frankly, is hiring. We have a very aggressive hiring incentive going on right now. We're offering up to $4,000 in incentive pay for new operators, up to $8,000 in incentive pay for mechanics, because we are competing with a lot of other industries in terms of getting qualified drivers with CDLs.
Not having the amount of support staff that you'd like to have right now, has that caused any cancellations or shortened routes?
Fortunately, it hasn't. We've been able to, over the last two years, continue to match our service levels to our ridership levels. And word is getting out that we're hiring, the fact that we're offering these great incentives. I think the last class we had had 100 bus operators graduating. So fortunately, that has not been the case. And we're working to make sure that that continues not to be the case, and that we can continue to add service as needed.