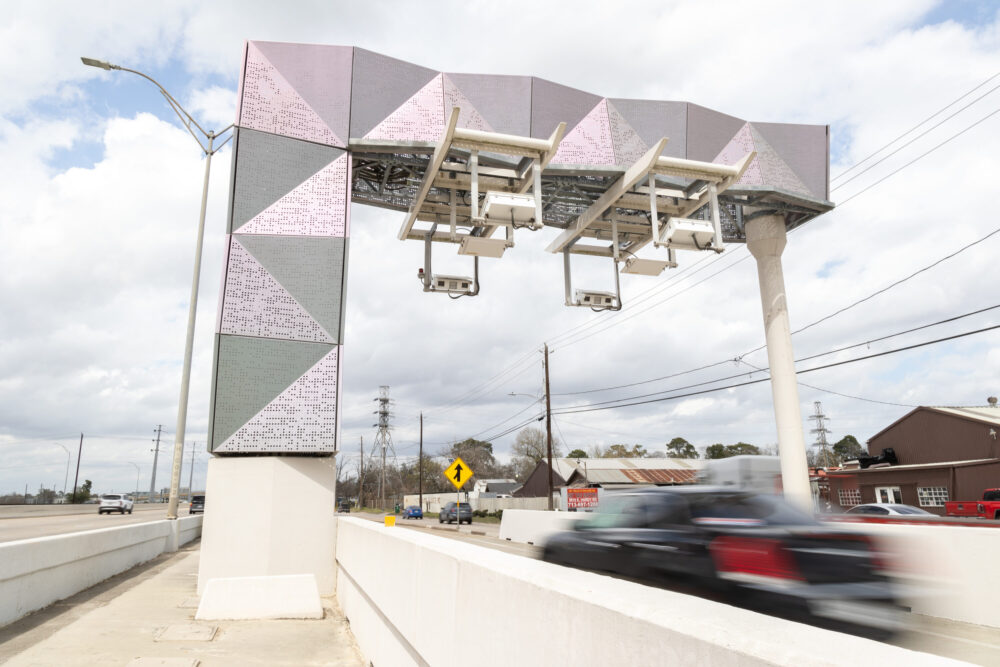 Harris County's toll road system is taking steps to become all-electronic. But as part of the process, HCTRA officials say they need to find ways to make the toll roads accessible to more people, including drivers who used to pay cash at the toll booths.
Houston Public Media spoke to HCTRA Executive Director Roberto Trevino about his vision for Harris County's toll roads.
This interview has been edited for length and clarity.
For people who aren't really familiar with the toll roads, what does it look like now and are there places where you can still pay with cash?
Well, the answer is no. During the pandemic and for the safety of our cash collectors, we pulled them from the roadway. I see where some of our traveling public are wondering why the cash booths are closed and we're funneling traffic to the EZ Tag lanes. Right now we're transitioning to an all-electronic program.
When you've got that starting and stopping motion at the toll booths and someone is not paying attention, that can cause some safety issues.
As people are slowing down or getting up to speed, drivers may be distracted or fumbling for change and you may not be able to stop in time when someone is dropping coins in the toll plaza.
It's not something we want to go into the future with. All that weaving leads to potential accidents, especially with the higher speeds.
If you're not taking cash at this point, isn't the system essentially all-electronic right now?
It's somewhat all-electronic right now, but when we define all-electronic, it's a holistic view of how we do business as a toll road. It's really holistic in the customer experience. If you do not have an EZ Tag and you used to pay coins in the past, we really want to focus on that.
Unfortunately, if you don't have a credit card or you're unbanked, which could potentially be a large part of our population, we don't want to be punitive to that segment of our county. Until we address all these unbanked customers and the former cash payers, we're not fully there.
Because it's not just a process of removing the booths and having everyone pay through an EZ Tag or some other method, it's about making sure all residents of Harris County can be included into our toll road and participate in our toll road.
What kind of options are you considering for toll road drivers who want to pay cash?
We've done some research on options that are being offered across the country. We are starting to look at, if you can't pay cash at our toll plaza, can you pay cash at our EZ Tag stores. Our EZ Tag stores have not accepted cash traditionally so we're looking at whether you could do that at one of our storefronts.
We're looking at opening several more locations across the county. As you pay your water bill at a local pharmacy or grocery store, we're looking at how we can penetrate the county and other locations, to be a little more customer-friendly as we look at different alternatives to participate.
We're going to be very aggressive in our marketing of all the different options that we have to make sure that if you want to ride on our toll roads, we're not going to penalize you with all these fines and fees if you can't pay at the moment of transaction.
Our listeners have often asked why it is when they've gotten on a toll road by mistake they had to pay a fine.
The toll roads have recently changed their fee schedule when it comes to our invoice totaling. We've removed a lot of the punitive fees that were there in the past. They don't aggregate anymore, we've essentially capped them.
With the first tolled invoice, if you're paying by mail there is no fee with the first mailed invoice. For a second, those fees have been reduced. The county and the toll road have done a really good job of not being so punitive for people who just can't pay at a particular point in time.
There are programs that are in place right now and we're going to improve upon those programs as part of all-electronic tolling to where we don't have that perception of the county that we're predatory or we just want to collect fees. We want to be a compliment to the region and to our neighbors and the traveling public.