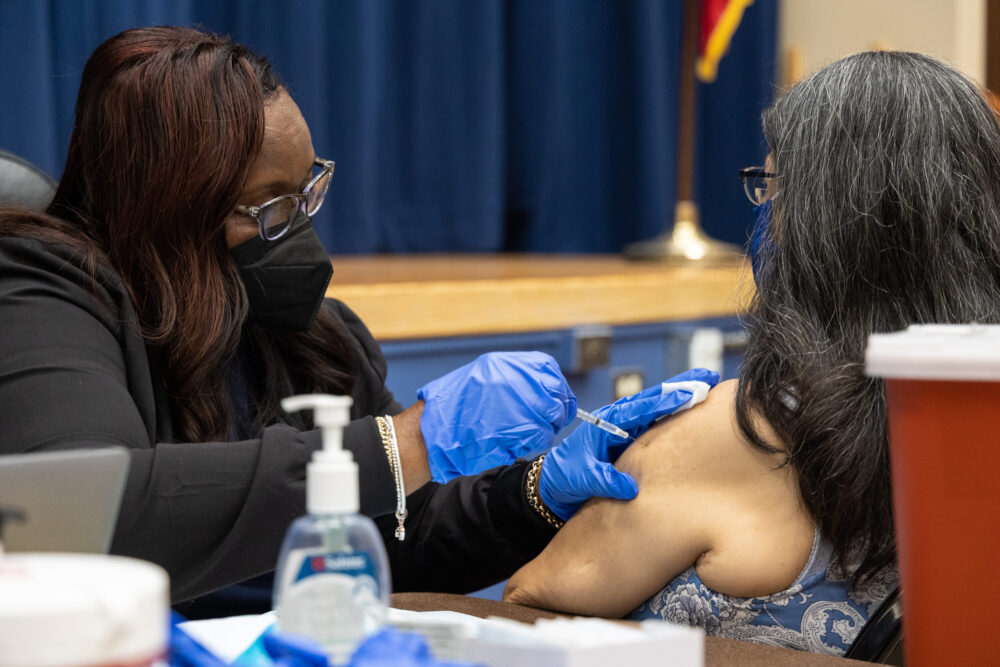 When Jackie Loretta saw her son's health rapidly decline back in January, she feared that she might have to rush him to the hospital.
The unvaccinated 39-year-old took a turn for the worse just a few days after he tested positive for COVID-19. He had a fever and wasn't eating. He began to lose weight. Loretta said she was ready to drive to his home if things took a turn for the worse.
Fortunately, she didn't have to. He recovered and was later convinced to get the vaccine after seeing that his fully vaccinated girlfriend did not get nearly as sick as he did.
Loretta believed learning about the vaccine's efficacy was something her son had to do firsthand.
"He looked at the internet a lot," Loretta said. "There were so many different things on the internet at one time. Like, they were saying that it (vaccine) had some type of radiation, or magnetic field in it or something."
Researchers believe disinformation like this — along with a history of medical distrust — are two of the biggest reasons why just 53% of people in underserved communities of color are fully vaccinated, according to the Houston Health Department. That compares to a 71% vaccination rate in communities not deemed underserved. And Black and Hispanic Houstonians make up 73% of the city's COVID -19 deaths.
Now, the University of Houston is using a $711,773 dollar grant from the National Institute On Minority Health and Disparities, to learn more about why communities are reluctant to get the shot, and formulate strategies for local government to break down those barriers.
"I think, specifically around distrust and misinformation, you have to first acknowledge it," said Dr. Faith Foreman Hays, director of the Office of Chronic Disease, Health, Education, and Wellness at the Houston Health Department. "I think you can't pretend that this is not something that historically has not happened, that people have no memory of."
A new study University of Houston published in the Journal of Health and Social Behavior looked at vaccine rollouts in urban Texas counties, and showed that as Black and Latino populations increased, the number of vaccine sites per 100,000 people in a ZIP code decreased. The study also found that much of that disparity could be explained by an already unequal distribution of health care resources in Black and Latino neighborhoods, including a lack of health insurance, ability to see a family physician when needed, and delays in medical care due to costs.
"We need to start thinking more strategically and proactively about where health care resources are going, and making sure that underserved communities are getting those healthcare resources," said Dr. Kathryn Freeman Anderson, associate professor of sociology at UH.

For some — including Jackie Loretta — the seeds of doubt were planted decades ago, after the federal government's Tuskegee Study meant to determine the effects of syphilis. Several Black men who did not give informed consent to participate in the study died.
But you don't have to go back that far: Communities of color routinely face long lines, bad medical advice and subpar prescription medications, according to Dr. Ezemenari Obasi, the founder and director of HEALTH Research Institute at the University of Houston. Adding to the problem: A 2019 US Census survey found almost 25% of Houstonians of color don't have health insurance to begin with.
"I think the short term goal is to truly do a reset, and really listen to the community to kind of understand why they're truly hesitant, and not just project onto them what has been historically believed to be the challenges within various communities," Obasi said.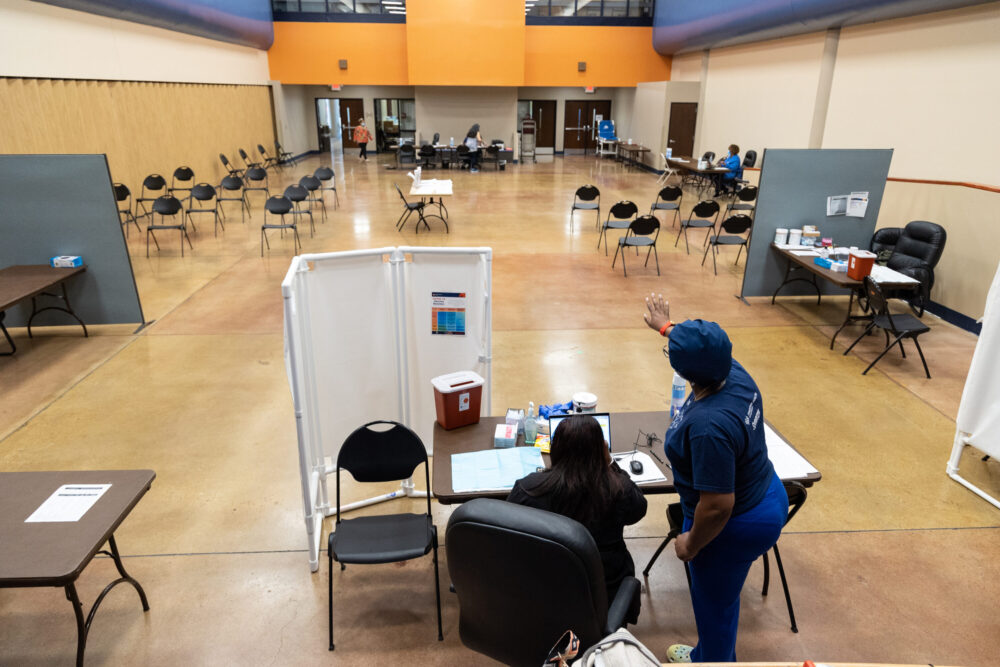 Those trust challenges were only amplified in Houston's communities of color with confusion surrounding the Johnson & Johnson vaccine, Obasi said. The city specifically took the Johnson & Johnson vaccine to 34 ZIP codes identified as underserved as a way to rapidly vaccinate communities with a high prevalence of underlying health conditions, and who face other barriers that may prevent them from getting the shot.
But the one-dose shot is also slightly less effective than MRNA vaccines, and initial reports showed limited cases of blood clots. The city and county briefly stopped using the shot, though the side effect was ultimately found to be exceedingly rare.
Still, the news was enough for many to further distrust the vaccine.
"The J&J shot was the one that many people of color actually felt comfortable with, because it was just one shot," Obasi said. "It was a technology that they were used to, and felt comfortable about it. But the issue is a communication challenge."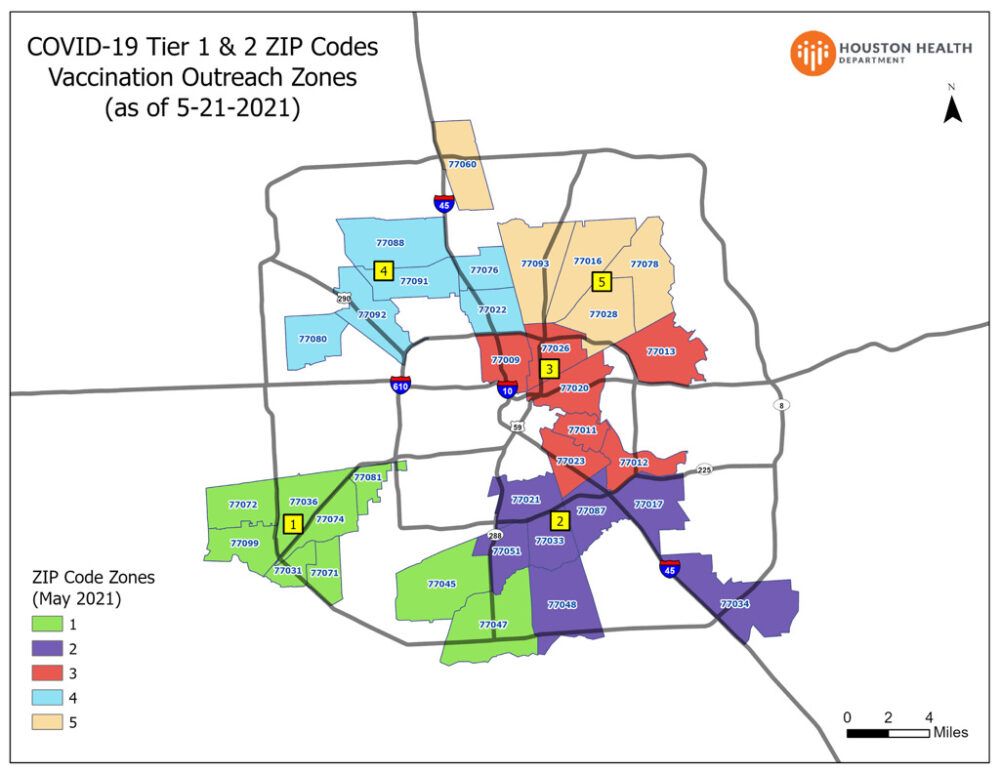 In order to communicate more efficiently and build that trust, Obasi said local government would have to work to build strong connections with underserved communities. This year, his team will attempt to recruit trusted community stakeholders to act as a bridge to unvaccinated people in communities of color.
Ideally, those stakeholders will be able to help with ideas on how to deliver factual COVID-19 vaccine information, uniquely crafted for each targeted community, based on feedback as to why people are hesitant.
"If they're part of the process, they have greater trust in what's happening, they have a voice in what's happening," Obasi said. "Having them as equitable partners in the process, we have found, allows us to rapidly disseminate what needs to happen because they're now part of the team."
Obasi hoped stakeholders could also help identify organizations within underserved communities to provide a space to conduct large-scale town hall meetings provide unvaccinated Houstonians with in-person answers to questions about the vaccine.
But getting people to in-person town halls could be a challenge, Obasi said: Researchers say lack of transportation is another barrier to access. However, Obasi said an in-person dialogue is essential, since for some, these town halls could be one of the only free reliable vaccine information sources available.
The Houston Health Department is assisting those efforts, by recruiting community stakeholders within the ZIP codes identified as underserved. Those outreach efforts are underway right now in the Fifth Ward, Third Ward, Greenspoint, Northside, Acres Homes and Gulfton.
"We're going to the churches, going to businesses, talking to people in that community, and hearing their thoughts, wondering how we can address that mistrust," said Iyin Ojekunle, community involvement coordinator with the Houston Health Department. "We're not doing this from our office on email. It's all hands on deck and boots on the ground."
Ojekunle is one of eight people assigned to find influential community members in Acres Homes. She's actively attending neighborhood meetings, and focused on building relationships — which she says is going to take time, since there are language barriers to overcome as well.
"Trust is not built overnight, especially when it's a generational issue," Ojekunle said. "So we just have to start with where we are."
Additional reporting by HPM intern Fabiana Chaparro.