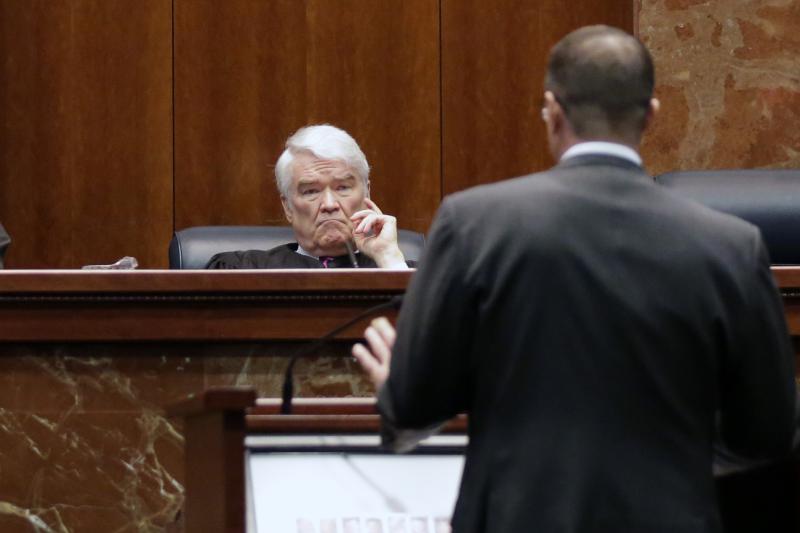 Evictions in the Houston area are returning to pre-pandemic numbers, with more than 4,600 eviction cases filed in Harris County so far this month.
Texas Supreme Court Chief Justice Nathan Hecht recently published a letter in the New York Times arguing, "it should take more than 10 minutes to evict someone," and praising the state's eviction diversion program, which helped landlords and renters prevent evictions by connecting them with emergency rental assistance during the pandemic.
But now, the state rent relief program is out of money.
Hecht spoke to Houston Public Media about the response to his letter, why we're seeing crowded eviction courts and whether the Texas Supreme Court will continue to require judges to allow legal aid attorneys in their courts to help low-income tenants.
The following interview has been edited and condensed for length and clarity.
What response have you gotten to your recent letter in the New York Times?
Everybody that's talked to me has been very positive about it. The diversion programs really work. Texas had probably the best diversion program in the country, for several reasons. And we know that because we spent all the money. We plowed through all the federal money. A lot of states didn't even try.
But Texas had a really great diversion program for two reasons: One, the landlord sues for eviction and when the notice goes out to the tenant, the court was required to put with the summons information about the diversion program. Of course, some of the landlords didn't know about it. So when they're seeing what the court is sending to the tenants, then everybody knows: here's the number you call, here's the email, here's a webpage, this is all you have to do.
And then the second thing, we got the money to the landlord fast. And a third thing we did, which was really an innovation, is a lot of justices of the peace let Legal Aid come in and set up shop in the back of the courtroom.
Unlike some other states, Texas hasn't had a statewide eviction moratorium since the Texas Supreme Court ended the measure in May 2020. Do you think the court made the right decision not to have a statewide moratorium in effect all this time?
I think it was. It was a hard call. As the weeks wore on, and you kind of got an idea even though it was serious this is what it's gonna be, then at some point you've got to get back to some semblance of order, because the problem is not going to get any better. And people need to start working through solutions. So I thought we did the right thing.
Some courts in the Houston area are seeing a lot of hearings on their dockets, unlike other counties where it's not as big of an issue. At a Harris County court last week, they had over 130 eviction cases on the morning docket and 130 cases on the afternoon docket. The courtroom was full and they had a line outside of people waiting for their case to be heard. Why are we seeing some courtrooms that are full of people now, when COVID is still spreading?
In mostly the rural areas, the justices of the peace are pretty much caught up on evictions, and they're not that big of a thing. And the omicron surges vary in different parts of the state. One county may not have as much as another, so they're doing better. After the delta surge, back at the end of October and the first of November, the courts were kind of like, '"okay, this is it, you know, we made it. Let's press on." And it's that way top to bottom — you know what the jail population is in Harris County, they're having to ship inmates to Louisiana.
MORE | Here's what it's like in Houston's eviction courts right now
And so in places like Houston, there are just going to be a whole lot more cases. We've done all we can do — well, no, I take that back — we've done a lot, not all we can do, to try to encourage judges to hear these cases remotely. And there are a lot of challenges with that. It's just a whole lot easier for the judge and the staff to just sit there while the cases march in front of you, and you just handle one after another, than it is to kind of call the next one, call the next one on a Zoom hearing or something.
Even after all this time, we're still kind of getting used to Zoom. There's a digital divide that we talk about all the time, where a lot of people who would be in eviction court don't have any means of accessing a Zoom meeting themselves if they don't have a smartphone, they don't have a laptop, and they don't have any way of getting in. We're working on trying to set up kiosks. I know legal aid providers are trying to set up places in their offices. We're trying to figure out how to set up places in courthouses or around courthouses where you don't have to crowd people in.
So why are there still crowded courtrooms? The judges want to keep up. They don't want courtrooms to be closed. They don't want justice to be inaccessible. They want to keep up with their work, and trying to do that and keep people healthy is a real challenge. So I guess, bottom line is we're working at it, but we've got a ways to go.
The Texas Supreme Court has an emergency order that's still in effect that requires courts to allow representatives from legal aid organizations to be present in the courtroom during eviction hearings, so free attorneys are available if tenants request assistance. That order expires March 1. Do you know yet if there are plans to extend that in either the short term or long term?
The court hasn't talked about it. Until the last couple of weeks of omicron surge, I think you can tell from the court's emergency orders, the goal was to get just as solidly going forward as we could by March 1. So the times that we've had to put off cases, suspend deadlines and change procedures — we need to get back to standard practice. And we're kind of targeting March 1 for that. So then what about legal aid in the back (of the courtroom)? I have not heard any criticism of that. I mean, I'm not sure how you would criticize it. So I think having worked as well as it is, I'd be surprised if the court didn't extend it.