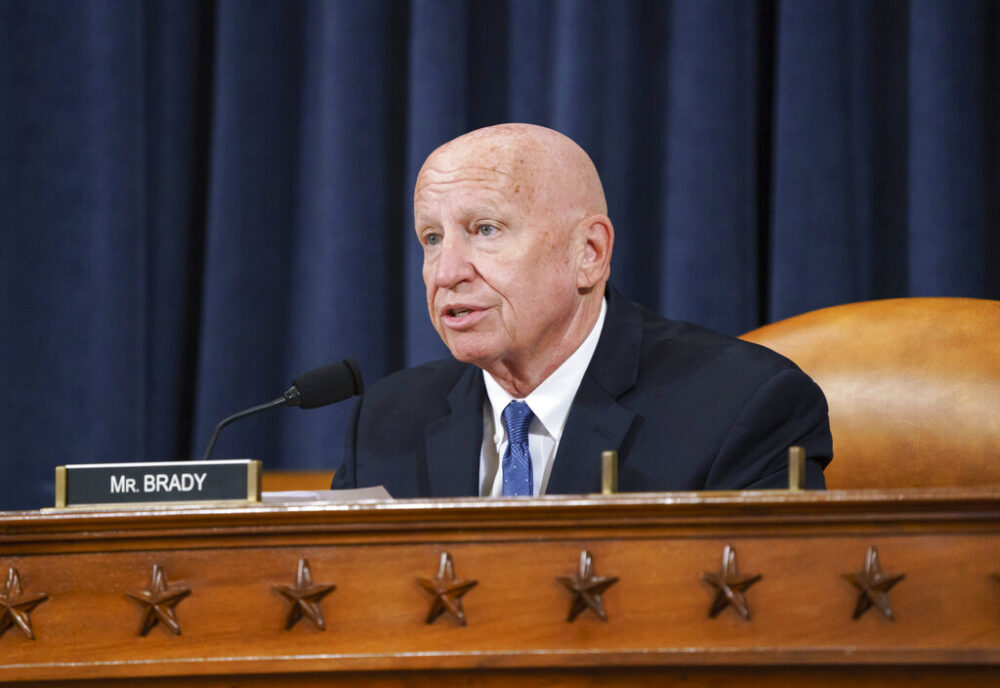 After a quarter century in office, U.S. Rep. Kevin Brady, R-Woodlands, is retiring.
That's led to a crowded primary contest for Texas' 8th Congressional District, which stretches across nine counties north of Houston. The primary sheds some light on how the Texas GOP is evolving in the aftermath of the Trump presidency.
Eleven Republicans are vying to claim the party's mantle in the district — which encompasses north Houston and the Woodlands — and most would not have dared to challenge the retiring congressman.
"This is really a once in a lifetime opportunity for Republican hopefuls," said Montgomery County voter and drone technology consultant Nick Madincea. "So many people have been waiting on Kevin Brady to retire, and we really love Kevin Brady in this in this part of the country. He's without a doubt, I think, one of the most underappreciated Republicans in our nation."
Brady took office in 1997 and rose to the chairmanship of the powerful House Ways and Means Committee before Republicans lost control of the House in 2018.
But the GOP imposes term limits on its chairs. Even if Republicans regain control of the chamber this fall, Brady wouldn't retake the gavel. That may have played a role in his decision to step down.
As crowded as the field looks, there are definitely some front-runners.
One of those front-runners is Christian Collins, a conservative activist with the backing of U.S. Sen. Ted Cruz. Collins previously worked on Cruz's campaign staff.
Madincea, who said he's planning to vote for Collins, called him a "young, energetic guy."
"I think that Christian is the future face of the Republican Party and a really great kind of a symbolic figure for what the Republican Party will look like in decades to come," Madincea said. "You can't put a price on that."
Collins has built a strong following among younger Texas Republicans as the founder and organizer of the annual Texas Youth Summit. That's how Coby Lobaugh first encountered him. Lobaugh, a mass communications and graphic design student at Sam Houston State University, didn't consider himself politically active until last August, when a friend invited him to the 2021 summit.
The roster of speakers included Cruz, Donald Trump, Jr., and former Trump press secretary Kayleigh McEnany. Attendees ranged in age from about 14 to 25. Lobaugh himself is 21.
"Shortly after that summit," Lobaugh said. "He announced he was running for Congress, and it just seemed like a no-brainer to support his campaigns and vote for him."
Collins' most serious competitor is former Navy SEAL Morgan Luttrell. If the name sounds familiar, that may be because his twin brother, Marcus, was also a Navy SEAL who wrote a bestselling memoir, Lone Survivor.
Julie Faubel, a retired PR executive, met Morgan Luttrell at a Lake Conroe-area Republican Women's Club meeting.
"Of course, I knew of him," Faubel said. "I knew of his brother. I have seen them at various political functions over the years, so it was a little bit like meeting a celebrity, but there's no celebrity with him. He is very honest, very straightforward, very genuine."
Faubel cited Luttrell's wartime experience as the biggest factor that convinced her to vote for him.
"If he's willing to fight for me on the battlefield, I have no doubt that he is willing to fight for our conservative values and our deep love for our country," she said.
Douglas Griffith can't vote for Luttrell himself — he lives in Congressman Troy Nehls' district — but as the president of the Houston Police Officers' Union, his endorsement holds weight.
"He's a big supporter of law enforcement," Griffith said. "Obviously, that's something that's dear to my heart, being an officer for 31 years. He also believes in the rule of law and the fact that we need to start doing something in this country to hold these judges accountable for their actions when they release people on low bonds or no bonds."
Luttrell also has some heavy hitters in his corner. He previously worked for former governor and Trump Energy Secretary Rick Perry. Both Perry and Lt. Gov. Dan Patrick endorsed Luttrell.
Some call the contest between Collins and Luttrell a microcosm of the Texas GOP post-Trump.
"What is the new breed of Texas conservative?" asked University of Houston political science professor Brandon Rottinghaus. "As we've seen so far, it's been a bit of a hybrid between a kind of Trump-based politics and some mixture of the old guard of the kind of Republican Party that came to power in Texas in the 1990s."
Neither Collins nor Luttrell is purely Trumpist or purely "old guard" Republican. There's not a lot to differentiate the two in terms of platforms: Both are strongly anti-abortion, support stricter voting laws that they call "election integrity," and oppose the teaching of "critical race theory" in public schools.
But the ultraconservative House Freedom Caucus endorsed Collins, while U.S. Rep. Dan Crenshaw, R-Houston — who recently denounced the caucus as "performance artists" and "grifters" — endorsed Luttrell.
Austin Bussing, an assistant professor of political science at Sam Houston State University, said that gave Collins an opening to paint Luttrell as less than a true believer.
"A sort of framing that Christian Collins specifically is trying to use here is a kind of establishment vs. anti-establishment frame, which has typically been a sort of winning strategy in primaries," Bussing said.
Endorsements are only part of the reason Collins and Luttrell are viewed as the most serious contenders for Brady's seat. There's also money: Luttrell has already raised more than $737,000, according to filings with the Federal Elections Commission.
"It's going to be an expensive primary," Rottinghaus said. "I think you're going to expect to see Chris Collins raising a lot of money, too."
While Luttrell can claim strong national security credentials, he's not the only veteran in the race. There's also retired naval aviator Dan McKaughan and former U.S. Navy Judge Advocate General Jonathan Hullihan.
"It could be that there's money there that could be influential in shifting a few votes towards them," Rottinghaus said.
The other contenders for the Republican nomination include surgical technician Betsy Bates, businesswomen Candice C. Burrows and Jessica Wellington, pipeliner Jonathan A. Mitchell, self-employed Chuck Montgomery, telecom executive Michael Philips, and Willis City Public Works Director Taylor M. Whichard IV.
With 11 contenders in the field, it's unlikely either Luttrell or Collins will snag the 50% of the vote plus one that's needed to claim victory in the first round, which means a likely runoff.
Whoever wins that contest will face the sole Democratic candidate, former San Jacinto County Democratic Party chair Laura Jones, in the fall.
"This district has changed in in this last round of redistricting in a way that makes it maybe slightly more moderate because it went down and picked up some of northwestern suburban Harris County," Austin Bussing said. "But it's still a solidly — and really, I think, safely — Republican district."