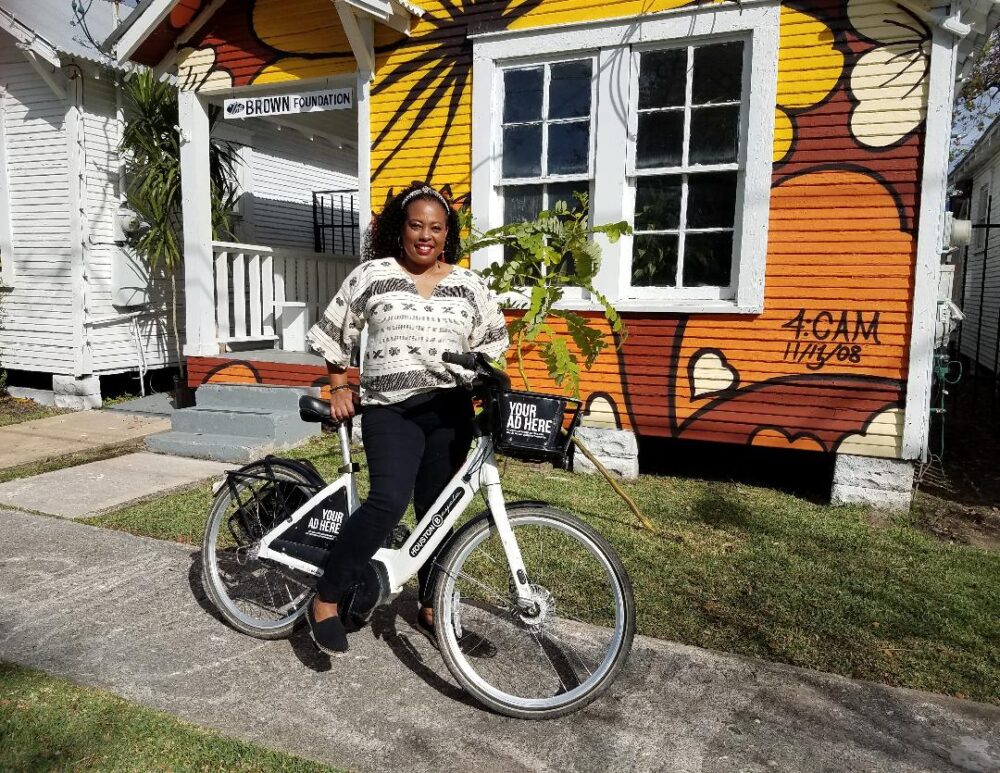 After starting with just a handful of bikes in 2012, Houston's nonprofit bike share has expanded to more than 130 stations citywide.
The bikes have been popular with Houstonians looking for recreation during the pandemic. Now Houston BCycle wants to expand its focus to provide more transportation options for people in underserved communities.
Houston Public Media spoke with Maya Ford, the new president of BCycle's board of directors, about how she hopes the program can change to serve more Houstonians.
This interview has been edited for length and clarity.
As we go into 2022 you tell us there's kind of a cultural shift that you want to work toward with Houston BCycle. A lot of your efforts have been toward recreation cycling up to this point, but you want to begin operating BCycle in a very different way.
We've had so many natural disasters and environmental shocks, from storms to floods to hurricanes, but now with COVID-19, and conversations about equity and who has access to resources and who doesn't, bicycling and transportation as a whole has come to the surface and BCycle has a fantastic opportunity to solve different transportation problems in ways that really matter to Houstonians.
For the most part we started the system recreationally. We were able to maximize high density and people who wanted to have a fun ride along a beautiful place like Buffalo Bayou. For the most part that's how our network continues to operate through the downtown area.
Now as we're looking into how we can use the bicycle infrastructure and network differently, we're able to set up communities to be able to use this in replacement of single-occupancy vehicle drives. I won't say that everybody is looking to replace their vehicle but we can use bike share in a way that allows us to replace driving for certain types of trips and we can use it for fun as well.
One of the challenges of operating the bike share system is that for the longest time, you had to use a credit card or a debit card to check out one of the bikes and that posed problems for people who don't have those financial instruments or may not have a bank account. How much of a challenge is that right now and what are you working toward in that area?
My dream with Houston bike share is to make it like a public utility, the same way Houston Metro might work, where you have lots of options to be able to access a pass, access the network, and you're not prohibited by economic ability. We're not there yet.
So right now, we do have one option which is called the GO Pass and it allows persons who have limited income to be able to access the network for $3 a month. It currently has a cash option, they go into the location and they're able to get a fob that then allows them access to the network. This can be sponsored really easily by organizations and housing complexes. We can subsidize this in many different ways but we just need willing partners.
How much is this a shift for BCycle, moving toward what you call a public utility and making the system more accessible to people who need to make essential trips?
The shift has come about because we don't naturally think of multimodalism as being truly different ways to get from point A to point B. And that's all it is. We may be able to walk in our neighborhoods and have everything accessible to us within a six-block radius. Wouldn't that be wonderful?
But in this case, we've seen that the shift has come about in seeing bicycling as a viable option for environmentalism, for safety, fun, and to get from point A to point B in a really healthy energy efficient way. It just solves so many problems with one solution and we haven't always seen it that way.