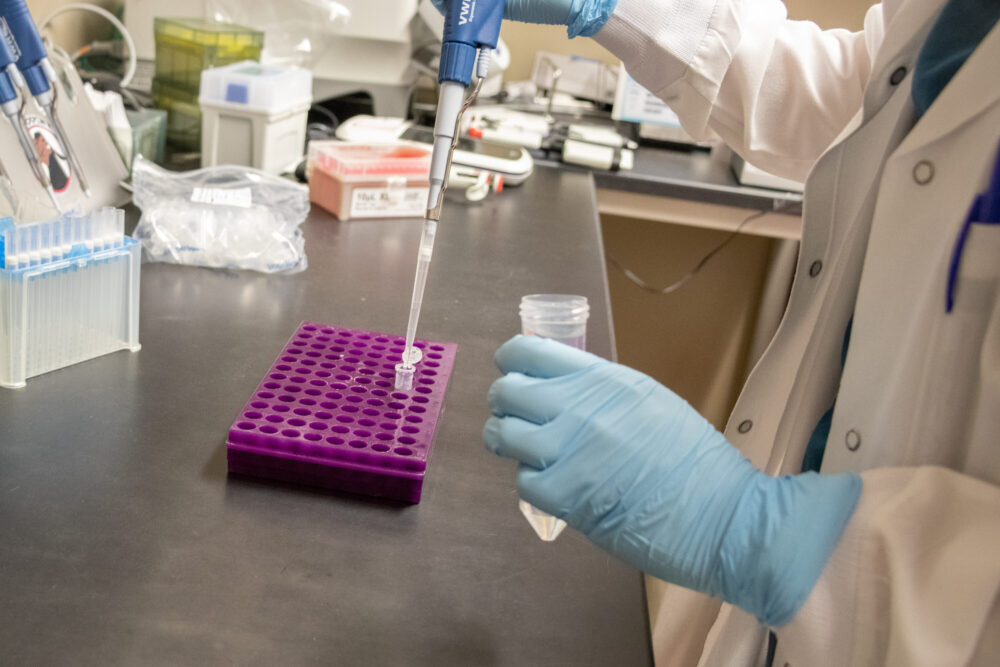 Houston Methodist Hospital is reporting decreased hospitalization rates for patients infected with the omicron variant, compared to the delta variant, according to a new study released over the weekend.
The average stay for a hospitalized omicron patient is also shorter at 2.8 days, compared to 5.1 days for those infected with the original strain of the virus first detected in Wuhan. However, there are more breakthrough infections among vaccinated people, causing case counts to skyrocket.
Houston Public Media spoke with Dr. Wesley Long, director of microbiology at Houston Methodist, about the study's findings.
This interview has been edited for length and clarity.
What does the data show when comparing omicron and delta?
​It does appear that on average, these cases that we're seeing are less severe compared to delta, but part of that is likely because we are seeing cases in younger, healthier people who have been vaccinated.
So we don't want to give the wrong impression, right? We don't want to give the impression that omicron is not capable of causing severe disease, because it certainly is, especially in the unvaccinated or in people with multiple health conditions. But on average, we're seeing in general more breakthrough and less severe disease.
The data shows that of omicron inpatients and outpatients you analyzed, just 15% of them were actually hospitalized — compared to nearly 43% of delta patients. But as you noted, there are many more breakthrough infections caused by omicron — nearly 50% of omicron inpatients and outpatients in this study were fully vaccinated with either two or three shots. What does that tell you about the importance of getting a booster shot?
I do think we have good evidence that getting that third shot helps really amplify the immune response and helps prevent symptomatic breakthrough of omicron. And so I do think we're seeing some increase in breakthrough from people who haven't had a third shot.
I also think we're seeing some of the increase in breakthrough is just due to the fact that the omicron spike protein is so very different than the spike protein in the original Wuhan strain that was used to sort of design the vaccine. So I think it's a combination of both lack of booster and and then also just the fact that the spike protein is so very different.
Putting aside booster shots for a second, what does this early data show you about vaccinations in general? I think a lot of unvaccinated people may be looking at this data and saying, "well, the vaccines don't work because of the amount of people still getting infected who are fully vaccinated." What does this data say to that theory?
We are seeing more breakthrough with omicron — we saw it with delta too — but again, I think it plays into the decrease in severity that we're seeing with the cases and one of the reasons why we're seeing people presenting with less severe diseases is because they've been vaccinated.
The vaccine is very good at preventing severe disease, hospitalization and death. So I think it doesn't represent a failure of the vaccine. Rather, it just represents that the decrease in severity and decrease admissions that we're seeing with omicron is the number of people who've been vaccinated.