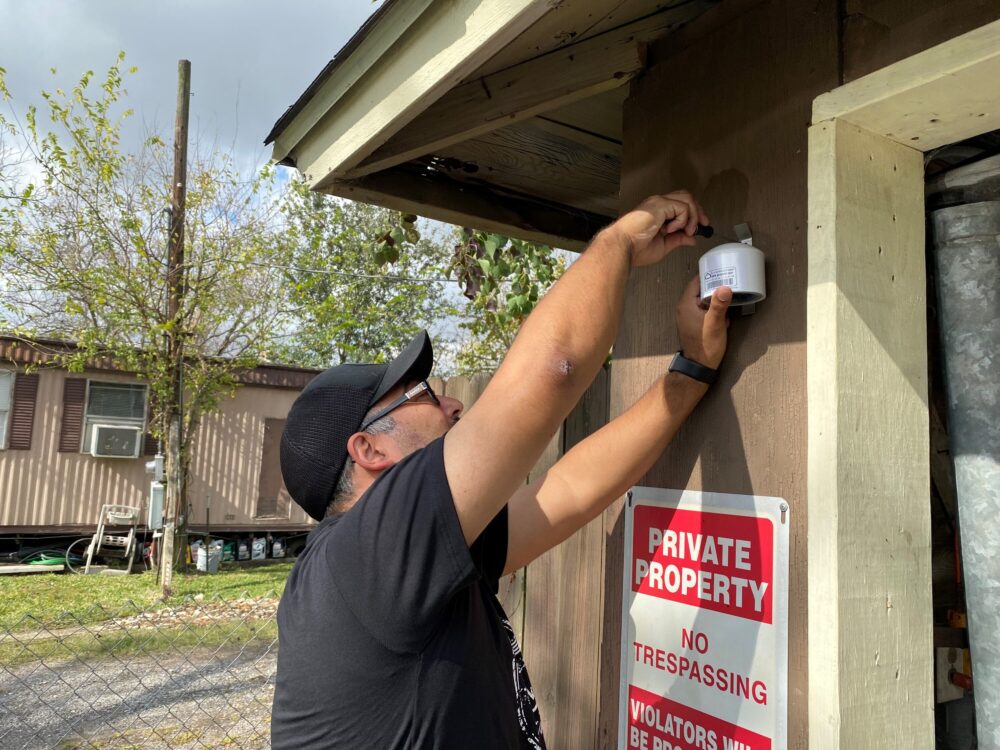 When Debra Walker installed an air monitor in the front yard of her home in Sunnyside a few months ago, she initially got some weird looks from her neighbors.
"People thought they were cameras — you know, like Big Brother's watching us," she said. "I said no, this is for a healthy community."
Mounted on a wooden pole, the small device is solar-powered and takes in air from two knobs at the bottom. The monitor in Walker's yard is one of five new air monitors installed in the majority Black community — a project spearheaded by the Sunnyside Community Redevelopment Organization, of which Walker is president.
"We don't know what we are breathing," Walker said. "People don't understand why they're sick."
Sunnyside has higher rates of asthma than the city average, according to data analyzed by the Houston Health Department, and the community deals with pollution from a variety of sources: concrete batch plants, heavy-duty vehicles, metal recyclers, and a nearby rock quarry.
The new monitors can measure the air for pm 2.5 – tiny particles that can enter the lungs and bloodstream – and nitrogen dioxide, an air pollutant that can cause problems like asthma over the long term. The data is then displayed on a website that anyone can access.
"We're hoping to use the data to find out what is it that we are inhaling in our community," Walker said.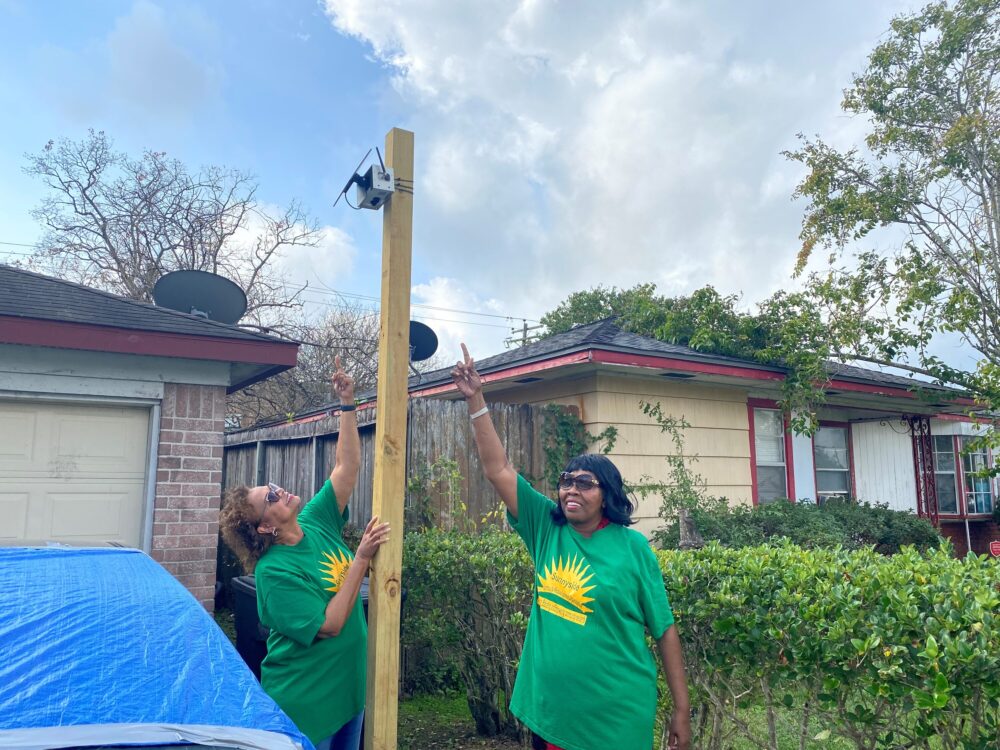 She also hopes the data can be used to reach out to local and state officials to get additional assistance or to request an investigation into a polluter if certain readings are raising cause for concern.
Sunnyside residents aren't alone in wanting their own local air quality data. They join numerous communities across Houston that have been installing their own air monitors, including Pleasantville, eastern Fort Bend County, Galena Park and Pasadena.
For years, these communities — many of them low-income communities of color — have suffered from toxic air pollution. In the past, residents say they've been frustrated by a lack of accessible local air quality data and slow responses from officials when incidents occur.
Now, armed with a growing network of community air monitors across the region, they hope to fill in gaps in the current monitoring system and have access to their own hyperlocal data to make better decisions for their health and fight back against polluters.
"A lot of times in the past, environmental justice communities didn't have the data to reflect their lived experience," said Grace Tee Lewis with the Environmental Defense Fund, which provided grant money to the Sunnyside group for their air monitoring project.
She said advancements in technology have made low-cost air monitors more accessible.
Still, there are limitations, according to Tee Lewis. Taking enforcement action against a facility, for example, requires data from an official regulatory-grade air monitor. But she said data from community air monitors can help start the conversation with government officials.
"We're hoping that this is a way for the communities to be able to use scientific data and methodologies to show what the true picture is in their community, so that local officials can then have more information to use to conduct investigations and hopefully improve enforcement and compliance," she said.
This comes as Harris County has also been investing in expanding its air monitoring and enforcement programs, following the 2019 ITC chemical fire in Deer Park.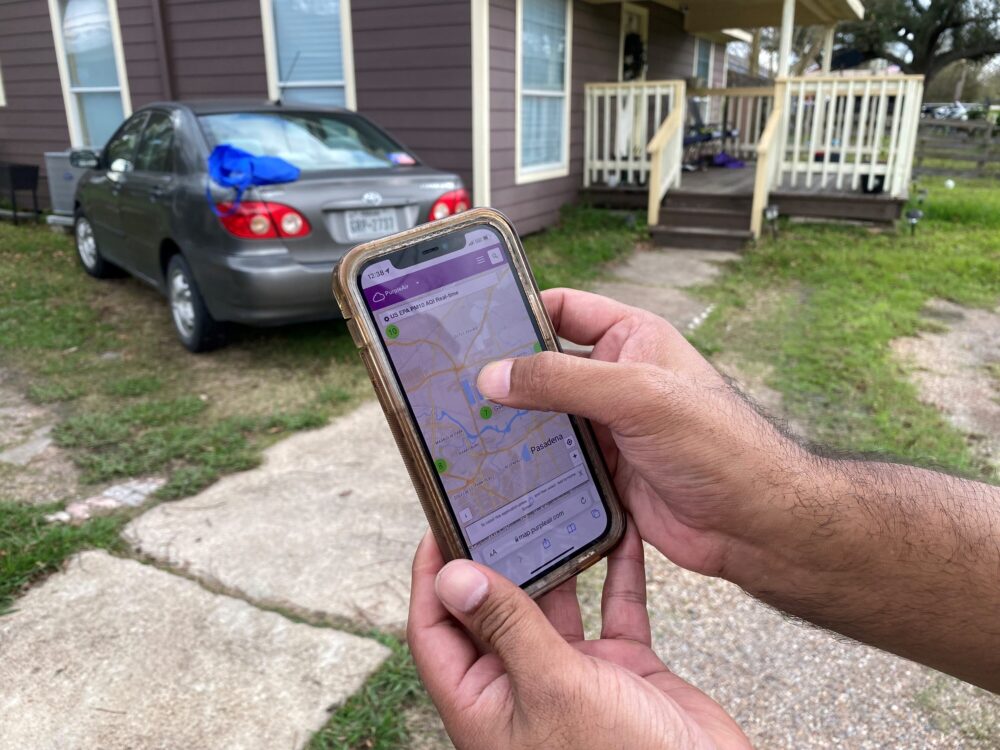 In addition to holding polluters accountable, there are also day-to-day health benefits of having easily accessible air quality data. Residents can view the data on online maps that are color-coordinated to indicate the air quality.
"People can go in real time and look to see, 'today the air is good. Let me go out, go run. I'll let my kids go out and play,'" said Juan Flores, the head of Air Alliance Houston's community air monitoring program.
The nonprofit has also been helping communities set up air monitors across the Houston area, from Pasadena to Gulfton.
On a recent afternoon, Flores met up with a homeowner in Jacinto City to install a small air monitor at their home.
"It's not big at all – as big as a mug is what I always tell people," Flores said, unwrapping the white device.
The home is just a few miles from a cluster of petrochemical facilities, their smokestacks visible in the distance on the drive there.
"Quite often here in the neighborhood, you can actually smell the chemicals," said Jose Ramon, the homeowner. "We don't know exactly what it is, but you can smell it."
Flores, from Air Alliance Houston, has lived most of his life nearby in Galena Park, and said it's not uncommon to deal with pungent smells from a chemical leak. But often the response from environmental agencies is slow, something he hopes the air monitors can help with.
"We need to do what we can as a community to take care of ourselves," Flores said. "And who else has a more vested interest than us that live here to know what's going on with our air?"