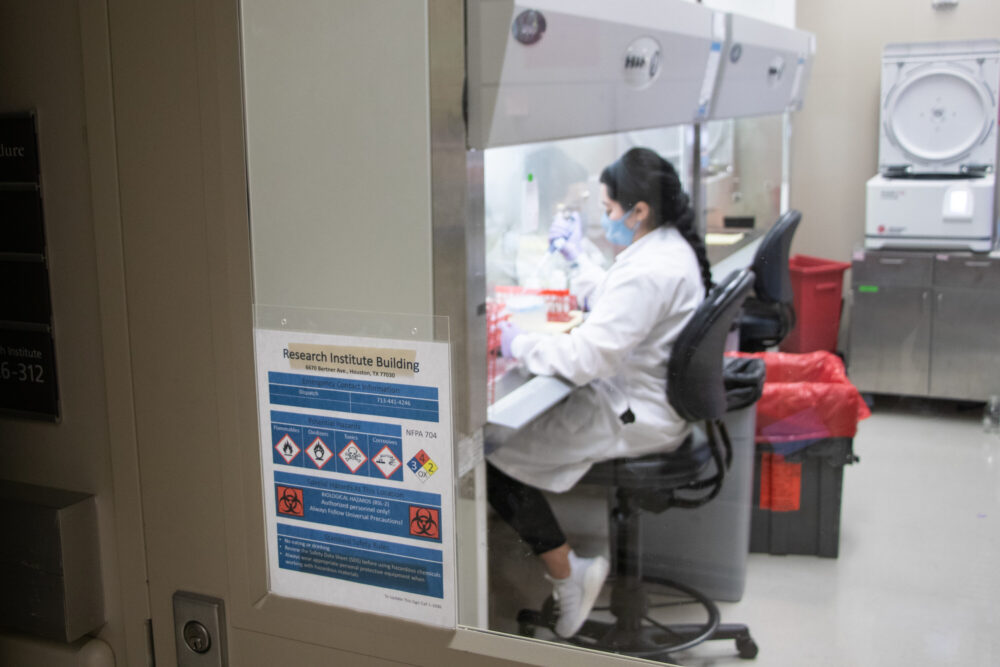 To trace the origin of Houston Methodist Hospital, you have to go back more than 100 years, to another pandemic.
What is now a system of eight hospitals with more than 2,000 beds and over 24,000 employees started as a small 30-bed hospital near downtown Houston. It was created to help the local community through the Spanish flu epidemic of 1919.
The hospital has a long history of performing large-scale genomic sequencing, primarily with bacterial pathogens. And now it's using that history and all of its resources to tackle yet another pandemic: COVID-19.
"That was a pressing need for the local community and the world," said Dr. Wesley Long, medical director of microbiology at Houston Methodist. "We adapted our processes and techniques to doing that."
The hospital started researching and sequencing strains from positive COVID-19 tests back in January of 2020. The strategy is used as a way to identify COVID variants their patients are infected with, and track how severe that infection actually gets.
In addition to identifying variants, researching sequenced virus strains also gives Methodist a better idea of whether vaccines are providing adequate protection against whatever the latest variant of concern is.
With omicron — the latest variant of concern — Long suggested early data is being analyzed, but emphasized the importance of getting a booster shot. However, he did not specify how many hospitalized patients were fully vaccinated.
"We're seeing, by and large, that for those who are vaccinated at this point, the vaccine still seems to be offering good protection against severe disease and hospitalization," Long said.
But the definition of "fully vaccinated" may need to change to include the booster as a third shot in the series, he said. Since the virus is so contagious and causing breakthrough cases, Long worries the impacts on the health care system could be severe if too many people get infected at once.
The latest data shows that positive test results are drastically increasing in Houston, with nearly four times the amount of positive tests last Monday and Tuesday, compared to the previous week.
Additionally, the hospital reported Sunday night that the omicron variant accounts for roughly 82% of symptomatic COVID-19 tests in the Houston Methodist system. That number includes not just COVID-19 hospitalizations, but outpatients and ER patients as well.
It's a development researchers anticipated.
"I think it was pretty close in line with what I expected based on the exponential growth rate that we're seeing with omicron," Long said. "Most places in the world are saying it's doubling between two to three days, that seems to be what we're seeing here."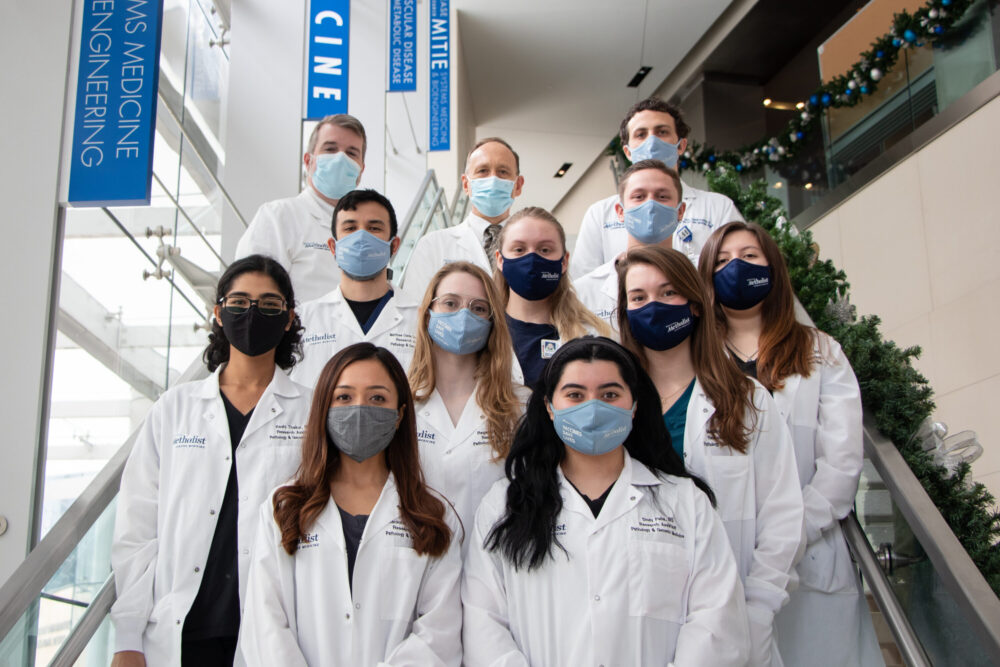 Long helps supervise a team of nine research assistants, after starting with just three. Their job is to prepare the virus strains to be sequenced.
They consider themselves to be a surveillance team, trying to discover — in real time — any potential dangers these variants pose to the community.
"We're the ones making sure that our people can be safe, by knowing if a variant's more virulent and if they can be infected quicker," said 25-year-old researcher Ryan Gadd. "So they can know, 'hey, I should be more cautious now.'"
Innovative technology — specifically automated robots — now allows the team to get through their work much quicker than at the beginning of the pandemic.
Most are in the their mid-20s, or right out of college. All say they're dedicated and motivated by the work they're doing.
"Obviously, we do have science backgrounds," said Sindy Peña, 22. "We come with undergraduate degrees. But it's different when you're actually applying it to real life COVID samples."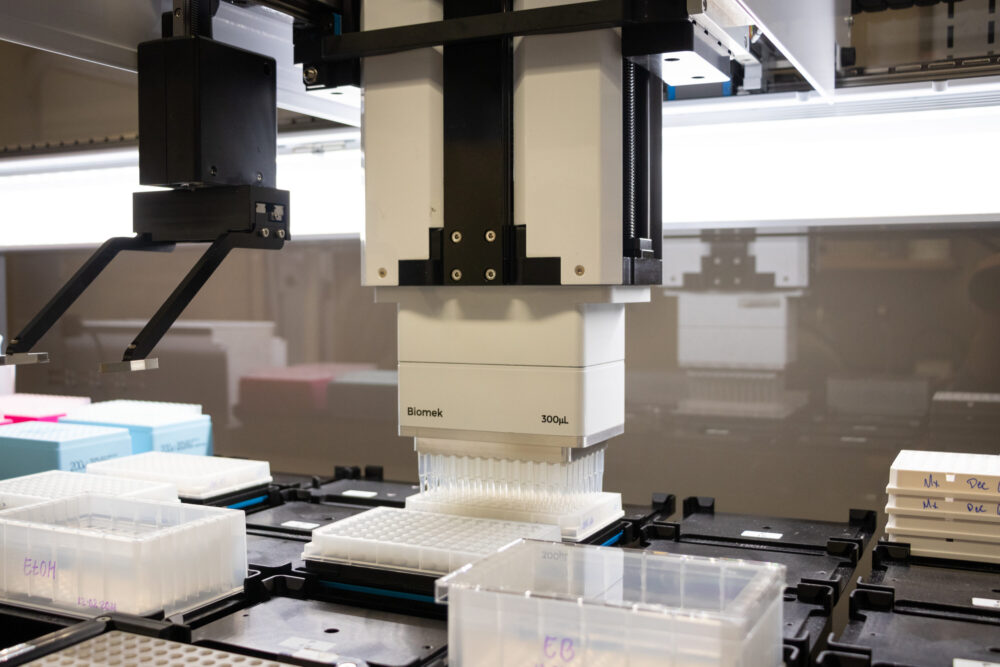 Peña says her passion for public health comes from studying epidemiology at the University of Texas in Austin — though she added her parents didn't quite understand her interest in it.
Then the pandemic hit.
"Finally, people were able to completely understand," Peña said. "And when I saw this opportunity, I jumped for it."
Peña is part of the team that cleans the samples, before they go on to the next step. It's all part of a multi-step process that takes about a week before the variant a virus strain contains can be officially identified.
"It's interesting, being a different kind of frontline worker," said Madison Shyer, 23. "You know, we're not nurses. We're not directly doing the COVID testing. But we very much are right at the front."
The team works nights, weekends, and in shifts to get through a workload that is projected to increase now that more Houstonians are testing positive for the omicron variant.
For Rashi Thakur, 22, this work was one of the only ways she felt she could contribute in the fight against the pandemic, since most hospitals she sought out were turning away volunteers when she graduated at the end of 2020.
"They couldn't control where I've been and how the virus spreads," Thakur said. "But this was one way that I figured out I could participate, even though we're not directly dealing with patients."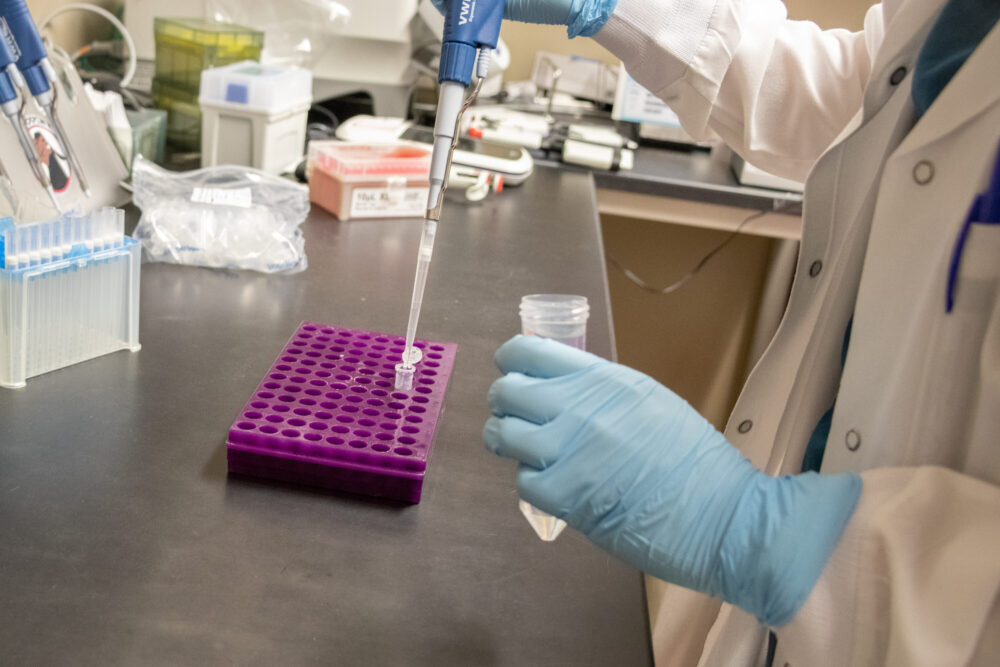 Thakur helps create a library of patient outcomes to help track how omicron is affecting the community. She works directly with Akanksha Batajoo, a practicing doctor from Nepal who moved here right when the pandemic began in 2020. However, because Batajoo had no license to work as a doctor in the United States, she applied to be a part of this team instead.
"I wanted to put myself to use," Batajoo said. "So I could help patients indirectly, even though I don't have the license to help them directly."
For one team member in particular, identifying variants is more than just a job. Jessica Cambric, 23, lost her uncle to the virus just over a year ago, and now considers it her duty to work on ways to fight it.
She helped create the multi-step approach that the team uses today, which has sequenced more than 60,000 strains of the virus since the start of the pandemic.
"I wanted to take what I had learned with all my college courses, and apply it to the pandemic, since I faced the personal loss," Cambric said. "I definitely wanted to make a difference. And with trying to find and isolate the different variants, and looking for vaccine breakthroughs and all that, I feel I can do that here, so not everyone has to face what I did."