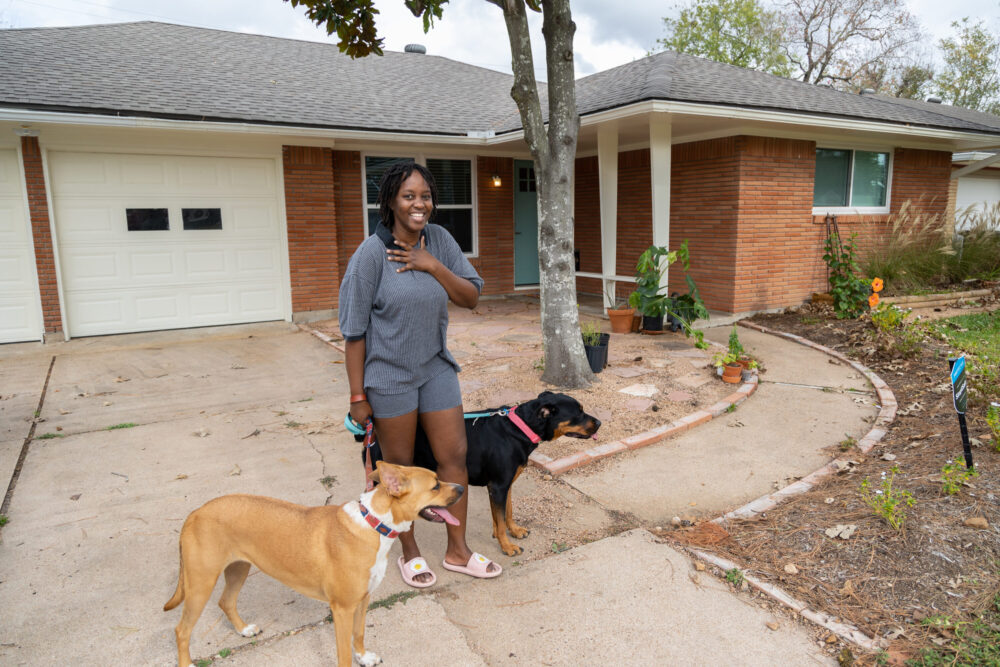 At her South Houston home, Loyce Gayo proudly showed off the garlic, blueberries and Brussels sprouts she's growing, while she threw breadcrumbs for the chickens in her backyard.
Gayo, a 27-year-old artist, works at the local nonprofit youth publication Shift Press. She became a homeowner in August, buying a three-bedroom house with help from a combination of public and nonprofit resources after a friend pointed her in the right direction.
"They were like 'hey, I was given $35,000 from the city to buy my first home.' And I was like 'wow, that's incredible.' Started looking into it, took the first time homebuyers course through Avenue CDC," Gayo recalled.
Gayo found a house for sale that she loved, and the Houston Community Land Trust helped her pay for it. While the community land trust model may be new to Houston, it's based on an idea that's already in place in many cities across the country, including Austin.
Here's how it works: Gayo owns her home but not the land under it, in exchange for a major subsidy that made buying the home affordable, even though she brought almost no money to the table. The Houston Community Land Trust owns the land, entering into a ground lease with her that lasts for 99 years. Gayo earns equity in the home, but she doesn't have to worry about rising property taxes.
When she sells the home one day, it will be sold at a restricted resale price, guaranteeing that it will stay affordable for the next buyers. For Gayo, the agreement fits her values.
"The majority of the people that I know that are out here, the artists that are struggling to get a grant, really just want stability. Something that they love, that they have ownership of, that isn't rooted in securing some kind of wealth," Gayo said.
Gayo pays around $900 a month now, cheaper than the rent at her previous apartment. She said she hopes the community land trust model can shatter the assumption that buying a home is more about building wealth than building community.
"There's something that goes beyond just creating wealth when communities are built," Gayo said, "When I set roots here in this neighborhood, and I know there aren't any financial pressures to leave, I have a certain kind of investment in this community that goes deeper than just money."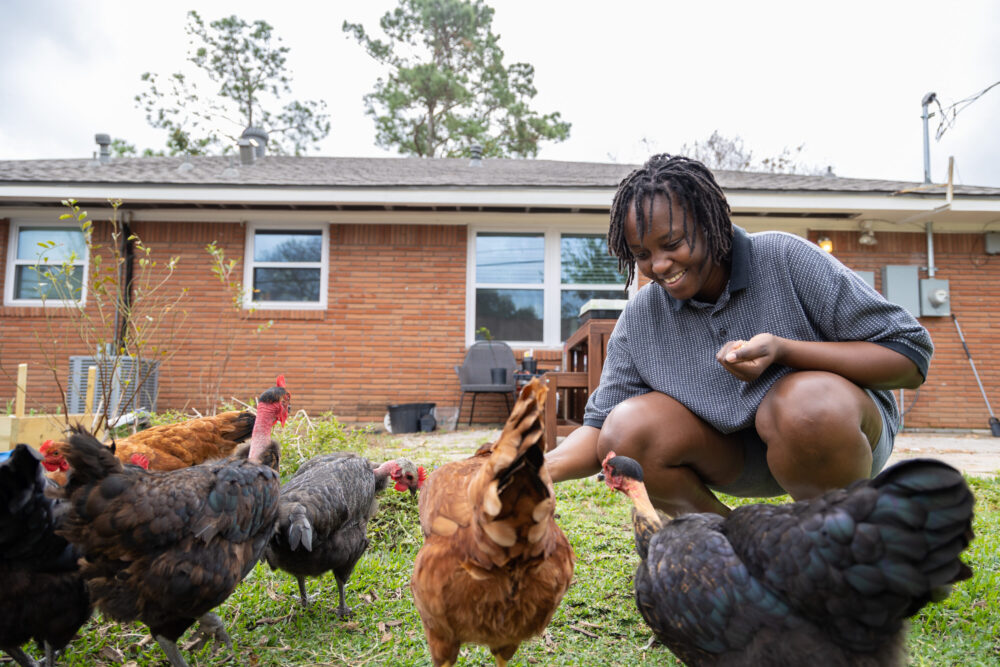 Thousands of Houston families struggled to stay in their homes this year due to a period of historic economic instability.
According to data from January Advisors, more than 53,000 evictions have been filed in Harris County since the start of the pandemic, and the Harris County Housing Survey found nearly 500,000 households are paying more than they can afford for their homes.
The Kinder Institute's annual State of Housing in Harris County and Houston report showed the gap is growing between the median home sales price and household incomes. And nationwide, the racial gap in homeownership is wider than it was decades ago when housing discrimination was legal, according to the National Association of Real Estate Brokers' 2021 State of Housing in Black America report.
But programs like the Houston Community Land Trust aim to change the equation, while also breaking down some misconceptions about affordable housing, according to Ashley Allen, executive director of the Houston Community Land Trust.
"It's not one particular area. It's not one particular demographic," Allen said. "We have people who are newly out of college, and we also have seniors that are looking to age in place. We have people who are in education, teachers, people who are in the service industry, entrepreneurs. Our homebuyers really represent the need for affordable housing in that it is vast."
So far they've been able to help 62 households move into affordable homes, in part through collaborating with the city of Houston and the Houston Land Bank.
Allen said in some cases they've worked with Houstonians who weren't necessarily looking to buy a home, but were facing substantial rent hikes. The average mortgage on a Houston Community Land Trust home is $900, which might be lower than the cost of rent.
"We get people who will call and say, 'hey, I need a place to live. My landlord has told me I have to get out – they're going to tear it down, or they're going to renovate it – so I'm desperate.' And most of the time they can't find other apartments in that price range. Trying to go find a $900 two-bedroom apartment in 2021 is almost impossible if you want a quality place for you and your family to live," Allen said.
The Houston Community Land Trust formed in 2018, but Allen said the need has been there for much longer.
"There finally is starting to be a response to what people in communities like Third Ward, East End and Independence Heights have known for years and have been worried about for years," Allen said. "Slowly but surely, there are steps that are being taken to address the housing crisis that has been looming for awhile."
The idea seems to be growing. Harris County recently formed its own community land trust to create affordable housing options in unincorporated areas across the county.
In October, Adrienne Holloway, executive director of the county's community services department, toured the three-bedroom, two-story house they're building on what was a vacant lot in a comfortable neighborhood.
"I think that's important for people to recognize that when we build affordable housing, we're not building affordable housing that's of lesser quality or of a lesser aesthetic value or appeal," Holloway said. "We're building affordable housing using different techniques, different financing to make it affordable, but the quality is up there with the other homes in this area."
Harris County Precinct 2 Commissioner Adrian Garcia said his district — which includes neighborhoods like Baytown, Galena Park and Pasadena — has the lowest homeownership rate in the county, and he's hoping the community land trust model can help.
"(It's) a true celebration for families who want to participate in the American dream and families who want to make sure to be able to give the next generation of homeowners the opportunity to also step into an affordable home," Garcia said.
In the next seven years, the county's goal is to build and sell more than 500 homes using the land trust model. The first one should be ready by Christmas.