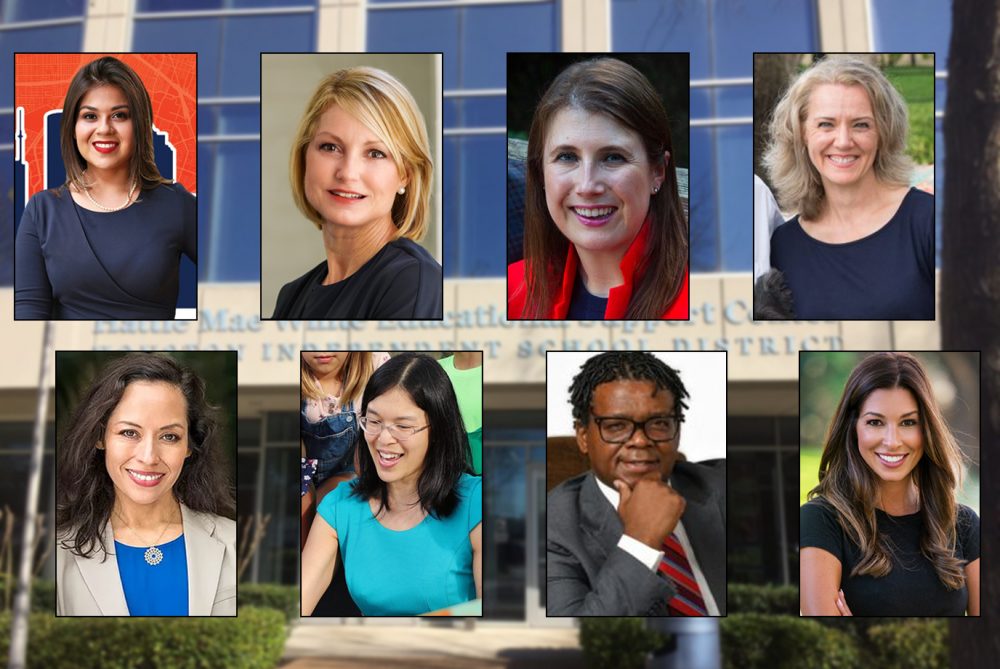 Heather Golden is a parent in the Heights, part of HISD Trustee District 1. She's the mother of two HISD high schoolers, both of whom have attended Title I schools for the majority of their education — schools in which children from low-income families make up at least 40% of enrollment.
Top of mind for Golden is a worry about children in Houston's underserved communities.
"My kids have gone to school in Title I schools the majority of their education time in HISD, and they see their friends who are struggling and need more help," Golden said. "They want their friends to receive the help they need."
She'll be casting her ballot in the District 1 runoff election, in which incumbent Elizabeth Santos will face a challenge from Janette Garza Lindner. In describing how she made up her mind before voting in the general election, Golden said she looked at the incumbent's performance and voting record. She's also looking at the pandemic, and how the candidates propose to make up for learning losses.
"I look at the functioning of the board as a whole since they have been a part of it," she said. "Has it improved? Has it devolved? How have kids done when they were in charge?"
Monday marks the start of early voting for Texas runoff elections, and four of the five Houston ISD board members who ran for reelection earlier this month must face the voters again.
The contests hinge on issues ranging from local concerns about the quality of education, to statewide issues about the survival of the board as an elective body, to national debates over mask mandates and the teaching of critical race theory.
Santos led the first round of voting in the District 1 general election, but fell short of 50%, prompting the runoff. Golden said she'll be voting for Santos' challenger.
But other Heights voters have concerns about Garza Lindner. Karina Quesada pointed to an interview Garza Lindner gave to The Leader newspaper that raised the issue of Texas Education Commissioner Mike Morath's threat to take over HISD and replace its elected board with an appointed one. That threat is the subject of a lawsuit now before the Texas Supreme Court.
"She stated that if there wasn't new members on the board that she is open to a state takeover, and for me that is that is really important," Quesada said. "That bothers me very much because as a constituent, as a citizen, as a taxpayer, as a homeowner, I don't want anybody, that's OK with taking my ability to elect a representative to represent us, my children, and our teachers in this community."
Sarah Terrell, also from the Heights, has the same concern.
"We have a person who's making the statement, basically, if I don't win this election, I don't think we should have elections anymore," Terrell said. "And that doesn't sit well with me at all."
Garza Lindner herself said that The Leader took her comments out of context and that it was never her position to support a state takeover.
"I do not agree with this state takeover," Garza Lindner said, "and I certainly hope the state will respect the actions of our voters and the actions that we've taken to elect community representatives, and I also hope that the state will give our new superintendent (Millard House) a chance to make the changes that that he was hired to make."
But Terrell's concerns with Garza Lindner go beyond the Leader article. She's worried that part of the reason the race is so close is because out-of-state donors are funding Garza Lindner. Of the roughly $90,000 contributed to her campaign, $36,000 of that was from ZIP codes outside of Texas. Garza Lindner, meanwhile, has pointed out that Santos has accepted tens of thousands of dollars from a Washington, D.C.-based political action committee.
Rice University political science professor Bob Stein sees a pattern in the out-of-state interests in the HISD trustee contests, as political polarization has figured in other local elections this year across the country.
"Many of these candidates, incumbent candidates or progressives, or of color, they have been pushing for changes in the public schools, including wider discussions of issues dealing with race and ethnicity," Stein said.
He noted that such concerns have colored contests ranging from local school board elections up to the Virginia governor's race, helping to tilt the latter contest to Republican Glenn Youngkin.
Jasmine Jenkins, executive director of the nonprofit Houstonians for Great Public Schools, said this amounts to a deliberate move by Republicans and conservatives on a nationwide basis to highlight issues such as critical race theory — which is not actually being taught in HISD schools — in order to stir up white parents' concerns.
"From the right, nationally, we see a bigger movement to get involved in local politics, to get involved in school boards, and so there are probably a lot of conservatives who have gotten involved in this race and who've decided to vote in these races who normally just sort of sit school board (elections) out," Jenkins said.
The idea, Jenkins said, is to juice up participation in what are traditionally very low turnout races, where even a few extra votes can tip a race.
That's certainly the case in District 7, where challenger Bridget Wade is running ahead of incumbent trustee Anne Sung heading into the runoff.
Summing up her position on critical race theory, Wade said she believed "we're all created equal."
"I believe that we are flawed human beings that need grace and a whole lot of forgiveness," Wade said. "And I also believe we have a history that, you know, we're not perfect. We haven't been perfect. But we also need to promote where we're going, and so we need to be looking forward instead of always looking back."
Wade also strongly opposes mask mandates.
"Masking your children should be a parental choice," Wade said. "I think that the district has done a disservice by not giving deadlines or parameters or metrics for when they would end this mandate."
Wading into those thorny political issues can lead to pushback. That's the reason Anne Eagleton, who lives near Memorial Park, voted for the incumbent Sung.
"I definitely have a concern that, depending which of these seats flip, we're going to start getting bogged down in fiery political rhetoric instead of figuring out when we're going to get a bond up," Eagleton said.
Robert Turner of River Oaks has one daughter in fifth grade and another daughter in first grade. He spent time speaking to all the District 7 candidates and ultimately decided to vote for Sung as well. He too cited concerns Wade and others raising issues that he said distracted from the real problems facing HISD.
"I've seen more and more culture issues come to bear, especially from Bridget Wade's campaign," Turner said. "Trustees don't have a whole lot of power, but they do approve budgets. But to hand that position over to somebody who really, in my opinion, lacks a lot of knowledge about the school, how the school works and who has probably nefarious solutions and policy positions, I think, is real problematic."
But the question of how well HISD schools work — or don't work — is another reason so many of the current board members are facing tough reelections. A lot of voters are looking to punish incumbents over the situation that led HISD to the brink of a state takeover.
That includes the so-called "walking quorum" of 2018, when five members of the board met in private in an ultimately unsuccessful attempt to replace then interim superintendent Grenita Lathan with former Superintendent Abe Saavedra. The Texas Education Agency launched an investigation and found the five members in violation of the Texas Open Meetings Act.
Of the five board members involved, two of them – board president Diana Dávila and Sergio Lira – were up for reelection in 2019 and were replaced by their challengers. The other three – Holly Flynn Vilaseca of District 6 (running against Kendall Baker this year), Anne Sung, and Elizabeth Santos – were up for reelection in 2021 and are currently in runoffs. The fourth board member involved in a runoff is Sue Deigaard of District 5, who is running against Caroline Walter.
Many voters are thinking a new board, coupled with a new superintendent, will prompt the Texas Education Agency to back off its takeover threat.
"I think that especially people who are watching closely still have very long memories from a lot of the dysfunction that's happened on the board," said Jasmine Jenkins of Houstonians for Great Public Schools. "I think that a lot of voters feel like they started the job of voting out the bad actors who participated in the walking quorum (of) 2018, and plenty more voters have decided to come back and continue that."