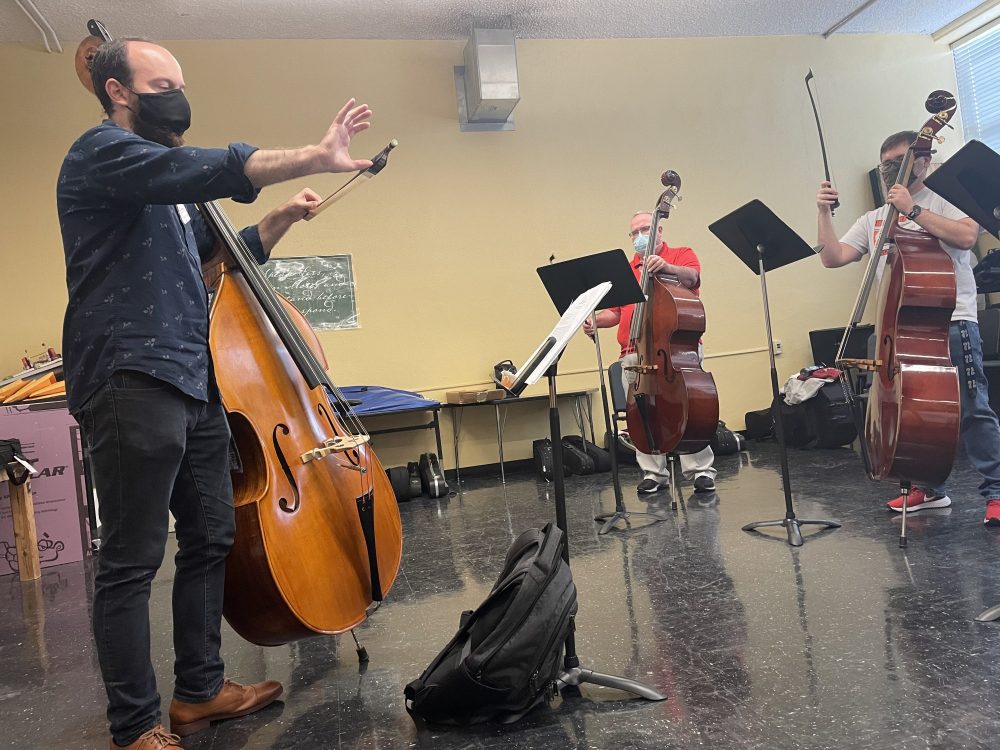 There was no class at Houston's Hogg Middle School on Sept. 17th, a teachers service day. But there was learning happening.
Faintly, you could hear the song "Mary Had A Little Lamb" on violin, down the hallways coming from a mostly empty classroom. That's where Tameka Evans, a band teacher at MC Williams Middle School, was learning both the violin and cello on her day off, so she could teach her students how to play those instruments, in addition to what they already are familiar with.
She's one of several band teachers within the Houston Independent School District who have been learning stringed instruments from community embedded musicians with the Houston Symphony — a partnership that since July has given teachers access to free training at various schools across the district.
Evans has consistently attended the trainings, ever since they first started. It's hard: At her core, she's a piano player. But she wants her students to learn because she knows it's something they're not used to.
"I love my students in our neighborhood, where the myth is 'oh, we don't do string instruments,'" Evans said. "Well guess what? This year, we're doing it."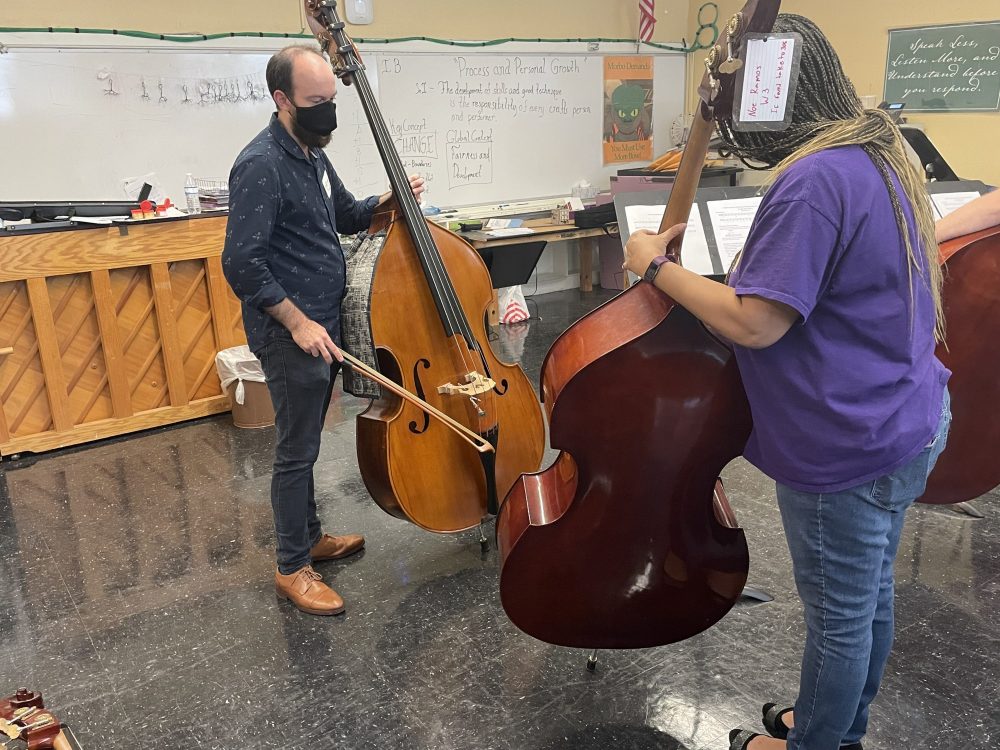 Six schools within HISD have already added new orchestra programs this year, thanks to the partnership — Lewis Elementary School, Long Academy, Marshall Middle School, McReynolds Middle School, Park Place Elementary School and Westside High school.
However, the hope from leaders at both the Symphony and HISD is that this will be the beginning of something much bigger.
"We're hoping that every school in HISD has the impetus and excitement about this to actually start their own orchestra programs," said Pam Blaine, the Houston Symphony's chief of education and community partnership.
Many of the participating band teachers are like Evans, in that they have never picked up a stringed instrument before, let alone teach an orchestra class. That means the community embedded musicians have had to start with basic string techniques.
The idea to make more of a commitment to an Arts Education came from Wenden Sanders, HISD's fine arts director, who's been working to expand arts programs at HISD schools for 12 years.
However, Sanders said it's been challenging because the district is decentralized, meaning principles decide how they spend their own limited budgets. Prior to his arrival, Sanders said the arts weren't prioritized enough.
"It was up to each district to decide whether they had a fine arts director," Sanders said. "Only a couple did. And they weren't provided budgets, so there was no investment in the schools."
With the help of new leadership at the district, Sanders said he's finally getting enough financial support to kickstart his vision of having more schools with orchestra programs.
The selling point to principals? Better academic achievement.
According to data collected back in 2012 by the Texas Music Educators Association , students who participated in music scored an average of 31 points above average in reading, 23 points above average in math, and 31 points above average in writing on their SATs.
More recently, TMEA also indicated that Texas All-State musicians have consistently scored 22% higher than the national average on SAT scores, and about 26% higher than the average in Texas.
"What principal wouldn't want that?" Sanders said.
The partnership with the Houston Symphony has been a crucial part of accomplishing his goal.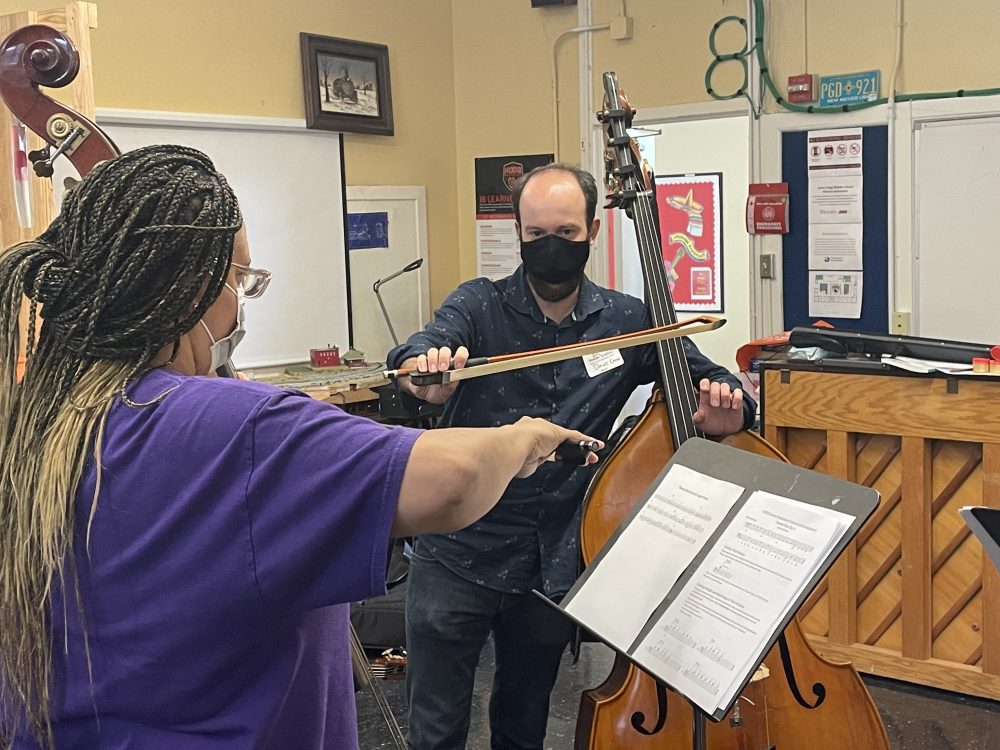 Two community embedded musicians are currently in the Houston Symphony, and both are participating in the partnership with HISD.
David Connor's father is an educator, which he says is a big reason why he wanted to participate.
"If their teachers bring some of the enthusiasm, some of the excitement, some of the attention to detail that we developed, I think that's going to translate to the kids," Connor said.
Connor said the Community Embedded Musician program was brand new to him when he first joined the Symphony. The reason he participates, he says, is to bring the music out of the concert hall and play for a new audience who may not get to see them otherwise.
That's why students who participate in new orchestra programs are also getting the opportunity to see the symphony in person: It's a chance for kids to experience something Connor said is uniquely magical.
"There's nothing else like it anywhere in the orchestra field," Connor said. "With music, especially when you're there, when you're present at a concert or learning in person, feeling the vibrations and the energy, and the sense of a live performance — it's essential."