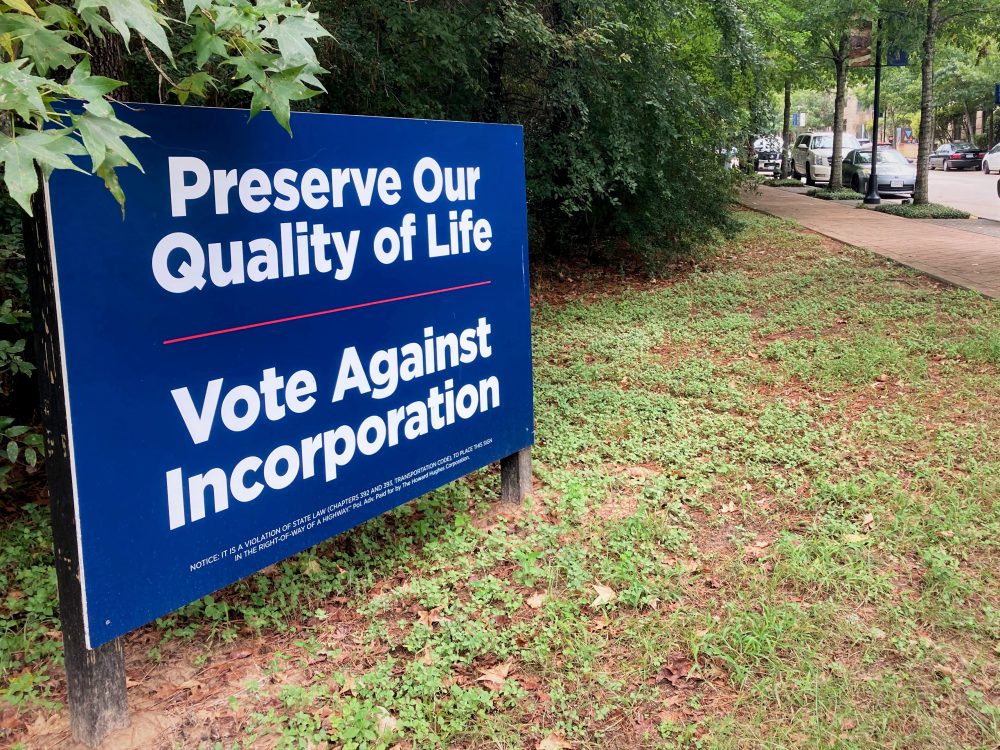 Residents in the Woodlands are set to vote on a pair of propositions to incorporate as a city, a measure that's been discussed for years and is finally on the ballot come November.
But the incorporation proposal has drawn major opposition from the Woodlands' largest developers.
The Howard Hughes Corp., which has owned a majority interest in the Woodlands since 2004 and full ownership since 2011, is pushing to block passage of Woodlands Township propositions A and B. If passed, those propositions would authorize the incorporation and set an initial property tax rate of no more than about 22 cents per $100 of taxable property, while transferring all governmental authority to the newly formed city.
The company has donated to the Against Incorporation campaign and put up billboards urging people to vote no on incorporating.
"Why would we vote in favor of incorporation and a new city government structure—one that would come with higher taxes and fees, potential loss of service levels and infrastructure management issues?" wrote Jim Carman, head of the Howard Hughes Corporation Houston Region, in a letter to Woodlands' residents. "Now is not the time to abandon our current successful model of governance."
Most of the Woodlands is located in Montgomery County, with a small section bordering Houston in Harris County. Its unique status as a township means it contracts with counties, cities and private companies for services.
Now, some residents say it's time for the community to undergo a transition.
"We don't have self control of our roads and our development decisions," said Mark Unland. "And that really bothers me."
Unland first moved to the Woodlands 18 years ago. The retired engineer said he thought his stay would only last a short time.
Instead, he fell in love with the township nestled between Houston and Conroe.
"It's a beautiful community," Unland said. "It's a great master planned community and that's what I think we all love about it."
Nancy Sievert, a Woodlands resident of 26 years who works in education, echoed that sentiment.
"We have excellent public and private schools," Sievert said. "It's a hometown. It's a great place to raise a family."
If the Woodlands does incorporate, it means there would be a change in how the Howard Hughes Corp. does business. Instead of working with a patchwork of cities and counties, it would have to work with the newly formed city for things like permits or building new roads.
Sievert, Unland and others are part of a local group called Residents For The Woodlands arguing in part that it shouldn't be the Howard Hughes Corp. or multiple cities and counties making decisions for The Woodlands. They think control should instead be in the hands of the residents, and are asking people to vote "yes" on incorporation this November.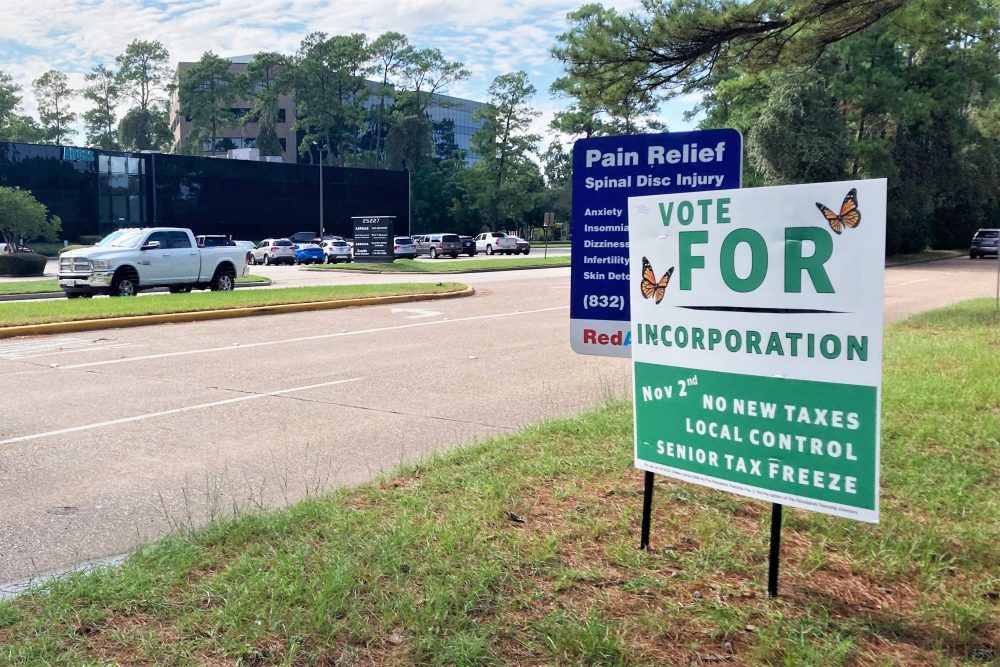 Becoming an incorporated city is not a new topic in The Woodlands. Residents have expressed concern that cities like Houston and Conroe could encroach on their independence for decades.
However, when the community faced challenges in securing federal funding following Hurricane Harvey, the township board commissioned a study on the pros and cons of incorporation.
"We had the Memorial Day and the Tax Day floods," said Board Chairman Gordy Bunch at a public meeting, "followed up by Hurricane Harvey. Our area flooded three times in less than 18 months. Four thousand homes were damaged. We went to the FEMA meetings. We went to the (U.S. Small Business Administration). We went to HUD and found that the township was not in a position to directly address the issues of flood mitigation for the community."
Originally The Woodlands Township Board of Directors hoped the study would wrap up in time to consider putting incorporation on the November 2020 ballot. The COVID-19 pandemic delayed that plan, and instead board members reviewed the research this summer, and voted 5-2 to put it on the November 2021 ballot.
The Hughes Corp. has called the township's incorporation report "flawed," arguing that it understates the costs, and instead commissioned its own study. The company's analysis found that the township ignored "the risk and costs of assuming liability," did not plan for increases in municipal compensation, among other things.
Opponents of the incorporation have argued that the current township system works well the way it is.
Richard Franks with the Against Incorporation campaign said he's concerned that if a newly incorporated city takes over public services, the quality of services like road maintenance and policing will suffer, while the cost to residents will go up
"The simple question is: what's broke?" Franks said.
The study commissioned by the township does not include immediate changes to the policing structure, and the model presented to the board of directors includes a transition period in which residents would have the opportunity to vote on how the city would run.
At a public meeting, Julia Novak — who helped lead the study commissioned by the township's board — told residents that things like road management and public safety are currently decided by Harris and Montgomery counties.
"Instead of law enforcement being controlled by two separate entities," Novak said, "you'll have a city marshal police chief who would be making decisions about a policing philosophy that would be consistent with the level of service for this community."
Novak's study also showed there would be no initial change in the tax rate.
The "against" campaign says more research needs to be done, and the decision to put incorporation on the Nov. 2 ballot was rushed.
Sievert, with Residents for the Woodlands, disagrees. She said the community has discussed becoming its own city for years, and likened the Against Incorporation campaign to a student who failed to prepare for an exam.
"The student comes in and goes 'excuse me, teacher, can we put the test off? I didn't study,'" Sievert said. "Well, we have studied, and it's time to take the test."