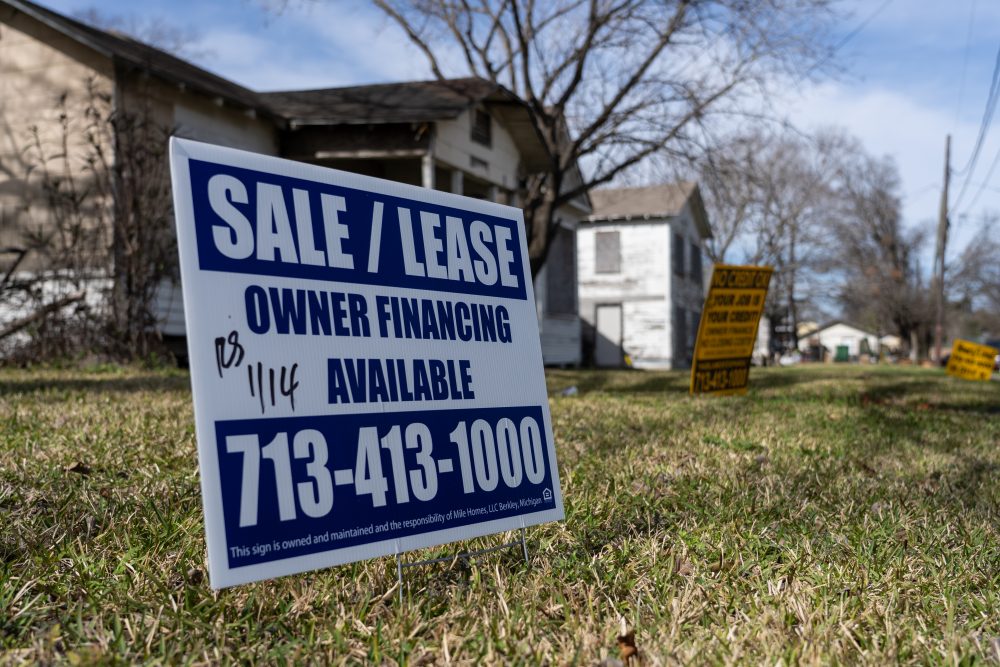 Houston has become a less-friendly environment for homebuyers in recent years. After a month of decreased sales volume halted a 13-month run of positive growth in Houston's housing market, sales rose again in August: The median sales price for a single-family home rose 15.2% year-over-year, according to the Houston Association of Realtors. And with that market activity comes the threat of displacement of low-income homeowners across the city.
The nonprofit Houston Community Land Trust, which recently closed on its 50th house after forming in 2018, hopes to stave off that gentrification by helping low-income Houstonians buy homes and keep them affordable, despite market pressures.
Houston Public Media spoke with Executive Director Ashley Allen about how the group is tackling issues like gentrification, rising home prices and low rates of homeownership among Black Houstonians.
The below interview has been edited for length and clarity.
How did the Houston Community Land Trust get started? What makes it different from other affordable housing efforts in Houston?
Before the CLT got started there was a lot of organizing and activism around long-term solutions for affordable housing, and thinking about, "how are we going to meet the need and demand?" And so neighborhoods like Third Ward, Independence Heights, East End, they really were focused on, "how do we preserve our community?" Because we know that the gentrification is coming.
If you're familiar with most housing programs, they provide $20,000-$30,000, maybe $40,000. But it's usually only good for that one family, because after five years, that 30 or 40 is forgiven and the buyer can sell on a traditional market, meaning it's no longer affordable. And so there was never a net gain of affordable units. It was: some come into the market, and then after that family decides to move and sell it, we lose it to the market. So they were trying to think of ways to be able to preserve it long term and really fight for the community.
With the CLT, the buyer owns the home and leases the land in exchange for significant subsidy and making it truly affordable. And then when they sell the home, it is sold at a restricted resale price so that another family can then benefit from an affordable home. And we're particularly talking about families and individuals that normally would not be able to purchase a home in the traditional housing market.
You mentioned that community activism has laid the groundwork for this work in Houston. Where did the idea of community land trusts originate?
I was lucky enough to be actually on a panel earlier today with the founder, one of the founders of the first deal to use the new community CLT in Albany, Georgia. And it started because African American farmers were being displaced and kicked off their land and harmed because of their activism in the civil rights movement. What the farmers did back in the 60s was to own collectively and create a collective community for African American farmers so they could keep their land, and so that they were stronger because they work together. And so that idea of collective ownership still goes on today in new communities, and they have a huge farm in Albany, Georgia that took years to kind of develop and maintain itself.
But that's where that idea came from was the oppression and understanding that they couldn't do it alone.
And we're seeing that here in Houston. Particularly, Black communities are gentrifying, and people are being displaced. So the tradition of advocacy and community organizing is the root of the community land trust model, and making sure that those who are most disenfranchised know how to say it.
It's really interesting to see something with a lot of history in rural areas is being utilized in urban centers like Houston. When it comes to the Houston Community Land Trust, I'm wondering: what are some of the plans and goals for the future of it?
Ultimately, we want to meet our goal of getting to 1,000 CLT single-family homes, but also utilizing the CLT in various ways outside the single family model.
So that could include affordable rentals in areas, green spaces — we believe that preserving green spaces is essential to creating community, maintaining community, and it contributes to health. So we want to make sure that's happening. Economic development, by supporting the affordability of commercial spaces so that small businesses are not victims, again, of displacement in their communities. As the community develops, the rent gets higher, the small businesses can't afford the higher rent, but we can use the land trust for commercial spaces as well.
We want to continue to create affordable single-family homes, and make sure that we're addressing kind of a big issue is right now, which is increasing black homeownership, decreasing that wealth gap. And I think this is a way to do that.