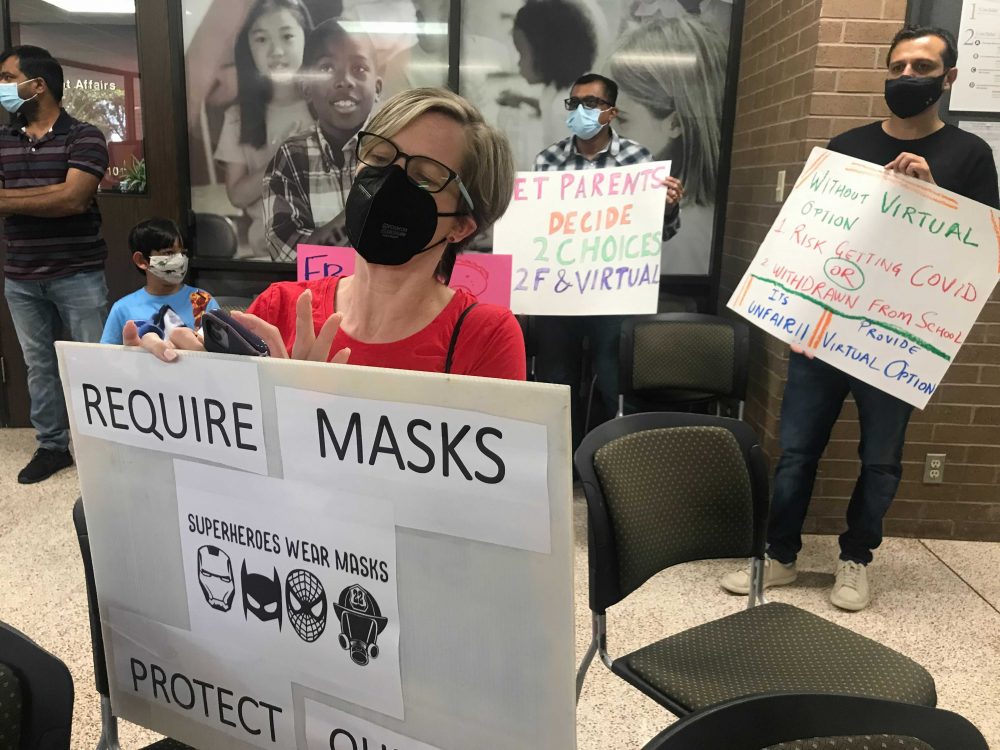 A week after the return of classes at Fort Bend ISD in August, the district had already seen hundreds of positive COVID-19 cases, in the middle of a surge that left many parents concerned for their children's safety.
Fort Bend County Judge KP George issued a mask mandate for the county, raising the threat level to red, and the school district ultimately voted to follow suit, issuing its own mandate in defiance of Gov. Greg Abbott's orders banning such requirements.
But a day later, an attorney with the district appeared to reverse course, filing a brief with the Texas Supreme Court that on its face appeared to support of Abbott's ban, court records show.
Now, more than a month into the school year, some Fort Bend ISD parents and students say it's been an often frustrating period filled with drama and uncertainty — as well as nearly 4,400 confirmed cases of COVID-19 — as school districts across Texas are caught in the middle of a mask mandate battle between local governments and the state.
Weeks before the school year began, parent Zubin Balsara started a petition to encourage FBISD trustees to offer virtual learning options from kindergarten through sixth grade. Balsara said he was worried about putting his third-grader in school during the delta variant-fueled surge.
"I decided that people that believe in the safety of their kids against COVID also deserve to have a choice," Balsara said.
His request was partially granted. The district made some remote learning slots available — about 1,000 students qualified — but more than 5,000 families applied for the option.
Virtual learning appeared to be a step in the right direction for parents like Bharati Sadhwani, until her child was denied. Sadhwani's next step was pleading to the district for a mask mandate.
"As delta began to rise and we saw more and more children being impacted and hospitalized," Sadhwani said, "we sent emails and we had a protest."
Protests and scores of emails are all measures becoming all too familiar to school board members like Denetta Williams.
"The parents are emailing you and then literally begging you to assist them," Williams said. "Knowing you do not have the power to help these parents on your own, it's mentally taxing."
George issued the county mask mandate just a few days after school started, on Aug. 13, despite Abbott's executive order banning mask mandates. Many in the FBISD community assumed it would apply to schools as well, but instead, Fort Bend ISD officials initially only encouraged masks instead of issuing a mandate.
Then just after midnight on Aug. 24, the board passed its mask mandate 4-3, with parents both for and against the measure showing up for a "silent protest."
But that decision was swiftly reversed. First, in an amicus curiae – or "friend of the court" brief – filed with the Texas Supreme Court the next day, FBISD and the Lamar Consolidated Independent School District challenged the county's authority to issue a mask mandate.
That brief was filed in support of Abbott's Aug. 13 petition for a writ of mandamus to get local jurisdictions to stop issuing such requirements.
Less than a week later, the district issued a statement saying legal developments playing out in the Texas Supreme Court meant FBISD would no longer require masks.
That decision caught Williams off guard. Now, she says, the board and district want to wash their hands of the mask issue.
"They don't care it's not being discussed, they don't care it's not on the agenda," Williams said. "They are not concerned."
Williams also claimed school board president David Rosenthal unilaterally decided to drop the mask mandate, and she is now seeking a temporary restraining order.
"Dave Rosenthal did what Dave Rosenthal wanted to do, without any consequences or repercussions for his bad acts," Williams said.
Rosenthal declined to be interviewed for this story. But in a previous statement to Houston Public Media, he said that the district's brief with the Texas Supreme Court does not support the governor's ban on mask mandates.
"The brief only argues that as between school boards and local county health authorities, school boards have the authority to issue mask mandates," he wrote.
But the brief itself is less clear on that, arguing that the authority to make health decisions for individuals to control diseases lies with the Texas Department of State Health Services, and with local health authorities only if they don't conflict with the state's.
Glenda Macal, president of the Fort Bend branch of the American Federation of Teachers, said shortly after the court documents were filed that the politics of the case were frustrating.
"We are saddened that this whole thing has taken away from the focus of really protecting our kids and our teachers," she said.
Meanwhile, parent Bharati Sadhwani has since removed her first-grader from FBISD, saying the school district failed her child.
"Our school district could have worked more with our local DA to ensure that Abbott's ban was not going to be enforced," Sadhwani said, "and that FBISD wouldn't face any penalties."