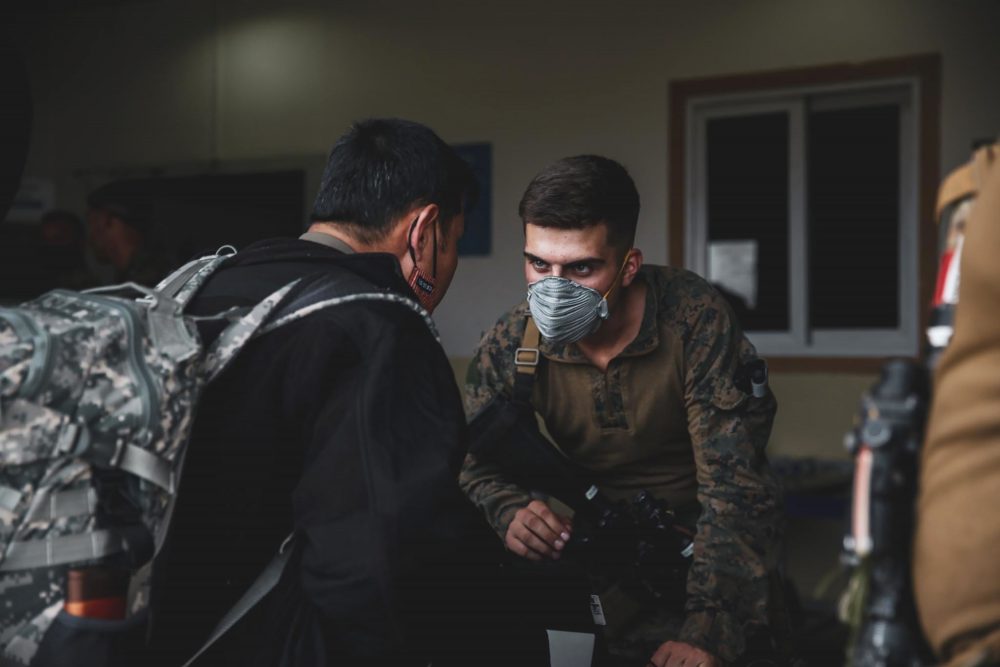 The Taliban is now barring any Afghans who have not already reached Kabul Airport from leaving Afghanistan. That's anguishing for Afghan refugees in the United States who've left family members behind.
Houston Public Media spoke with a former combat interpreter who came to Houston on a Special Immigrant Visa, or SIV, and is now a U.S. citizen. For his family's safety, he asked to be identified only as "Yaser."
This interview has been edited for length and clarity.
How did you start working for U.S. forces?
I was in high school, almost a graduate. It was the end of 2011. A friend of mine found out that U.S. troops in Camp Phoenix, which is in Kabul, were hiring people who have a better understanding of English. And they've got to be bilingual, like in Dari and Pashto.
That moment, I was actually looking for jobs to support my family, and as soon as I heard this, I said, "Can you show me how I can get over there and apply for it?"
As soon as I graduated from school, luckily, they called me from Camp Phoenix and said, "Are you able to make your way here? We'll give you an assignment." And they gave me an assignment to Kandahar, and from there they flew me to Camp Leatherneck, and from Camp Leatherneck to Sangin District, in the southern part of Afghanistan in Helmand Province. It is a very risky area.
How long were you working with U.S. forces?
I started in May 2012, and I stayed there till July 2014. I was strictly working with the U.S. Marines.
What made you decide to leave that job?
When I was there, I heard about SIV, Special Immigrant Visas. That was like anyone who worked on behalf of the U.S. Government or U.S. forces, they'd be able to get their visa and go to the United States. I never believed that was something I would be able to do.
But when I completed a year of working with them, they called me out and asked me, "This SIV program, do you want to apply for it and go to the United States?" I was like, "Yeah, absolutely. This is my dream. Why not?"
What was adjusting to Houston like for you?
For the first three years, it was very challenging, having no cars, no jobs, don't know what's going to happen the next few years, though I was able to figure things out by my own quickly.
You know, I have all these dreams that one day I'll be able to put my family in a position that they'll live financially free in a good healthy lifestyle and also serve my community.
I attended Houston Community College here, and I finished about two years of college. Then I attended some online program about marketing and business industry. I was just like, anything coming my way, any opportunities, I would just jump on it and just grab it and keep going as hard as I could.
What are you doing for a living now?
I drive for Uber, because it's flexible. I'm looking to go to a CDL (commercial driver's license) class and be a truck driver, because I always wanted to have a business of my own. That was the whole point for me, to live this American dream. And I went to Afghanistan again in 2019 in January, deployed with the U.S. Army as an interpreter, and came back in August 2020.
Did you get a chance to see your family while you were over there?
No, no. That was just a little bit harder for me, that I'm a few hours away from my family. But for safety reasons, I wouldn't choose to do that, because I wouldn't want to put my family at risk.
What do you know about your family's situation now?
It's so heartbreaking. It's a disaster. I mean, over there, everything is falling apart. It reminds me back when I was 4 years old, when the Taliban just invaded Kabul. I remember, when they took our village, my dad just came rushing home, very nervous, and just asking everybody to get ready, we have to run. And I was just this 4-year-old kid running around the mountains, cave to cave, making our way all the way down to Kabul.
My family right now, they're just relocating themselves multiple times. I told them to burn the hell out of all my paperwork, any pictures that I have left behind. Do not leave any evidence with you. And make sure to delete all the pictures from your phones. Make sure you have no contact from me. Right now the Taliban are going to people's houses and targeting and hunting everyone that have worked with the U.S. forces and Afghan government. It's such a horrible situation, and I've lost contact with my family.
I've tried to just ask my teams to write me papers and ask the U.S. departments to help my family to get to safety. As a U.S. citizen, over here, I can't do anything for them. I promised them, when I get my citizenship, I'm going to bring you guys to the United States and live in safety. And once this happened, I lost all my hope.