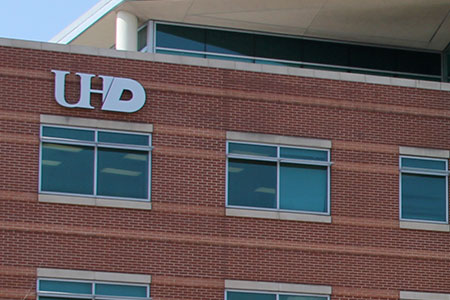 As the COVID-19 delta variant continues to spread across the region, local hospitals are being pushed to the brink with new patients and face nursing shortages that delay care.
Dr. Linda Dune, the director of nursing at the University of Houston-Downtown, spoke with Houston Public Media about that shortage, how her students are faring during the pandemic, and whether they're ready to meet the emerging needs of hospitals.
The below interview has been edited for length and clarity.
Some Houston hospitals are reporting a serious nursing shortage, with this latest COVID wave. How concerned are you as an educator about the future of nurses in Houston, and across Texas?
There is a current challenge and there will continue to be. We're estimating that there will be a need for up to 50,000 nurses by 2032 in Texas. Nationwide, we're looking at just over 1 million nurses that are needed by even next year. So Texas is right there with the rest of the nation. We have a nursing shortage that is really severe, and I imagine it will maintain because of some of the challenges we face in nursing education at this time.
What are those challenges, and does the University of Houston Downtown do any kind of recruiting when it comes to your nursing program? I would imagine that's specifically important now during this time period, to keep that pipeline of nurses coming in.
Yes, we have some very interesting programs, national programs in particular, which help us get as many students as possible. But what I think is needed, really, as far as this nursing shortage goes, is not necessarily (just) recruiting, but actually recruiting those people who help to bring the nurses up to their education level that they need. Nursing faculty shortage is a major contributing factor to our inability to turn out enough nurses. And the reason we have that is because many nurses who want to get advanced degrees, are actually nurse practitioners instead of educators, because of compensation packages. So if we want to get more nurses in the profession, we have to get people here who can teach them, and the clinical sites to train them in.
I think that the Texas Legislature could step up and help us to develop some type of initiative to enable nurses to become educators. The nursing profession really needs support by their community, and by their state, in order to fulfill the needs of the nursing staff within the hospitals.
Are nursing students concerned about being a nurse in this state, and this city, given the politics? Or are more nursing students showing interest in practicing outside of Texas because of that?
Most of my graduates, most of the students I interact with want to stay in the state of Texas. Some of them, however, will identify other areas of nursing, such as being a traveling nurse. Because of the compensation package, that usually goes along with those types of positions. Also, many of our nurses don't stay at the bedside. They actually get advanced degrees, and, again, become nurse practitioners, and that takes away from the nurses we need at the bedside. Of the nurses I talk to, about 50% actually want to go forward and become nurse practitioners.
Congresswoman Sheila Jackson Lee has made a special call recently to have more student nurses working in real-life scenarios to ease the current burden on hospitals. Lone Star College, for example, has partnered with the Harris Health System to provide reinforcement nurses during the surge. What are student nurses qualified to do in your opinion? Can they treat COVID patients, given their education?
Depending on their level of education and what semester they're in, they can do more as they progress through the program. But I would not want them to just be used as auxiliary staff. I would like for them to be able to be educated, at the same time they're working in some of these roles.
Right now, many of the hospitals find students a challenge, because they have to actually help the students with their learning of the skills. And sometimes that can bog down a nurse, and cause an increase in burnout.
Given the recent resurgence of the pandemic, especially locally, how are your nursing students currently responding to this? Are they feeling inspired, devastated — how would you describe the current mood?
They are really attracted to the profession because of the trust that the public has in the nursing professional overall. They really want to be a member of the group. They are challenged by COVID. but they want to do as much as they can to assist. Now, I wouldn't say there's been a growing interest in nursing, but it has not dropped off because of COVID.