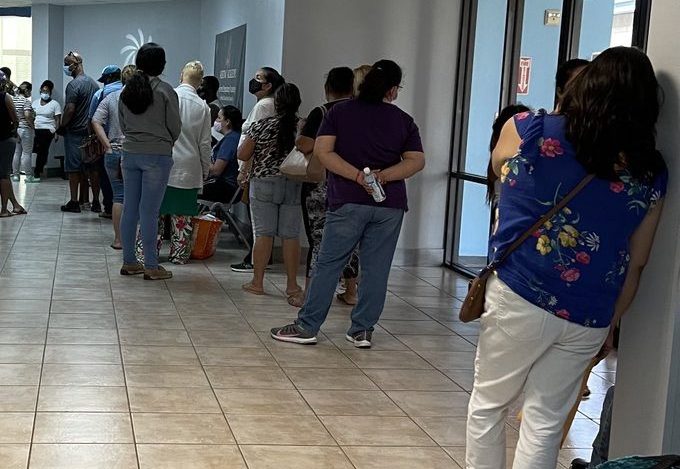 It's become a regular monthly event during the pandemic — hundreds of Houstonians lining up, waiting for hours for free legal aid and help navigating the process of applying for rent relief money.
The pop-up clinics are held at churches and community centers, and run by lawyers and volunteers, along with local unions and staffers from Harris County Precinct 2 Commissioner Adrian Garcia's office and Harris County Precinct 1 Commissioner Rodney Ellis' office.
At the most recent event in June, held at Harvest Time Church in Greenspoint, Eric Kwartler, an attorney with South Texas College of Law, said many families in line were living on the edge of eviction.
"There are hundreds of people here, and we're doing our best to move through them, but it's so frustrating for everyone, especially the ones with kids," Kwartler said. "We had someone come through who had just had surgery and had a gaping wound. We're trying to help everybody with unique needs, but it's just overwhelming."
The latest pandemic safety net policy to disappear could be the federal CDC eviction moratorium, which is set to expire at the end of July. And unlike renters in many other cities around the country, Houstonians won't have a state or local eviction moratorium to protect them either.
California is still under an eviction moratorium through Sept. 30, and the state of New York's eviction moratorium is set to expire on Aug. 31. In Illinois, the statewide moratorium is expected to end in August.
In Texas, however, the state Supreme Court lifted its eviction moratorium more than a year ago, in May 2020.
"The reason that there's not a statewide moratorium is that we continue to rely on the federal moratoria and local jurisdictions," said Texas Supreme Court Chief Justice Nathan Hecht during an interview with Houston Public Media in December.
For the past few months, Houston-area officials have relied on millions of dollars of federal rent relief to prevent evictions.
Jay Malone, political director of the Gulf Coast Area Labor Federation, said that's why organizers are hosting these large in-person rent relief events — for the many families with language or technological barriers who are struggling to connect with assistance.
"A lot of those people, if we hadn't helped them, if they hadn't had an event where they could just hop in the car and drive and somebody would take care of it for them, they would be out on the street," Malone said.
The federal moratorium has had mixed results, partly because it doesn't automatically put evictions on hold, and many people don't know they can invoke the protection. Renters have filed the moratorium paperwork in only about 15% of the eviction cases filed in Harris County, according to data firm January Advisors.
The lines at Houston-area rent relief events could become longer since Texans lost pandemic unemployment benefits at the end of June. Gov. Greg Abbott let the federal program expire early, saying the state's economy is back on track — though more than 30,000 workers have pushed back with a lawsuit, arguing the governor doesn't have the authority to end the federal benefits they were counting on through September.
Many Texans aren't back to full-time work yet, Malone said.
"Galveston is a huge cruise ship port. The cruise ships are just now coming back," Malone said. "It's the waitresses at the Hilton. Their capacity is still miniscule compared to what it was. Air travel is still lower than it was, and so a lot of those jobs haven't come back."
Now, many are bracing for August. If the federal moratorium expires, many of the cases that have been paused during the pandemic will be back on the dockets, according to Dana Karni, managing attorney at Lone Star Legal Aid.
"We have thousands of cases that have been abated by the CDC. All of those cases are about to get set for hearing," Karni said. "The lawyers are going to be busy. The tenants are going to be scrambling. It's likely going to be quite a mess in the courthouse. An overwhelming mess."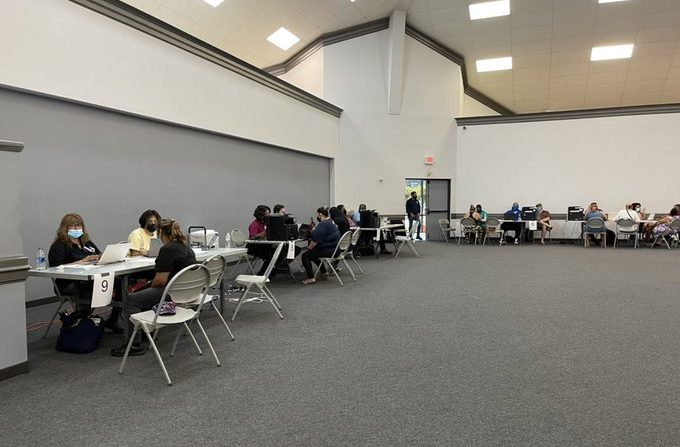 It's not like this everywhere in Texas. While Houston doesn't have a state or local moratorium in effect, Austin has had one since March 2020.
"If you look at a city like Houston, where you have over 32,000 evictions, and then a city just two-and-a-half hours up the road like Austin, where you have only just about 1,000…I think you can look back at the last year and compare those two and then decide for yourself which policy you think is better," said Austin City Council member Greg Casar.
Currently, Austin landlords can't evict tenants who owe less than five months rent. If a tenant owes more than five months rent, landlords are required to apply for rent relief money before they can evict.
Casar said it's part of a long-term plan.
"We'll lower that from five months down to, say, three, and then down to two, so that we're easing folks back into a recovering economy, rather than as soon as everybody's got vaccines, just letting everybody fall off a cliff," Casar said. "That doesn't make good sense."
The Houston-Harris County rent relief fund has handed out $131.4 million to 35,036 households, according to BakerRipley and Catholic Charities, two nonprofit organizations administering the program's funds.
Robin Millard, a renter who moved with her daughter from Seattle to Houston just before the pandemic, hoped their rent relief would arrive before it was too late.
"Oh my god, that was so scary," Millard said. "Because we don't know anybody down here. We're completely alone. To not have that stability for my daughter really was terrifying because I don't want to uproot her at all, but especially to have to lose everything. And we would have lost everything, because we would have essentially been homeless."
Millard's landlord filed to evict them, but also worked with them get rent relief funding.
"The day that we were supposed to be going to court, we got the approval letter," Millard said. "It was just by the skin of my teeth everything kind of worked out."