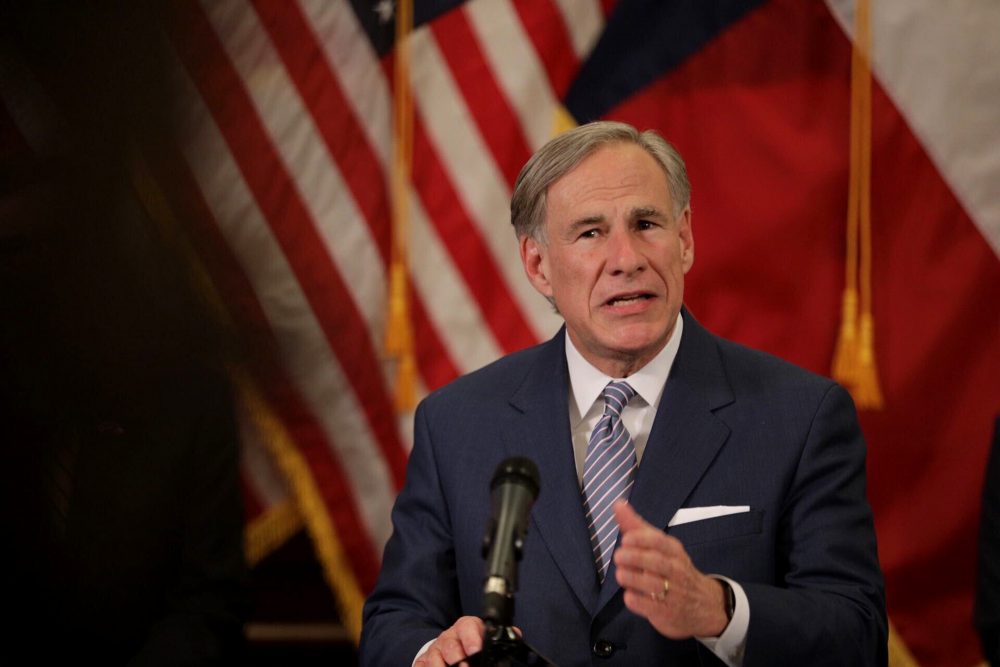 The Texas legislature will likely have two special sessions in the coming months — one to wrap up unfinished business, and another to work on redistricting — but those plans could be interrupted if Gov. Greg Abbott follows through on his vow to veto funding for the legislature, a decision that could come by the end of this week.
In a tweet two weeks ago, Abbott informed Texans that he would veto part of the budget that funds the legislative branch, saying there would be, "no pay for those who abandon their responsibilities."
If Abbott does go through with the veto — and if that veto goes into effect — it would impact legislative paychecks beginning Sept. 1.
Abbott's threat comes in response to a dramatic walkout last month by House Democrats, who killed the controversial voting bill SB 7 by breaking quorum and refusing to vote on it in the final hours of the session. The legislature is likely to pick up the matter again in a special session.
"Ensuring the integrity of our elections and reforming a broken bail system remain emergencies in Texas, which is why these items, along with other priority items, will be added to the special session agenda," Abbott wrote in a statement shortly after the regular session ended.
I will veto Article 10 of the budget passed by the legislature.

Article 10 funds the legislative branch.

No pay for those who abandon their responsibilities.

Stay tuned.

— Greg Abbott (@GregAbbott_TX) May 31, 2021
Abbott has until Sunday to veto, otherwise the budget will go into law automatically. The governor's office did not respond to requests for comment for this story.
Back in 2005, then-Gov. Rick Perry vetoed the state's $35.3 billion school budget in an effort to force lawmakers to reach an agreement on school finance reform.
But it's not clear whether Abbott has the authority to veto legislative pay, according to Rocky Rhodes, a professor at South Texas College of Law Houston.
"To the extent that he is vetoing legislative pay, which is set by the constitution and required to be paid by the constitution," Rhodes said, "at least that portion of the veto, there's a strong argument, would be unconstitutional."
Jason Embry — a communications consultant with New West Communications and longtime staffer for former House Speaker Joe Straus, R-San Antonio — said he believes it's likely Abbott will follow through with the threat, but that the decision would also likely be reversed later.
"He says he's going to veto the legislative portion of the budget. I believe he's going to veto the legislative portion of the budget," Embry said. "The question is, what happens between that veto and the period on Sept. 1, where the new budget takes effect."
If the governor does veto funding for the legislative branch, Embry said hundreds of House and Senate staffers across both sides of the aisle, and the support staff in other departments, could lose their paychecks.
"If I were a legislative staffer right now," Embry said, "while I would certainly be giving some thought to this and I would want to keep a close eye on it, I also would not be in all-out panic mode right now, just because vetoing the legislative branch of the government without having any type of fall back or any type of back stop on that would be an extraordinary measure."
In fact, a veto would almost exclusively hurt staffers, not the lawmakers who took part in the walkout. Lawmakers aren't paid a living wage and have other sources of income, while staffers are more likely to depend on their legislative paychecks for their livelihood.
Current staffers have been reluctant to speak on the record about the governor's threat, fearing their bosses could face retribution.
But one staffer said she laughed when she first saw the governor's tweet — it seemed absurd to her.
Another staffer said she sees the veto as a political move that will get sorted out. But she's still concerned for the many people who may be worried about their jobs.
"My first reaction was just that it was politics," she said. "The only thing I was concerned about immediately are the people who are not in this job for politics or policy."
Those are the people who keep the Capitol running, she said.
"The people who would be impacted are the people who clean the Capitol, the people who work in the legislative reference library," she said. "Their funding will be reinstated, I truly believe that. I worry about the ones that maybe don't understand that."
"I think even the governor and his advisors know that you have to have a legislative branch to function." she added.
Additional reporting by Andrew Schneider.