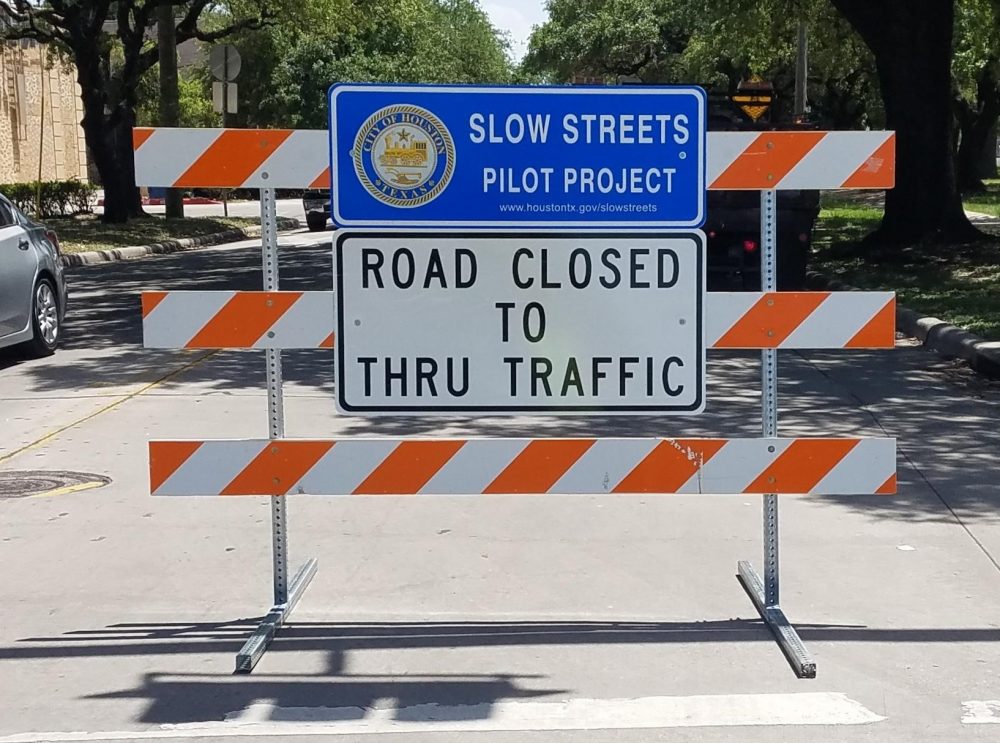 Traffic around Houston has been a lot lighter because of the pandemic, but some neighborhoods are still struggling with a big problem. Some of their local streets are being used as "cut-throughs." Those are the shortcuts drivers use to avoid traffic lights or congestion.
To try to keep that traffic out of neighborhoods, the City of Houston is now doing a "slow streets" pilot program in the East End. Transportation Reporter Gail Delaughter spoke to Houston Chief Transportation Planner David Fields about the plan.
This interview has been edited for length and clarity.
You say the problem is that you have all this traffic on residential streets that really doesn't need to be there, and that's causing problems for families who want to get out and walk and bike.
It was exactly that, drivers who aren't starting or ending there, driving really fast, adding a lot of volume that doesn't need to be on those streets. There are kids and really whole families who would like to be out there a lot more. And what's really interesting about the Eastwood neighborhood and one of the things we realized we wanted to focus on were streets that ended up in a neighborhood park. Eastwood Park is at the top of Dumble Street at Harrisburg. What we were hearing from the community is that people go there pretty regularly, and they would go there a lot more if they felt they could just walk out their door and feel safe walking to a critical destination for getting out and being able to be outside and exercise but at the same time socially distance.
The big question we hear in Houston is who do the streets belong to? Are they just for cars or are they also for other users?
The streets are for everybody. We're not telling people not to drive. Houston is a very big place. But at the same time there's no reason you shouldn't be able to walk out your door and walk or bike. Even before the pandemic we were starting to hear people say they want to do both. Most people are not just a driver or not just a walker or just somebody who bikes. There are people who do all these things, and they want to be able to do all of that and streets should be able to allow it.
How do the slow streets work and who's allowed to drive there?
Anybody can drive on that street. We're not doing police enforcement, nothing like that. We've put up some moveable barricades that basically discourage anybody who doesn't need to be on that street from driving there. What we've seen from other cities who've piloted projects like this is just even that little discouragement really tells drivers who have other options to use a different route. And that little bit of traffic volume reduction really makes a big difference on the street itself.
How will you decide if the slow street pilot program has been a success?
So the quantitative piece, the measurements, are going to be the traffic volume. We counted before we started, how many cars are on each of these streets on a typical day. And we did it before COVID, before the volumes went way down as well as more recently. And then we'll be able to count after and see where that traffic went. Did it go on the bigger streets that can handle it? That will tell us on the traffic volume side if it was doing the job we set out. On the qualitative side we're going to talk to the community. We're going to ask them how they felt about it. Did this work for them, did they feel like it really benefited their neighborhood, did they get out and walk more? And if all that goes in the right direction then we can keep going with a conversation about what to do next.