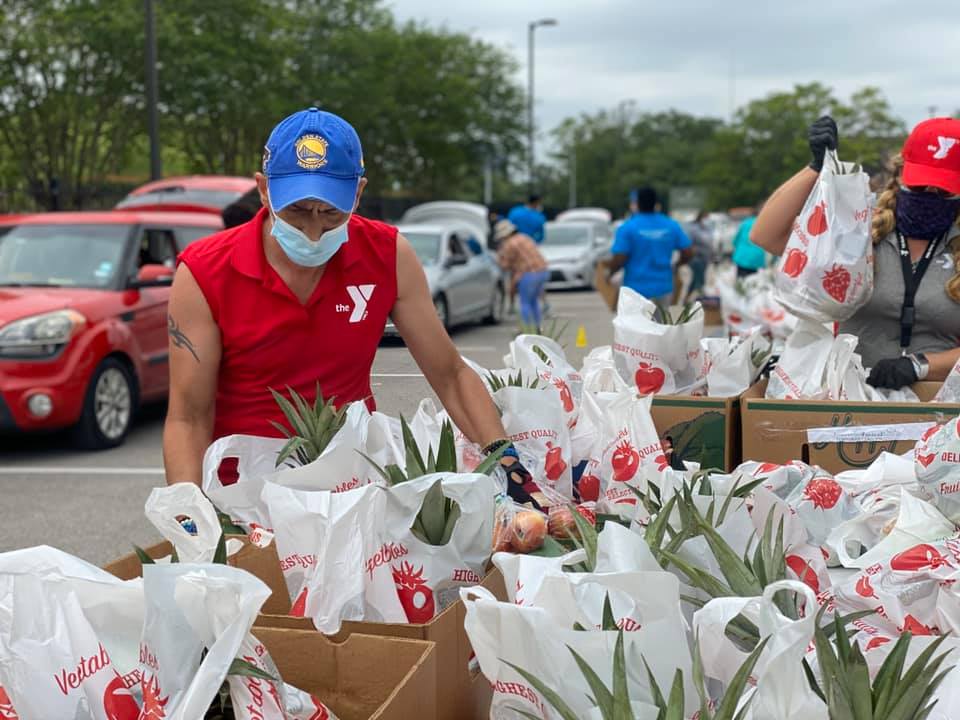 Melvin and his wife are raising their 7 and 11-year-old kids in South Houston. They both work in construction, and since the coronavirus, they've struggled to keep money coming in.
"There's a little (money) saved," Melvin said in Spanish, "but it's running out little by little."
Their family has enough to pay the bills for two or three more weeks, he said. But they don't know what they'll do after that.
"We're not expecting benefits," Melvin said.
When he emigrated from Honduras more than 13 years ago, Melvin did it without authorization, and his wife's visa is in processing, so they do not qualify for federal or state benefits or aid. He asked Houston Public Media to use his first name because of his immigration status.
Melvin said most people he knows aren't working, and though they are getting help from food banks, lines are long, it's not a lot of food and there's not enough for everyone.
"They help a little bit, but people have to figure out the rest," Melvin said.
500,000 undocumented immigrants
There are hundreds of thousands of people like Melvin in the Houston area alone — undocumented and predominately working class.
The Houston-based worker's advocacy group El Pueblo Primero has heard from some of these families through their hotline. Many are from mixed-status families in Southeast Houston.
According to their data from 76 calls, 90% of workers they hear from aren't eligible for federal or state assistance. More than 85% of callers are having trouble paying rent, and about half have been threatened with eviction, even though the state has told landlords they can't do that until May 1.
"We'll see them really struggling to not be kicked out and end up on the streets," said Josephine Lee, an organizer with El Pueblo Primero.
Rev. Ed Gomez of St. Paul's Episcopal Church in Southeast Houston said he knows community members who have been threatened with evictions, despite the moratorium, and others who have been hit with penalties for late payments, some as high as $100 in extra fees, which Gomez said was illegal.
COVID-19 is exacerbating existing pressures on the city's working poor, he said: people who are underpaid, underinsured and are often undocumented.
"There is a ban on evictions and they're being threatened," Gomez said. "That increases the stressors. That increases the desperation."
The demand for rent relief
As the deadline looms for the statewide moratorium on evictions, advocates are asking for local government to create a rent assistance fund to avoid a potential homelessness crisis.
El Pueblo Primero is circulating a petition to ask the City of Houston and Gov. Greg Abbott to create a disaster relief fund for all workers, regardless of immigration status.
Another group, church-based The Metropolitan Organization is asking the city to use $160 million of the $404 million in CARES recovery funds to help residents pay rent. In early April, the City of Austin created a $15 million fund available to undocumented families, which provides some rent relief.
#atxcouncil approved a $15 million relief fund yesterday to aid residents affected financially by the pandemic.

Half of the money will be available from nonprofits for one-time direct cash payments to residents. | @AKMcGlinchy https://t.co/2ws6nA7kKu

— KUT Austin (@KUT) April 10, 2020
Houston has yet to announce a similar fund.
In a press conference, Houston Mayor Sylvester Turner said the city is looking into providing some rent relief.
"We are looking at ways of providing rental assistance, and seeing if we can utilize some of the federal dollars we have received," Turner said.
But there are legal questions over whether or not the CARES funding can be used for rental assistance. The funding is intended to be used directly on COVID-19 expenses, like pandemic supplies.
"I do hope the Texas Supreme Court will continue to extend its moratorium, halt on evictions, through the end of May," Turner said.
Who qualifies for federal assistance?
To receive a cash rebate from the COVID-19 economic stimulus package, taxpayers must have valid Social Security numbers, which disqualifies undocumented immigrants. However Deferred Action for Childhood Arrivals, or DACA, recipients are eligible to receive stimulus money because they do receive Social Security numbers.
Though undocumented families may not be eligible for federal assistance, Harris County Judge Lina Hidalgo told Houston Public Media there are programs available to all county residents, regardless of status.
"For undocumented immigrants, all of our county services related to coronavirus you can access," Hidalgo said. "Folks will not be asked about their immigration status, and so anyone who needs to be tested, our tests are free of charge so visit Ready Harris and you will be routed appropriately."
Hidalgo also mentioned the mental health line and free child care are also available for county residents, regardless of status.
"The child care provisions we've made available for immigrants who've got a child that is a U.S. citizen, they can still get the financial aid and the support on childcare for essential workers," Hidalgo said.