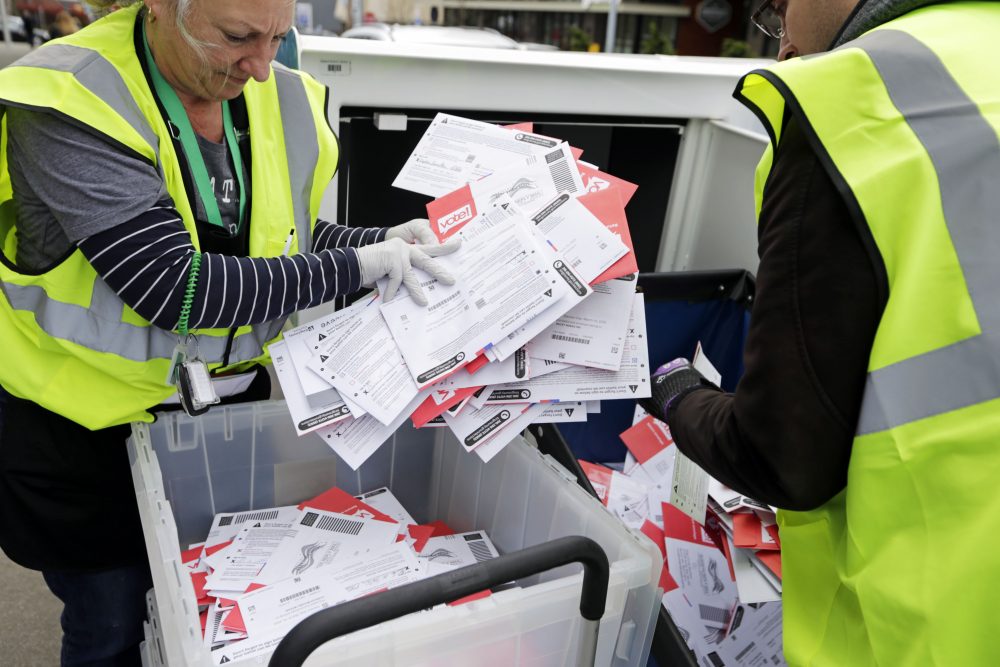 Last week, a Texas judge ruled that any voter afraid of contracting COVID-19 could request a mail-in ballot. If that ruling is upheld, the state's roughly 16 million registered voters would all be eligible to vote by mail.
There are less than 200 days remaining until Election Day. A little more than 80 days remain before the rescheduled Texas primary runoff.
Now the question remains: Would there be enough time to figure out a way to allow what could be millions of votes to be cast by mail?
"This is a question that is being asked of election administrators all across the country, and one big way you are not going to be ready is by not preparing or planning for it," said Myrna Pérez, a San Antonio native who heads the voting rights and elections program at the Brennan Center for Justice in New York.
"Remember, Texas is not building it from scratch," Pérez said. "Texas does have a mail ballot system. It's just a matter of scaling up so that more people can take advantage of it."
But that may be oversimplifying the problem. Bob Stein, who teaches political science at Rice University, said Texas has averaged just 6% of its voting by mail since 2012.
"To go from 6% to 50%, 60, 70, or 80% is an extremely difficult task," he said.
Stein pointed out that states that already have universal vote-by-mail took several years to implement their systems. And there are a lot of problems that have to be overcome.
"One, you've got to mail everyone who's on the voter registration list a ballot," Stein said. "You have to print a ballot for them, an appropriate ballot to each of their locations. You then have to receive that ballot. You have to verify the ballot is signed by the voter to whom you sent it. You then have to tabulate it. Through all those steps, there are lots of pitfalls."
Pitfalls like ballots that come back unsigned or simply get lost in the mail. Pitfalls like a lack of equipment to scan the hundreds of thousands – or millions – of extra paper ballots, or a lack of poll workers to do the scanning, for fear of the coronavirus.
"The average poll worker in Harris County — and there are about 6,000 of them that have worked at the polls in recent elections — is over the age of 60," Stein said. "How many of them are going to be eager to work the polls in July?"
All of that assumes the U.S. Postal Service is still working at something close to normal. But the Post Office is on the verge of bankruptcy, and President Trump opposes a bailout.
"If the Post Office cannot do its job, put simply, the state cannot have mail ballots as part of how people vote," said Brandon Rottinghaus, professor of political science at the University of Houston.
Rice's Bob Stein has been advising the Harris County Clerk's office.
"I don't think that Diane Trautman and the election administrator, Michael Winn, can handle something in the area of 300,000 mail ballots and count them in a timely way to give voters confidence about the outcome of the election," Stein said.
County Clerk Diane Trautman appears to have taken his warnings to heart. In a statement, Trautman told Houston Public Media, "Harris County is not prepared to go to a universal all mail ballot program at this time."
She said she'd be asking Commissioners Court for more funding to expand access to voting by mail, and to make polling places as safe and healthy as possible.
That's what the Brennan Center's Myrna Pérez is advising as well.
"Every voter who wants to be able to vote by mail should be able to vote by mail," she said. "But we also need safe and healthy polling place options for folks, because it's going to be hard to scale it out perfectly, and there are going to be glitches and gaps in the rollout."
Those glitches and gaps could lead to more lawsuits challenging the vote, if a big portion of it is done by mail.
"The more that you change the process for how people vote, the greater the chances there's some kind of issue in terms of how the ballots are processed and what gets counted ultimately," said the University of Houston's Brandon Rottinghaus. "The litigation around mail-in ballots will make the litigation on Bush versus Gore and the ballot confusion there look like a case in Judge Judy's court."