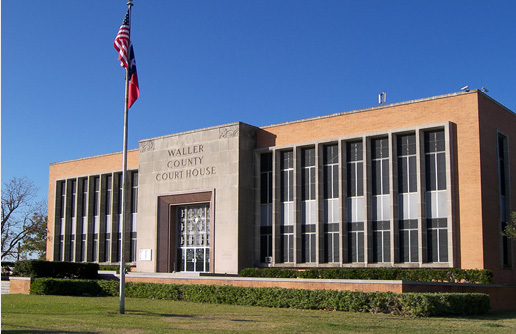 Medical professionals and local health officials have stressed the need for testing in the effort to stop the spread of the COVID-19 pandemic. Harris County now has 19 testing sites, and other large counties have ramped up testing in recent weeks thanks in part to federal assistance.
But smaller, more rural counties depend on the state for help. And some say Texas is coming up short.
Chambers County, east of Houston, with a population just over 42,000, has been trying to set up a testing site of its own. But it hasn't been able to get the supplies it needs from the Texas Department of State Health Services, according to Ryan Holzaepfel, Chambers County fire marshal and chief spokesman.
"The county had requested 1,000 test kits," Holzaepfel said. "They also tried to obtain these through local vendors and normal sources. And so far they've only been able to obtain five of these test kits through the state, and so until they can get them, they can't offer any testing site where persons can come through and get tested for free."
That leaves the option of either driving dozens of miles into Harris County to a free testing site, or going to a doctor and paying to to take a test.
"The health department informed me that there are people that are suspected of having COVID-19 right now that are staying at home because they can't afford to be tested, and so it is felt that the numbers of citizens infected are actually higher than what's being reported." Holzaepfel said.
The situation isn't much better in Waller County, to the west of Houston. The county has a population of roughly 55,000, and is medically underserved.
"I can honestly say we have probably less than five primary care doctors in the entire county," said Waller County Judge Trey Duhon.
Most Waller County residents drive to Katy or Cypress for treatment. But with COVID-19, they're desperate for something closer to home, Duhon said.
The county judge said he's asked the state health department for resources to set up a testing site in Waller County, but he's been turned down.
And he said he's not the only one.
"I've had conversations with just about all the judges next to Waller County," Duhon said. "Most of those counties don't have testing sites as well, so I know I'm not here thinking that Waller County is being singled out."
A spokesman with the Texas Department of State Health Services said that the state doesn't have the capability to set up testing sites on its own – it's leaving that in the hands of FEMA, which is concentrating on the major metropolitan areas. That's why it hasn't set up a site in Waller County.
The department also said it sent Chambers County 135 test kits, not just five, though spokesman Chris Van Deusen acknowledged, "that's not a lot."
Still, some smaller counties are managing well. Austin County – Greater Houston's smallest county, just west of Waller – has set up its own drive-through testing site at the Bellville Medical Center.
Bellville Hospital coordinated the testing, which happens every Tuesday, Wednesday, and Thursday, said Austin County Judge Tim Lapham.
"Bellville Hospital serves more than just Austin County," Lapham said. "But we're still at 12 total positive cases for Austin County, and I believe as of now four of those are in recovered status."
Bellville has been getting its test kits largely from a private supplier, CPL, rather than the state, which takes much longer to provide them.
If there's one other area in which Chambers, Waller, and Austin Counties all have something in common, it's that each reports a small but growing tendency towards pushback against restrictions related to the coronavirus, the judges said.
Most residents understand the need for lockdown, but some are growing impatient: They want to live, but they also want to make a living.
Additional reporting by Paul DeBenedetto.