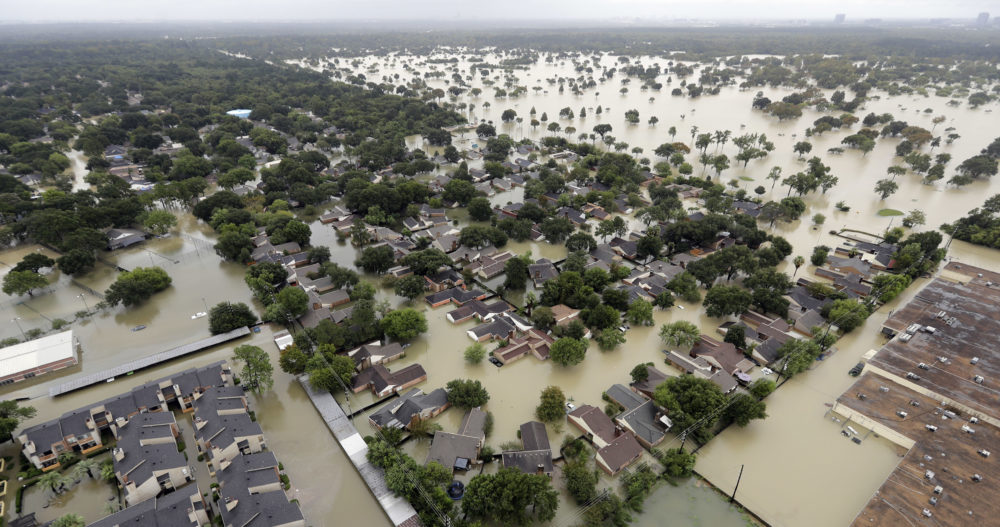 The spring rains are upon us in Southeast Texas, and hurricane season is less than two months away. And with Houston in the midst of a pandemic, some are already wondering what will happen if the region gets hit with the level of flooding it's seen in recent years.
Elizabeth White-Olsen used to live in West Houston and worked at a literary non-profit. Then Hurricane Harvey upended her life: She and her husband were forced to evacuate and ultimately move to another part of town.
Today, White-Olsen the programs director for Bayou City Initiative, an organization aimed at educating the community on Houston flood issues.
"It's nearly too much to handle psychologically to consider the idea of a flood occurring during this pandemic," White-Olsen said. "But we have to consider it, because if it were to happen, just, so many things could go wrong, and lives could be lost."
White-Olsen recounted the many steps it took to get her and her husband from their apartment to a place of safety during Harvey. From a canoe to a speedboat, then to a truck, and finally to a bus.
And at each step, she was exposed to more people.
"The first responders will need to be in protective gear, in my opinion, for people to be assured that they will be safe," White-Olsen said. "We were evacuated with neighbors. I would feel uncomfortable about that now."
City and county officials are wrestling with how to deal with the problem of how to evacuate people without threatening to expose them to the coronavirus.
"Yes, we are dealing with the virus. Yes, it is the focus of a lot of things right now. But there will be weather inside of this virus situation," said Jeff Lindner, meteorologist for the Harris County Flood Control District.
Lindner said the district has spent a lot of time looking at the problem of evacuating during a pandemic, and the answer isn't entirely reassuring: "You need to take the appropriate action you would always take to protect your life and your property, as if the virus wasn't here."
That doesn't mean disregarding the virus as a threat. First responders need to, as best they can, observe public health recommendations on social distancing and hygiene, and wearing protective gear, Lindner said.
But the No. 1 priority in a storm is peoples' physical safety, he added.
"When it comes down to it, if we're faced with a situation of having to take boats and get people out of the water to potentially save their lives, we're going to go save their lives," Lindner said.
Jim Blackburn, co-director of the SSPEED Center at Rice University, said those first responders will have their hands full.
"All of them are taxed to their utmost right now in responding to the COVID situation," Blackburn said, "and if we have a flood, they will of course be diverted to flood rescue. So, I would just tell you that we will have a doubling demand for a limited resource."
They'll likely have to do their job this time with far fewer volunteer rescuers, like the Cajun Navy, who made such a difference during Harvey. And the problems may not end when the waters recede, Blackburn said.
"Oftentimes when a flood occurs," he said, "many neighbors, friends, even people you don't know come and respond and help you repair your home, help you make those short-term repairs that are necessary to make a home habitable. The availability of volunteers for that is probably going to drop to, I won't say zero, but it's going to impact it very heavily."