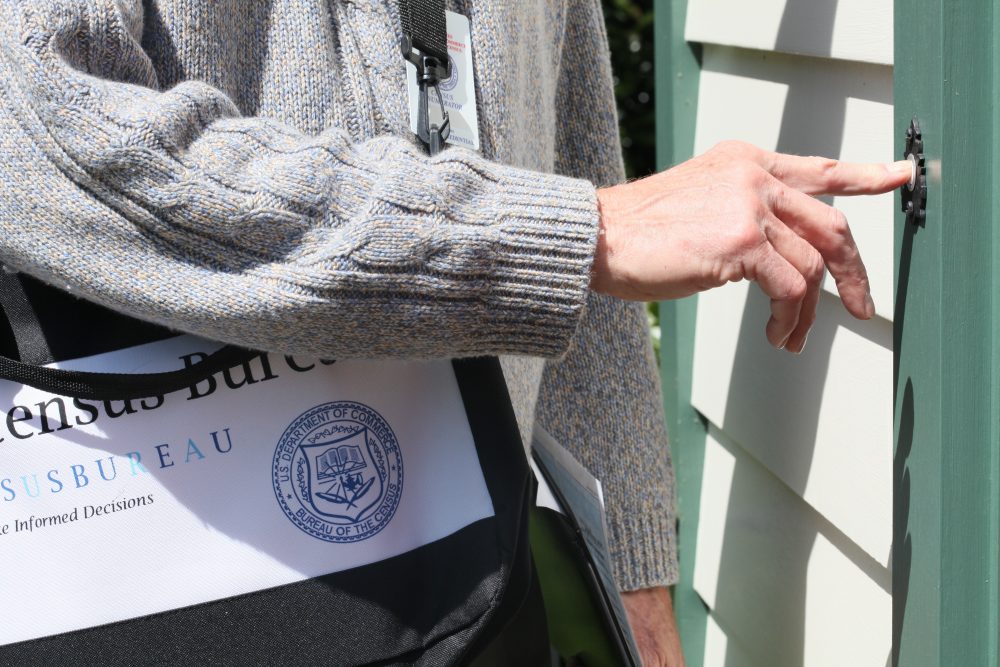 This is the second installment of a two-part feature on how COVID-19 could impact the sentence. Click here for the first installment.
With the COVID-19 pandemic leading to stay-at-home orders around Texas and across the country, an already expected census undercount could prove to be worse than projected.
And such an undercount could have a serious impact on federal services in Texas, including the ability to respond to epidemics like the one we're in right now.
Lakeisha Parker works for a small healthcare company – so small, it's unable to provide insurance for its own employees. When she was diagnosed with breast cancer in December of 2017, Medicaid was her only option. And it wasn't enough.
Speaking outside the Star of Hope center in South Houston, Parker said, "I chose to have this interview here because I currently reside here. I'm very grateful to be able to have this opportunity. I exhausted all my savings, so therefore I got my vehicle repossessed. I got evicted from my home."
Parker is concerned about the Medicaid program's future in Texas, because if there's an undercount in the census, Medicaid could see its funding for the next decade fall far short of what's needed.
"That means women that are not insured, who go to work every day – men, too – and pay taxes, may not be able to get healthcare, just because they don't have insurance," Parker said.
Medicaid's not the only program that would see cuts if there's an undercount, but it's by far the biggest, according to Vivian Ho, a healthcare economist at Rice University's Baker Institute.
Washington currently contributes roughly 60 cents out of every dollar Texas spends on Medicaid. Racial minorities and poor communities are less likely to fill out census forms than the average Texan, and the fewer of them who do, the higher the average recorded income of Texans appears, Ho said.
"If we fail to count every Texan," Ho said, "our average income goes up, and suddenly that 60 cents could shrink to 56 cents, 58 cents. Whatever it is, it means more money that would have to come out of Texas in terms of our taxpayer dollars and less coming from the federal government."
Or Texas might not come up with the money, in which case the state is likely to cut the programs that depend on Medicaid, she said.
That's not all. An undercount could make it much harder for both Texas and the federal government to respond to epidemics. Ho pointed to an example in New York, where an accurate census count helped the state target certain high-risk areas in the region.
A similar method could and should be used during the an outbreak like COVID-19, Ho said.
"The coronavirus is more lethal to older individuals and individuals who are suffering from a chronic disease," Ho said. "It's less fatal for children. So you need to get an accurate count of individuals by age, by area. The census actually provides those numbers, so you know where the oldest individuals are. You can also tell where the oldest low-income individuals are, if you think they are more frail."
It's unlikely those numbers will be available in time to target the current pandemic. But if the coronavirus teaches nothing else, it's the need for a robust public health system – because there will always be another health crisis, Ho said.
As for Lakeisha Parker, she's currently in remission and working to get her life back on track. But she said she hoped people would take part in the census this year, so those who need the most help can get it.
"Those decisions," she said, "they carry a lot of weight with us getting Medicaid and other social service programs that the working poor may need."