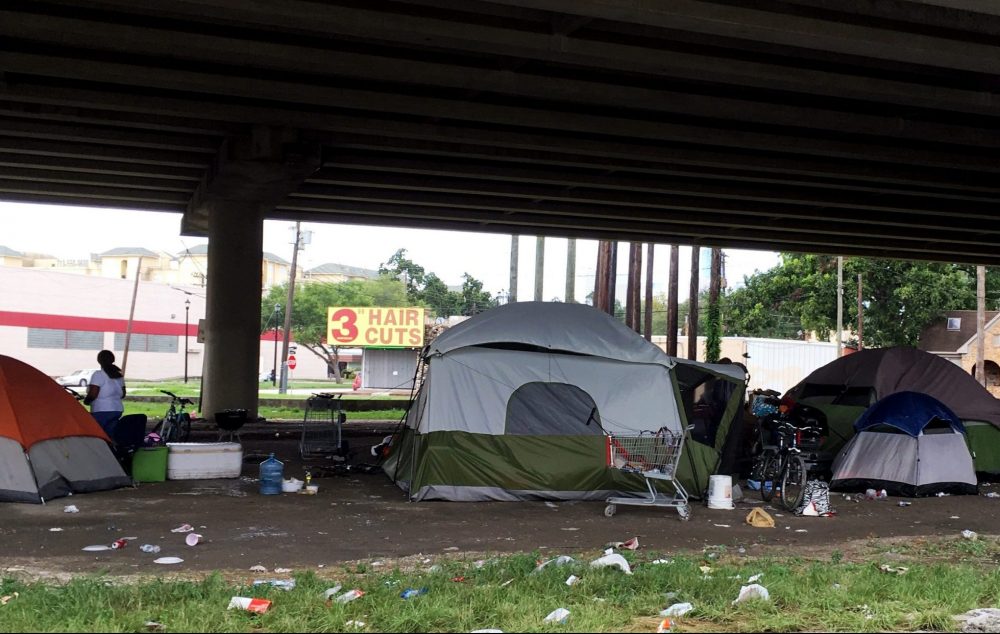 If you are homeless in Houston, you are among the most vulnerable populations when it comes to your health. So what happens when you add in the risk of COVID-19?
At The Beacon, a homeless services center in downtown Houston, the day center is ordinarily packed with people eating lunch, drinking coffee, or waiting to do their laundry or take a shower. On a recent afternoon, it's virtually empty. That's because of new health safety procedures just put in place.
"We want to continue providing food because we know it's really very, very important to the folks we serve," said The Beacon's CEO, Becky Landes, "but we'll be doing that in sack lunches, actually brown-bag meals that we will hand out, and we'll provide enough food for two meals per day, seven days a week, and that will include a drink. It'll actually include a sanitary hand wipe as well for the folks that we're serving."
The Beacon is also still providing laundry and shower services. But rather than admitting 300 people all at once, as usual, Landes said, "we'll be bringing people in in small groups and really monitoring that and having people come in a few at a time to have those services done."
Monitoring includes screening with basic questions around health, Landes said.
"If we identify that someone is symptomatic in some way or has been in contact with someone who's either being investigated for the coronavirus or known to have the coronavirus, then we would be asking them not to come in, and we would have and enact another plan for that," she said.
The Beacon and its many partner organizations say they are waiting on protocols from the Mayor's Office of Homeless Initiatives. Houston Public Media reached out to the mayor's office. Marc Eichenbaum, the mayor's adviser on homeless initiatives responded by e-mail.
"Outreach teams and providers are on the lookout for individuals who may be symptomatic and need help," Eichenbaum wrote. "The City's Office of Emergency Management, Health Department and Public Health Authority are working with Harris County, the Coalition for the Homeless and other local agencies to develop and coordinate a regional COVID-19 response within the homeless community. From San Francisco, Los Angeles, Nashville, and Baltimore, to Edmonton and Paris, we are also working closely, by sharing information and best practices, with cities around the world."
Meanwhile, the city is still working on setting up a testing site accessible to the homeless, as well as a quarantine facility for those unable to self-quarantine because they have no home.
"We're not doing our community a service by evaluating and potentially treating or assessing someone for novel coronavirus that's experiencing homelessness and then putting them back into an environment where they go back out on the street," said Dr. Sherri Onyiego with Harris County Public Health.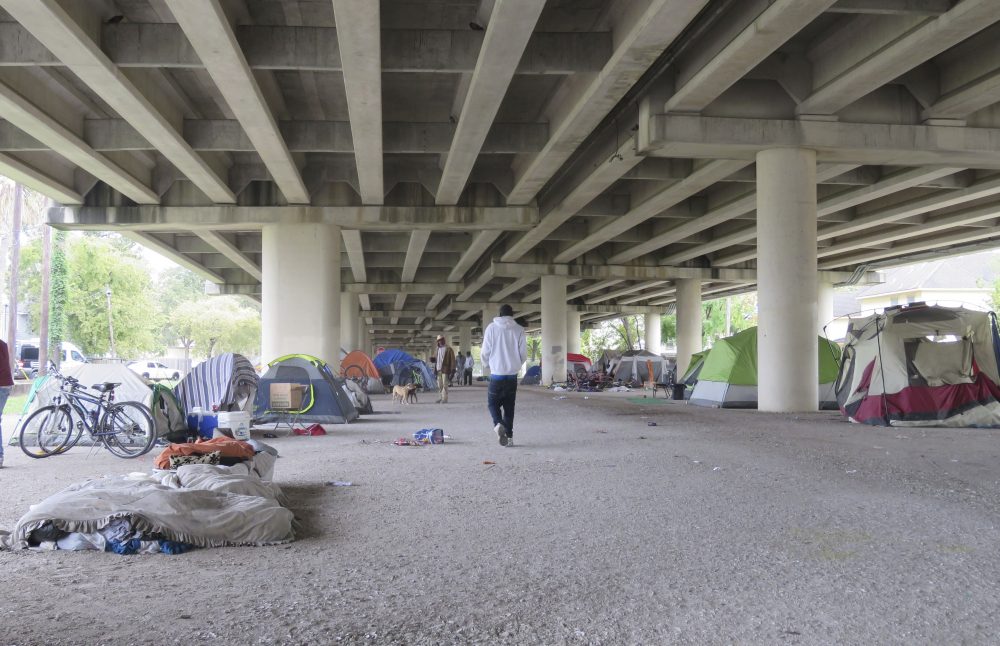 Individuals experiencing homelessness are among the most vulnerable to COVID-19, Onyiego said. They tend to be older, and many suffer from mental illness, which means they might not understand what's happening to them when they get sick. Then there are chronic illnesses like diabetes, hypertension, and heart disease, she added.
"We know that individuals who also may already have some underlying lung processes from chronic conditions like COPD or from asthma, that they can also have some complications related to lung processes because of the fact that novel coronavirus does impact the lungs," Onyiego said.
Harris County Public Health and groups like Healthcare for the Homeless are stepping up an aggressive messaging campaign with shelters, making sure their clients and their staff are practicing good hygiene.
"Safe practices such as washing hands and having hand sanitizer available, and really if they have those high-risk groups that are 60 and above, have underlying conditions, that we really want them to really sort of have a heightened sense of alert for those people being at risk," Onyiego said.
All of that puts a lot of pressure on nonprofits like The Beacon. Becky Landes said her organization is carrying on with as many of its day-to-day functions as it can. And not just the homeless: Many of The Beacon's clients live paycheck to paycheck. Last year, the organization served more than 12,000 people.
"This can be a very bright spot in their day," Landes said. "So, when we have to modify, that's really beneficial for their safety and health, but it's still disappointing to people."