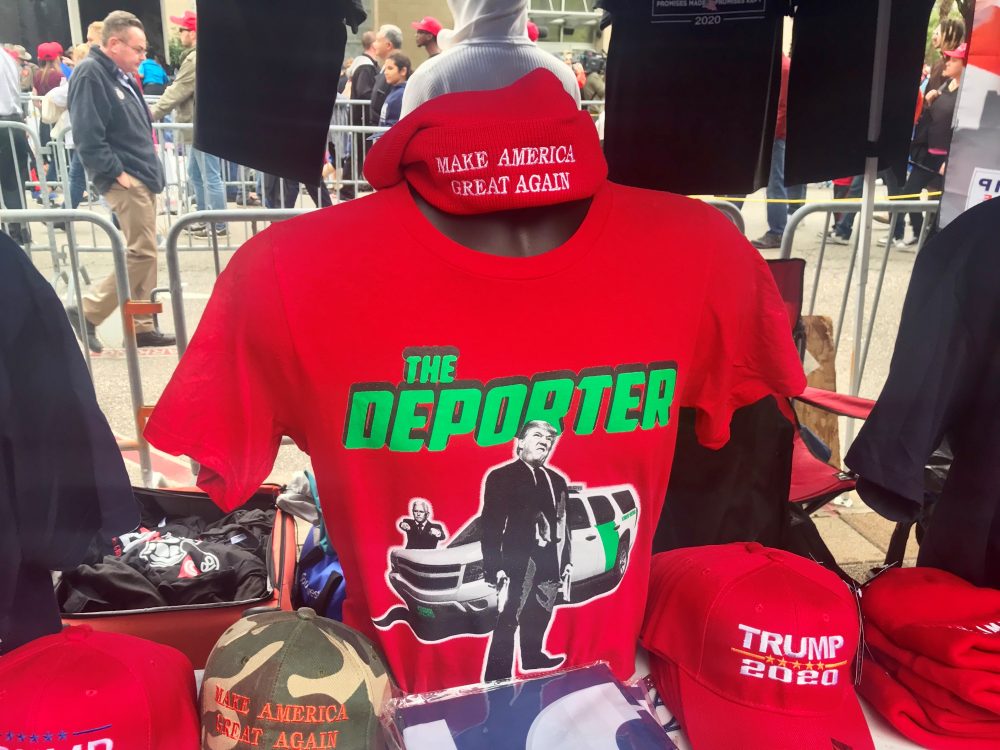 Latinos make up 30% of the Texas electorate and are an increasingly vital voting block in the state.
Though Texas Hispanic voters are notoriously conservative compared to the rest of the nation's voting Latinos, new research suggests that anti-immigrant rhetoric could be pushing them away from the GOP. That could make Texas more competitive for Democrats.
U.S.-Mexico Chamber of Commerce executive director Pete Garcia said he's been a Republican his entire life.
"I started voting back when Reagan was in office. I hope I helped him get elected back then," he said, noting that his political views are separate from his role at the chamber.
But, in 2016, he said he broke from his party for the first time and voted for the Democrat.
"I can't say that I was really heavily favoring Hillary Clinton at the time, but there were not many options," he said.
Garcia said he didn't want Trump as president, especially because of his disparaging comments about immigrants, including calling them 'rapists'.
"I think those comments not only hurt the illegal immigrants, but I know a lot of people that are from not only Mexican but from Hispanic origins, felt the same way that I did," he said. According to Garcia, Trump's rhetoric is motivating racial violence, like the El Paso shooter's attack on Latinos, which killed 22 people.
He said he won't vote for Trump in 2020 and will likely vote for the Democratic nominee. And he said he has Republican friends and colleagues who share his opinion.
The political cost of immigrant-bashing
Garcia's decision not to vote for Trump, and some other Republican candidates, is part of a larger trend.
"Things that repel the Latino community from the Republican Party tend to be issues involving immigration," said University of Houston political science professor Brandon Rottinghaus.
His new research about Latino Republicans in Texas shows that hard-line immigration talking points and policies hurt GOP approval among Latinos.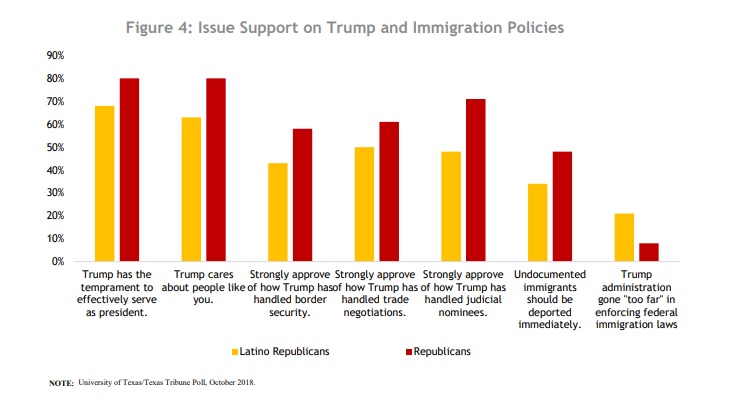 "[In Texas] Republicans have counted on the support of about 30-35% of the Latino community in the past couple of decades, but those numbers are changing quickly," he said.
A September Univision/University of Houston poll shows that only 19% of registered Hispanics in Texas said they plan on voting for Trump in 2020.
That's why Rottinghaus said Republicans at a state and local level should be cautious with their immigration message as they court Latino voters.
"Republicans in Texas are talking about border security issues in much more dramatic and sometimes offensive terms to Latinos, and that is definitely creating a wedge where they're less likely to support them than they were in the past," he said.
"Texas is purple"
In the last big statewide election in 2018, a surge in Latinos voting for Democrats was almost enough for Democrat Beto O'Rourke to defeat incumbent U.S. Senator Ted Cruz. With the Latino population growing in Texas, their vote could prove pivotal for Democrats in 2020.
"I always say, Texas is purple. Just because we don't have a statewide elected Democrat doesn't mean we're not purple," said Representative Will Hurd of San Antonio, the state's only Republican congressman who represents a border district.
He said Republicans have a branding problem with Latinos.
"I think we need to be changing some of the rhetoric and also some of the things that we support to make sure that we're competitive with the largest growing group of voters and I always say that if the Republican party doesn't start looking like Texas, there isn't going to be a Republican party in Texas," said Hurd.
But Texas GOP Chairman James Dickey said that the party is doing what it needs to do to appeal to Latinos.
"We have been intentional in making sure we have done great engagement efforts through our staff, which as I said is a third bilingual, over half minority and/or female, we have done candidate recruitment and training efforts, we have materials that are available that are bilingual," Dickey said.
Dickey said he's not concerned about a fallout due to immigration rhetoric, pointing to the victory of Republican Governor Greg Abbott, who was re-elected with 42% of the Latino vote in 2018.
He said Republican Latinos will remain loyal to the party because of their views on issues like abortion and taxes.
"Republican policies have yielded a better result for all voters in Texas, fortunately all voters can look around and see that that's true," he said.