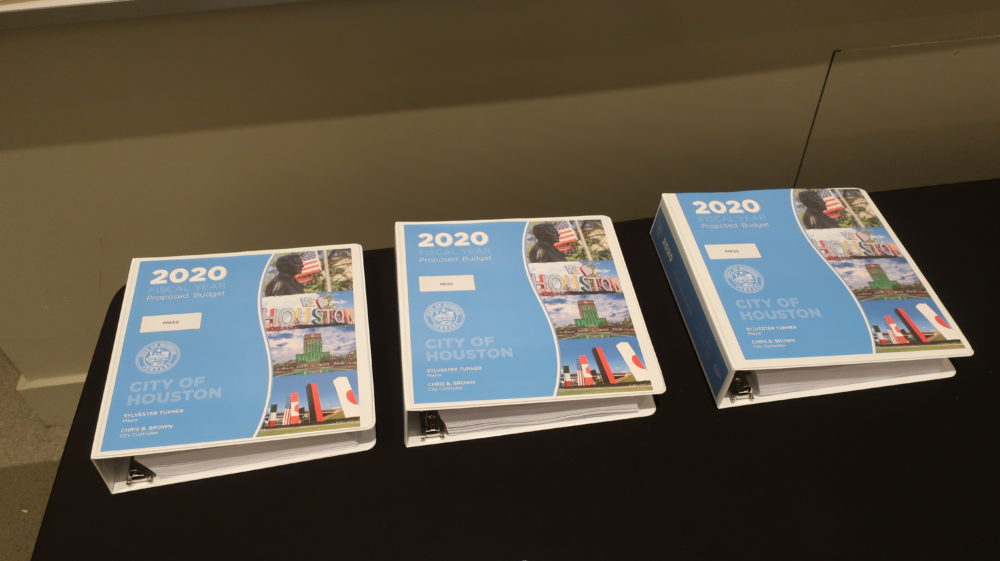 Houstonians will decide on Tuesday who to elect as the next city controller, which isn't an easy thing to do. The controller is the city's financial watchdog, an independent elected official who keeps an eye on the city's cash flow. But voting for a controller can be tricky — how do you know if an incumbent is doing a good job, and how do you know if a challenger would do it better?
To the average ear, the controller might sound like a talking Excel spreadsheet, but there's a lot more going on.
Both candidates this year have experience with local government finance. Prior to his election in 2015, incumbent Controller Chris Brown served as a City Council Chief of Staff and then Chief Deputy City Controller. Challenger Orlando Sanchez is a former Houston City Councilmember and a former Harris County Treasurer.
"Probably the thing I remember the most is writing the big checks," said U.S. Representative Sylvia Garcia, a former Houston controller who now serves in Congress. "I mean who would think that you would sit there and write checks for millions and millions of dollars?"
The controller manages the city's investments and audits city departments, making sure money goes where it's supposed to and isn't being wasted.
"Unless you really hear about some mishandling of dollars, or some checks that didn't go out, or some audit that didn't get done, that's when you know a controller's not doing their job," Garcia said.
An independent watchdog
Those measures are hard for average people to follow, though — and in other Texas cities, they don't necessarily have to, because the mayor or city manager picks the controller, not the voters. Renee Cross, a professor at the Hobby School of Public Affairs at the University of Houston, said when her friends or family ask her for advice in choosing a candidate, it requires some explaining first.
"First of all, I always ask my friends: do you understand what the controller of the city of Houston actually does? Most people don't really know what the controller does. They may know 'oh well it has something to do with money' but they don't really understand their role in a strong mayor system, which is what we have in Houston," Cross said.
Houston does things differently than virtually all other Texas cities. Most Texas cities operate under a strong city manager and city council, but in Houston, the mayor's office has most of the power.
"No other large city in Texas has a strong mayor system. For example, Dallas has a city manager-council system," Cross said. "It's completely different. The city manager somewhat plays the role of a controller. So I think in terms of the system we have here, I think an elected controller is very appropriate, because we want someone that does have some sort of independent voice on financial matters before the mayor and city council."
She said one thing she looks for in a controller candidate is the ability to discuss the city's finances without using too much jargon that most people outside the Controller's office can't understand.
"People would look at candidates that may have a financial background or at least a management background. We have had successful controllers though that have not necessarily had a degree in finance but experience," she said.
Some of Houston's recent controllers previously served on City Council before they were elected, but that doesn't mean they have financial experience. Others worked in the Controller's department before taking office, but that also doesn't necessarily make it any easier for a voter to evaluate their qualifications.
When qualifications are 'unintelligible'
"It's tough. You could look at the financial statements of the city, but they're unintelligible to most laypeople," said Michael Granof, a public finance professor at the LBJ School of Public Affairs at the University of Texas at Austin.
Even for a public finance professional, it's hard to figure out. As an example, Granof pointed to the controller's website, where incumbent Chris Brown says he's saved the city millions of dollars through refinancing the city's debt.
"Now the question is, what does that mean to an ordinary person? He may well have saved the city $225 million, but that may have nothing to do with him," Granof said. "Interest rates have fallen considerably, and maybe if he managed the debt better he could have saved $500 million. I can't tell from that statement."
To evaluate an incumbent running for reelection, Granof said he would want to see the city's return on investments, and how the city manages its debt.
In Houston, though, the controller job is just as political as it is financial because it's an elected position on the ballot.
"In many places, the controller has relatively little financial experience. Often they are attorneys, who are using the controller's position as a stepping stone to something bigger," Granof said.
Previous Houston controllers have gone on to serve as mayor, state senator and U.S. representative.
On Tuesday, Nov. 5, hundreds of polling locations will be open from 7 am to 7 pm. Check out our full election guide, here.