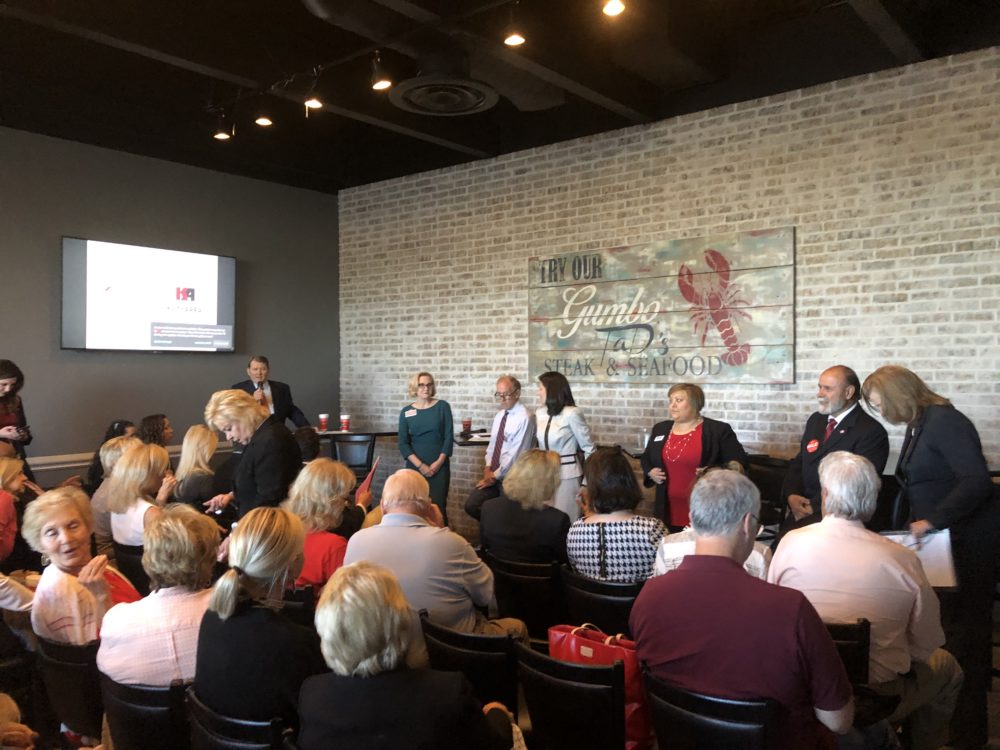 Texas House District 28 in Fort Bend County has long been a reliably Republican seat. But as the population boomed over the past few years, the area shifted from dark red to pink. Then, incumbent representative Dr. John Zerwas resigned at the end of September. Now, seven candidates are vying for the seat in a special election.
Dr. Elizabeth Markowitz is the sole Democratic contender. The Republican field includes Dr. Anna Allred, Tricia Krenek, Gary Gates, Gary Hale, Clinton Purnell and Sarah Laningham.
County residents like Otto Cantu are part of the reason Democrats see the seat as ripe for a pickup.
"Fort Bend County is one of the most diverse counties in the nation. Now we have Indians, Asians, Mexican, Hispanic background, Cuban, Latin American, from all over the world," Cantu said.
The retired chemical engineer was born in Monterrey, Mexico and has lived in the Houston area since the '80s. "And these people are seeing, you know, why are the Republicans not adapting to our values and our needs? And the Democrats have been adapting."
Cantu said the Democratic candidate, Eliz Markowitz, addresses his top concerns: education and gun control.
"I feel like we have a chance now, particularly with all these Republicans eating themselves up," he said.
Tim Schauer, a political consultant who once worked alongside John Zerwas at Memorial Hermann, said Cantu has a point.
"You've got six Republicans running, in essence, for the same group of voters, [each] trying to prove that they're more conservative than the other, and you've got one Democrat," Schauer said. "So you have to believe that with a turnout issue in a race like this that the Democrat is probably going to make it to the runoff."
That's what Fulshear resident Sally Curimbaba hopes. A Baltimore native, Curimbaba's a small business owner and Democratic precinct chair. By coincidence, she's also a neighbor of one of the six Republican candidates, Tricia Krenek.
"This race is very important, as many people are recognizing, because this is one seat that can be flipped in the Texas House. And hopefully, we'll flip another eight in 2020, so that there'll be a [Democratic] majority in the House because redistricting will be coming up," Curimbaba said.
[Zoom in to see the boundaries of Texas House District 28. Map by Davis Land/Houston Public Media]
But Republicans, like Jason and Elizabeth Walker, have been relocating to the district too. The couple moved to Katy from San Francisco 10 years ago. Jason works in human resources and is a GOP precinct chair. He said the region may have gotten bigger, but people still care about the same issues, "which are keeping taxes low, having good schools...and keeping Fort Bend a place that is a great place to live for families."
Elizabeth Walker works in technology sales. She recognizes Democrats are making a big effort, but said it's Republican organizers here that excel at getting the message out by posting signs, working the phones and especially old-fashioned block walking.
"You want to get out and knock on the doors and introduce yourself and introduce your views and your perspectives and how you support the policies and just answer some basic questions," she said.
As for the large Republican field, Elizabeth Walker said, "I think having six candidates gives a lot more choice to the voter...as is with the liberal party you only have one candidate. Why is there just one candidate running?"
The fact is, both Democrats and Republicans regard this contest as a bellwether. Political scientist Mark Jones of Rice University said a win in House District 28 would give the Democrats a head start in their bid to flip the Texas House. He said that even a narrow loss would fuel Democrats' optimism about their chances next year.
"If on the other hand, for instance, in the November 5 election, if Markowitz doesn't even reach the runoff and you have two Republicans, then that would be a bucket of cold water over any Democratic hopes to try to take the Texas House in 2020," Jones said.
Either way, Jones said, the crowded field makes a runoff all but certain. And the victor will still have to run again next year before finally taking a seat in the House in 2021.