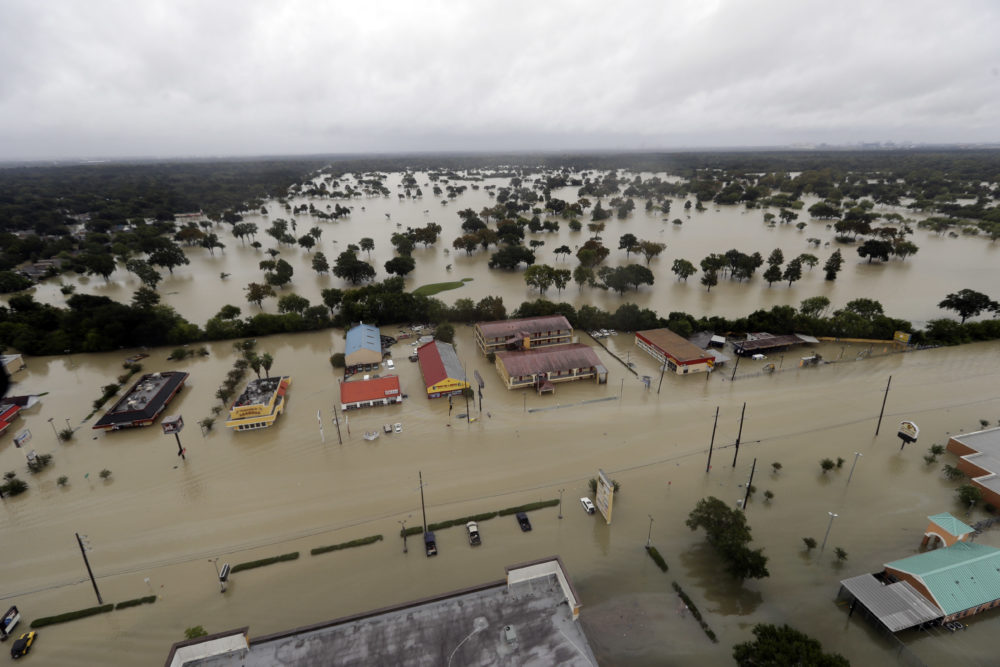 Flooding isn't explicitly on the ballot for Houston City Council. But it's the top worry for Houston voters heading into the November election, according to last month's Houston Public Media/KHOU poll.
So, to find out how the next City Council might combat flooding, Houston Public Media surveyed all of the candidates. Our online survey included seven questions. We sent it to all 111 candidates in 16 races and received more than 70 responses.
(Read the full responses to the survey here.)
Nearly 60% of candidates who responded said Houston should stop building new construction in the 100-year floodplain.
"People are now running on flood policy," Texas A&M professor Sam Brody said. "And I think that's a sign of the times."
That opposition to building in the floodplain was even higher in some races, like District C, which includes chronically flooded neighborhoods like Meyerland. In that race, three quarters of candidates said they want to halt new development in the 100-year floodplain. Both candidates running in District E, which covers heavily-impacted areas like Kingwood, also said they oppose it.
"The only groups that will benefit from developing in a floodplain are developers," wrote Sam Cleveland, who is challenging incumbent Dave Martin in District E.
That's very different from the responses from at-large candidates, who represent the entire city but do not have constituents tied to specific neighborhoods. The majority of those city-wide candidates — about 57%– did support new construction in the 100-year floodplain.
"Not building would remove far too much from taxable value, housing costs would rise untenably, and the City couldn't maintain so much vacant land," said Bill Baldwin, who's running for At-Large Position 4.
Brody, who is also the lead technical expert for the governor's commission to rebuild Texas after Hurricane Harvey, said he wasn't surprised that development in the floodplain had a divided response from candidates.
"It's a complicated issue," Brody said. "So I could see how it's mixed."
Mary Anne Piacentini, president and CEO of the Katy Prairie Conservancy, agreed there's concern on both sides.
"Because on the one hand, we're definitely a state in which we like people to be able to do what they want to do and where they want to do it," Piacentini said. "On the other hand, you have the issue of what's the greater good?"
Some candidates who support new construction pointed out that many Harvey-flooded homes weren't in the floodplain, and that a limit on construction in the floodplain could mean fewer opportunities to build new affordable housing. Others believe new projects in the 100-year floodplain could actually mitigate the problem by improving drainage or creating new recreational greenspaces to help absorb rainfall.
Brody rejected that view, though, when it comes to new housing development: "You want to stay away from the 100-year floodplain. I mean, that's like ground zero generally for flood impact."
Kyle Shelton, deputy director of the Kinder Institute for Urban Research, said he would like to see candidates advocate for separate regulations in parts of Houston that have repeat flooding, rather than one policy that applies to the whole city.
"I think one thing that certainly should be on the table is having the option to have discrete areas where new building is not allowed," Shelton said.
Virtually all candidates who responded to the survey said they support requiring landlords to tell renters a property's flood risk.
"As a real estate broker and rental property owner, I recognize that property owners owe a level of disclosure to potential renters in order to keep tenants' lives and property safe," Nick Hellyar, a candidate for At-Large 4 seat, wrote in the survey.
Many wrote that renters need "transparency" from landlords, "fair warning" and the ability to make an informed decision about buying flood insurance.
"If landlords are required to disclose the possibility of flooding, they will be more apt to properly repair the property and mitigate for flooding to make their property more marketable," said District B candidate Huey German-Wilson.
Earlier this year, Texas lawmakers stepped up protections for prospective homebuyers — but similar efforts for renters failed to pass.
Currently, Texas landlords don't have to tell renters if a property has flooded before, even if they ask, Shelton said. According to Shelton, rules about flood risk disclosure would ideally be made at the state level. In a March report for the Greater Houston Flood Mitigation Consortium, he pointed out that the state of Georgia requires landlords to alert renters if a property has flooded three times in five years.
According to his analysis, Houston and Harris County could "implement a more stringent threshold, such as any flood impacts in the past five years."
"At the current moment, I don't think there's anything blocking any city — not just Houston — from saying we'd like to have this disclosure as part of our process," Shelton said.
Other flood policy experts told Houston Public Media that the city has the authority to make flood risk information available to tenants. HPM repeatedly reached out to the mayor's office to confirm the city's legal authority to pass an ordinance requiring landlords to disclose flood risk, but they didn't respond with an answer.
Another way most candidates said they would fight flooding if elected: stronger requirements for minimum water detention for new development projects. Some called on developers to take more "responsibility" for runoff.
"Developers helped get us into the mess of flooding we're experiencing every year. They need to help get us out by doing their fair share to create more detention," wrote Tarsha Jackson, who is vying to represent District B, which includes parts of Kashmere Gardens and Greenspoint. "We need more density to be resilient for the future, but we have to build smarter."
Several candidates said while they approve of the city's current detention requirements, they should be increased in order to protect homes from increasing rainfall due to climate change.
Others pointed to the use of permeable pavement and green infrastructure to reduce the effects of widespread paving and concrete across the city.
Piacentini, who's also a Houston voter, said she's looking for candidates who will push for those creative solutions, like grasses that absorb more water.
"Why can't we be an innovator? Houston's supposed to be a can-do place. You can do anything here," Piacentini said. "So the sense is, how can we use nature where we need to, use technology, use science, and get the biggest and best bang for our buck."
In another sign of the times, many candidates advocated for "smart development," "responsible building" and more greenspace. Brody said that's partly because voters — and candidates — have more awareness about flood policy than ever.
"We're definitely making positive gains," Brody said. "And that's part of what you may be picking up in the responses."
Laura Isensee also contributed to this analysis.