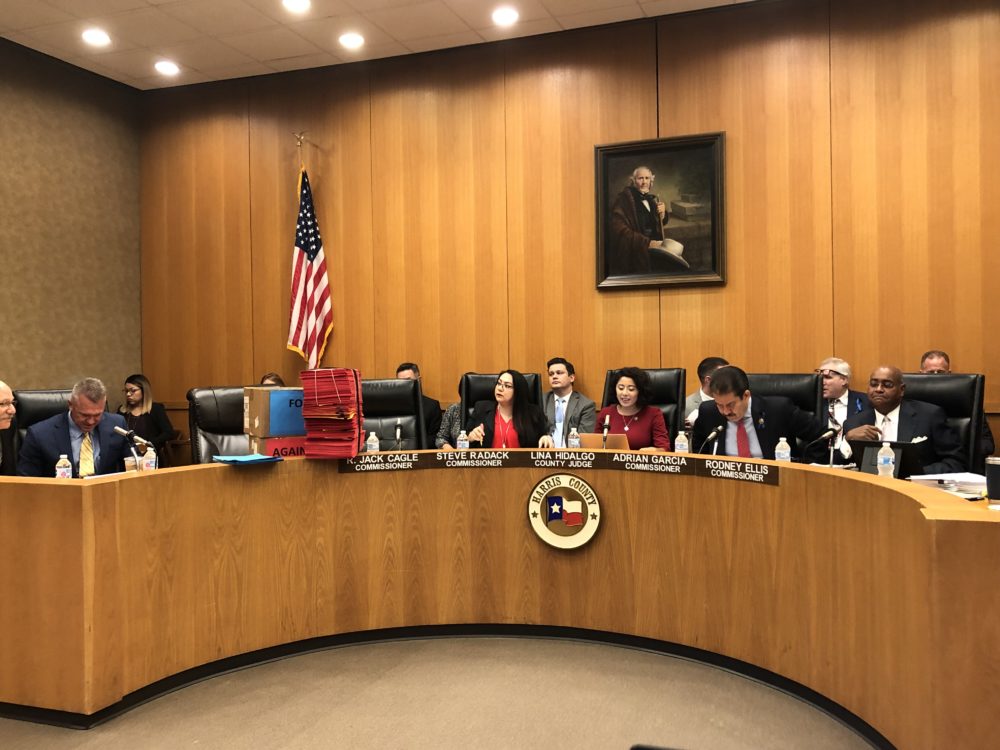 Once upon a time, the Harris County Commissioners Court meetings were pretty sedate affairs. But that changed this past January. Sessions that once lasted 30 minutes have turned into eight-hour marathons. Differences between court members once kept behind the scenes have flared into open, bitter arguments. Where consensus was common, there is now an endless series of partisan votes – where the Democratic majority invariably wins.
All that came to a head last Tuesday, when the court's two Republican commissioners, Steve Radack and Jack Cagle, didn't show up for work.
"I hope that folks remember this day, and we'll be pointing back at it, because it truly is a very disappointing and dangerous decision," said County Judge Lina Hidalgo, a Democrat.
The five-member court was set to vote on a property tax rate increase. But under state law, such matters require a quorum of four. Hidalgo and Democratic Commissioners Rodney Ellis and Adrian Garcia were left unable to hold a vote. Hidalgo stressed Radack and Cagle's action would leave the county short of funds to pay for needed infrastructure.
"Ultimately, nobody likes to discuss tax increases, but we're all grownups," Hidalgo said.
The implication that her GOP colleagues were behaving like children is not one Commissioner Cagle accepts. He said the majority Democrats have been burning through the county's reserves for months.
"It used to be that we would work together," Cagle told News 88.7, speaking during the meeting by phone from an undisclosed location. "But it has become very apparent, and in fact I believe that at least one of my colleagues and maybe two have made the comment that they don't need my vote."
Cagle's assessment may overlook the fact that, for years, it was a lone Democrat on the court – most recently Rodney Ellis – whose vote wasn't needed. But something has changed in the functioning of the court besides its partisan makeup.
"One of the things we're seeing is that the goal is absolute transparency," said political scientist Brandon Rottinghaus of the University of Houston.
Rottinghaus said that transparency was one of Judge Hidalgo's chief campaign pledges. And she's kept it. "The more time they spend deliberating, the more time they spend negotiating in public, the more people get to see what happens in commissioners court, and that's a big change," he said.
It's a change a lot of residents apparently like. Few used to show up for meetings. Now, dozens sign up to testify, many having to wait their turns in overflow chambers to avoid violating fire codes. Each person gets to speak for three minutes, after which the court members can question them. "That can create an effect where people like to grandstand, and sometimes things aren't able to get done because there's too much transparency, that the publicness of the enterprise sometimes can be counterproductive," Rottinghaus said.
Which is how the meetings get longer and longer, to the point that some people who sign up aren't able to stay long enough to speak. Case in point: even though the court didn't hold a vote on the proposed tax rate hike, they still took public comments. Jason Rowe, who opposed the increase, was one of the speakers at what turned into a nine-hour session.
"Many of the people are unable to afford to be down here starting at 10 a.m. and wait to speak until 1:47 to share their frustrations and concerns," Rowe said.
Residents aren't the only ones this creates a problem for. Many county employees now spend much of their time on court dates waiting around to be called to testify about the work their departments are doing. The situation reached the point a few weeks ago where Harris County Clerk Diane Trautman sent a letter to court members asking that, starting next year, the court set specific times for taking up agenda items, so that officials and staff don't have to waste entire days. The County Clerk's Office declined News 88.7's request for further comment.
Meanwhile, the court has responded to concerns about overcrowding, not by trying to streamline meetings, but by planning to build new facilities in the county administration building to accommodate the larger turnout. Like them or not, the long meetings appear here to stay.