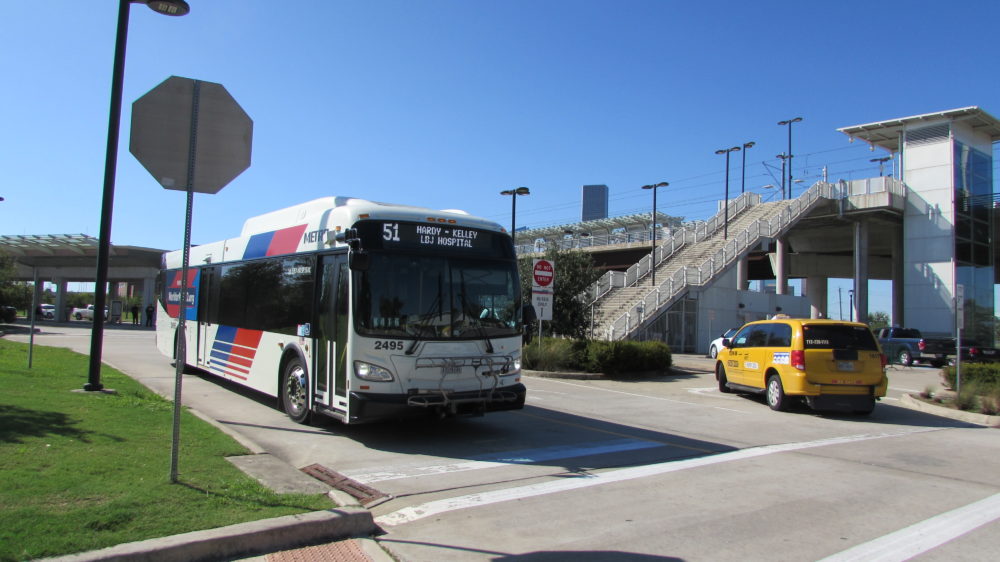 If you vote in Harris County, you'll find a request on the ballot next month from the Metropolitan Transit Authority (METRO). The agency is asking voters to approve a $3.5 billion bond issue to expand bus and rail service and make other improvements.
METRO says the plan is designed to get more riders on board as the region's population grows. In turn, greater transit use would get more vehicles off the roads. While proponents agree the upgrades are needed, some opponents say METRO isn't spending its money responsibly.
Rice University student Robin Xiao is among those who believe the improvements are necessary. He moved here from New York, which has lots of public transit options. He said he likes using the bus and it's a great way to help the environment, but here in Houston, just getting to the bus stop can be a challenge.
"I had this 10-minute walk I had to take to get to the METRO station," said Xiao. "When it was raining, a lot of the time the sidewalk or parts of the road would flood and so I actually had to literally walk on Main Street."
METRO hopes to correct these kind of issues through the bond issue. The agency wants to combine that money with federal and local funds to address a long list of projects through its METRONext Moving Forward Plan.
The plan includes a bus rapid transit line to Bush Intercontinental Airport, as well as a new light rail line to Hobby Airport. Along with that, METRO CEO Tom Lambert said the plan includes new park and rides and bus stops, along with enhancements to the current bus network.
"We also looked at making sure that we anticipated continuous growth on the system, we looked at continuous state of good repair for the system," said Lambert. "We look at making sure we maintain the quality of the system going forward as well."
But the proposal does have its detractors. A political action committee is now fighting the bond issue, contending that METRO isn't spending money responsibly.
There's also been criticism from former METRO Chairman Gilbert Garcia, who is currently treasurer for Tony Buzbee's campaign for Houston mayor.
"At the end of the day when you look at their plan there are a lot of things in there [that are] totally unnecessary," Garcia said on Houston Public Media's Red White and Blue program."It is outrageous to say to the voters, we're going to borrow $3.5 billion when number one, they can't afford the debt service and everybody knows that."
When asked to respond to Garcia's comments, current METRO Chairman Carrin Patman, called those assertions "completely erroneous."
Patman said the plan will not lead to more taxes and they couldn't raise taxes anyway because of a cap imposed by the legislature.
"The numbers have been thoroughly scrubbed by our financial advisor, by our in-house finance gurus, and by the Greater Houston Partnership," said Patman.
This is the first time since 2003 that METRO has asked voters to borrow more money through bonds. The last bond proposal didn't pass by much, but Rice University's Bob Stein said he's seeing stronger support this time around, especially in light of Houston's traffic congestion.
"People who don't use any public transportation, whether it's buses or rail, still support this," said Stein. "And I suspect they do so out of a very selfish expectation that if someone does use rail or buses, their roadways for their individual vehicles will be less congested."
Back on the Rice campus, student Robin Xiao said he thinks an improved transit system could go a long way in relieving Houston's congestion.
"When you're actually trying to create a somewhat walkable city and encouraging people to use those methods, I think one of the first steps should be actually trying to make it attractive physically," said Xiao.
Harris County voters will have their say on the METRO bond issue on November 5th.