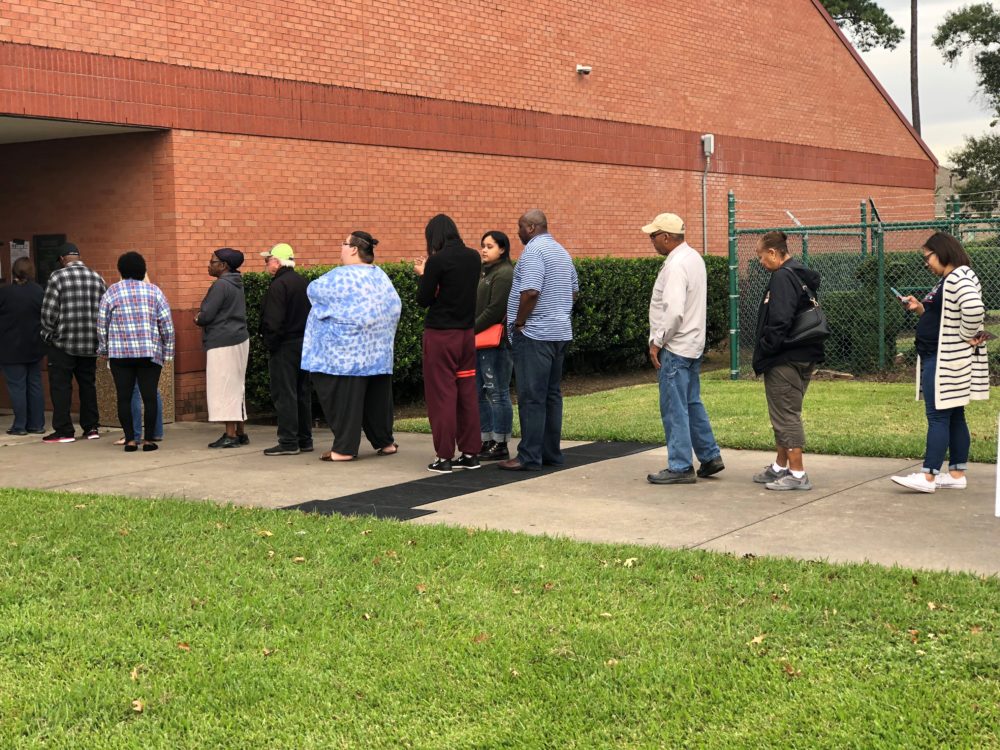 Six years ago, the Supreme Court lifted federal oversight of local elections, including those in Texas. Since then, in some ways it's become more challenging for Texans to vote, as the state implemented new voter ID rules and tried to purge voters from the rolls.
In other ways though, voting may actually get easier this November for residents of Harris County. The county will fully launch its new countywide voting system. Harris County Clerk Diane Trautman, who oversees the county's elections, said that will eliminate at least one challenge voters face.
"We know for sure in the 2018 election that 2,500 provisional ballots were cast by voters that just showed up at the wrong location," said Trautman.
But starting this year, voters can't show up at the wrong location anymore. The new countywide system means Harris County residents can vote at any polling site.
During early voting, there will be 52 locations open for two weeks. Then, voters can go to any of those — plus another 700 polling places — on election day.
"Before you had no choice, but to report to your home location on election day," Trautman said. "Now you can vote at any voting location."
Two new locations in particular will make early voting easier in Harris County, especially for young voters — one at the University of Houston and another at Texas Southern University (TSU).
"We shouldn't have to jump through hoops to vote," said Michael Adams, a political science professor at TSU. The polling location at TSU will serve over 9,000 students, plus faculty and staff, and any member of the public. The University of Houston polling location will reach over 46,000 students.
Adams said the new TSU location has added significance at the historically black university.
"I think certainly their voices are being heard," he said."And what better place than to have it on our campus here."
Adams said many of his students commute to Texas Southern and the campus is a convenient place for them to vote. He said he's planning to take advantage of the new site himself.
"This is historic, to have it here at Texas Southern University," Adams said. "I'm a resident of the Third Ward. So I'm going to cast my ballot on campus this year."
Registering young people to vote is another challenge to voting in Harris County. Texas law requires high schools to provide their eligible seniors with voter registration forms. The principals are deputized voter registrars, but they have to request forms from the state twice a year to give to students. Voting rights advocates say the law is not enforced.
"The key problem preventing that is that state leadership does not treat high school voter registration and compliance with the law as a top priority," said James Slattery, an attorney with the Texas Civil Rights Project.
The advocacy group recently found that in Harris County almost half of high school principals didn't request voter registration forms for their students.
That's actually a major improvement. In 2016, no major county in Texas had more than 12% of schools request even a single form.
"Educators don't have to go through these hoops to get the forms," Slattery said.
For one thing, the Secretary of State's office could send the forms to schools without requiring schools to request them first. Or Texas could let voters register online, like 37 other states.
Advocates say reaching high school seniors really matters.
"If you vote the first three times you are eligible to vote, you are so much more likely to become a lifelong voter," Slattery said.
This November, the stakes are high — Houston voters will choose a mayor, 16 city councilmembers, and many voters in the area will also have the chance to fill two open seats in the state legislature. The deadline to register to vote in the November 5 election is October 7.