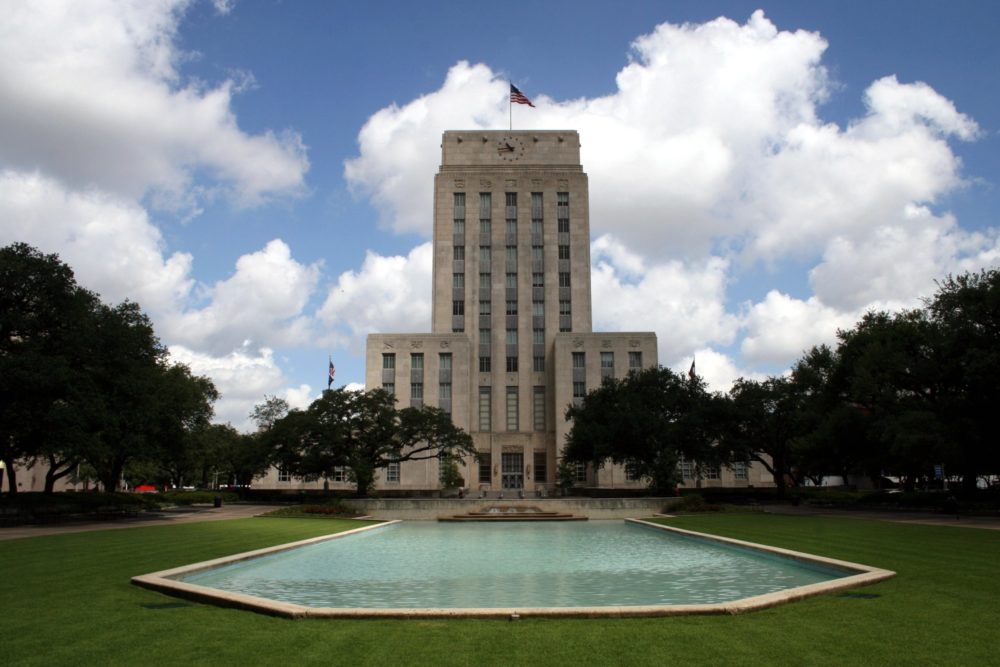 With six weeks until Election Day, Houston Public Media and KHOU-11 are releasing the results of their poll on Houston's municipal election. Rice University political scientist Bob Stein conducted the poll. News 88.7 sat down with Stein to discuss his findings.
Q: How concerned should Mayor [Sylvester] Turner be about his chances for reelection, given people's views on where the city's going?
A: There's a little bit of a paradox here. The mayor gets what I call very mixed scores on his job performance. Fifty-one percent of the voters rate his performance as mayor as "excellent" or "good," and 37 of that 51 is just "good." But 46% rate his performance as mayor as "poor" or "fair," with as much as 20% "poor." Yet the mayor leads in the poll. Yet most voters think the city, 58 percent, is heading in the right direction...Much of that really is about who Mayor Turner is seen by the voters [as being], and that is as a Democrat and as a progressive Democrat.
Q: Theoretically, we're in a nonpartisan election, but anybody who's followed Mayor Turner throughout his career knows that he previously served as a Democrat in the State Legislature. How do people judge the other candidates that way?
A: I've been polling for about 40 years, and I've never failed to find that most voters know who the Democrat and Republicans are, at least among those candidates who are incumbents. Mayor Turner is the Democrat. So are [Councilmember] Dwight Boykins and [former Councilmember] Sue Lovell, but voters don't know that.
What they do know is that [former Kemah Mayor] Bill King, who almost became mayor four years ago...is a Republican. The real problem was for the mayor, and for possibly many voters, is nobody knew about Mr. [Tony] Buzbee. If you recall, during the Democratic [presidential] debate here at TSU, Mayor Turner ran an ad on TV telling voters that Tony Buzbee was not only a Republican but a supporter of President [Donald] Trump. This is a city that voted 68% for [former Secretary of State] Hillary Clinton.
We asked a very specific question: "How important is it to you that the next mayor of Houston be a Democrat?" Forty-one percent said it was either "important" or "very important." Only 20% said they would not support a Democrat for mayor. What I'm suggesting here is that the mayor, at least, has nationalized this campaign.
Q: What do the mayor's numbers look like compared to his main opponents?
A: Well, he has almost a 2-to-1 lead on his closest opponent, and that is Mr. Buzbee. The mayor has...37% of vote support. Mr. Buzbee has just a little less than 20. And [Mayor Turner] has almost a threefold lead over Bill King, who has 9.5%. Now it should be noted almost 20% of the voters don't know who they're going to vote for at this point. What's most surprising is that Bill King, who four years ago came within 4,000 votes or less of being mayor in the runoff won't make the runoff this time. You would have thought that Bill King and Mayor Turner were headed for the same kind of close runoff that we've seen in the last four years. Not at all. Mr. Buzbee has clearly eclipsed Mr. King and come within...10 points or so of being close to the mayor in the general election. I'm certain that there'll be a runoff. But what we see in the runoff, among people who know who they're voting for, Turner leads 54 to 40.
Q: What should the mayor's opponents take away from this poll if they're looking at least to get into the runoff with him?
A: On the issues...the ones that I would think would be important would be flooding, streets – congestion, traffic problems – and the general performance of government. Although I don't find evidence that these are the issues on which voters are going to make their choice for candidate, they're clearly weaknesses in the mayor.
View our full analysis on the poll data, including what voters say are their top issues, here.