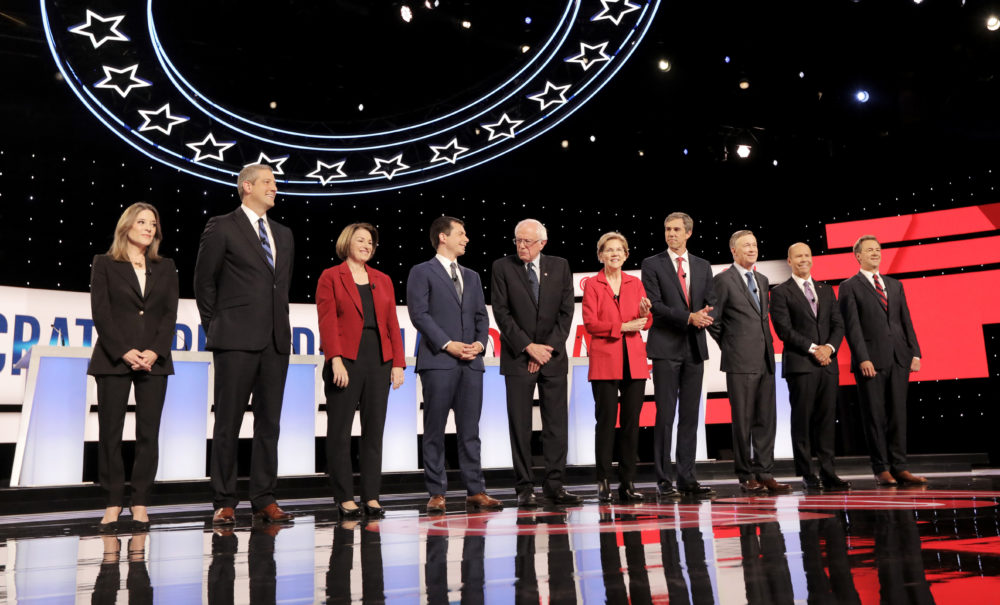 The third Democratic presidential debate of the 2020 campaign takes place tonight here in Houston at Texas Southern University. Many of the 10 contenders on tonight's stage have already made multiple visits to Houston in recent months. It's hardly unusual for candidates, even Democrats, to come to Houston for fundraisers. But these men and women have been coming for town hall-style events and rallies. And they're giving every sign they think they can win not only the city, but Texas itself – a state that hasn't gone to a Democrat for president since Jimmy Carter won in 1976.
"Certainly the state of Texas is up for grabs, and I think the city of Houston is changing in terms of its electorate," said Michael O. Adams, chair of the political science department at TSU.
Adams says the growing diversity of Texas as a whole, and Greater Houston in particular, explains why Democrats are optimistic about their chances in the Lone Star State. He says TSU's student body is an example in miniature.
"In terms of being majority African American," Adams said. "I think we check on all of the boxes in terms of what some of the issues have been in this campaign. If you look at the presidential debate, I think social inequality, in terms of social justice as it has been defined and framed, and it touches upon lack of access to healthcare and all these things."
Not to mention issues like immigration and gun control, which are issues not just of local or statewide interest, but are likely to be critical in deciding who becomes the party's nominee in Milwaukee next July.
"The road to the nomination in many ways runs through Texas. That's certainly true for the Democrats," said Brandon Rottinghaus, a professor of political science at the University of Houston. "Super Tuesday is going to be a big day, and the winner of Texas, or at least the primary winner in Texas, is going to be somebody who's going to elevate their ability to gain delegates going to the full floor and the nomination fight there."
Rottinghaus says the more time and energy candidates invest in Houston now, the better poised they'll be to reap the rewards of that connection later – in money, in Democratic delegates, and potentially in votes in the general election.
"Bernie Sanders, of course, has been here a couple of different times, because not only did he run four years ago, but also he has invested a lot in Texas in growing a more progressive base in Houston," Rottinghaus said.
Joe Biden made one of his first campaign stops in Houston in May, speaking to the American Federation of Teachers shortly after jumping into the race. But it's Elizabeth Warren who can claim some definitive connections to Houston.
"Elizabeth Warren has got local connections, being an undergraduate and then a faculty member at the University of Houston, so she I think wants to be in a position where she can frame herself as the kind of hometown favorite, and that's something that a lot of people will connect to," Rottinghaus said.
And then there are the two Texan candidates, former Congressman Beto O'Rourke and former HUD Secretary Julián Castro, both of whom are lagging behind the national field. Renée Cross, senior director of the University of Houston's Hobby School of Public Affairs, says this debate could be a make-or-break moment for both men.
"This is their state," Cross said. "They've visited Houston in a number of capacities, not only throughout this presidential run but previously. So if they can't do well under those conditions, I think they're going to have an even rougher road ahead of them."
If the past debates are any guide, Castro and O'Rourke may have a tough time getting attention. The lower-polling candidates have tended to get fewer questions than the field leaders.
Tonight's debate kicks off at 7 PM Central Time. It'll air on ABC and Univision.