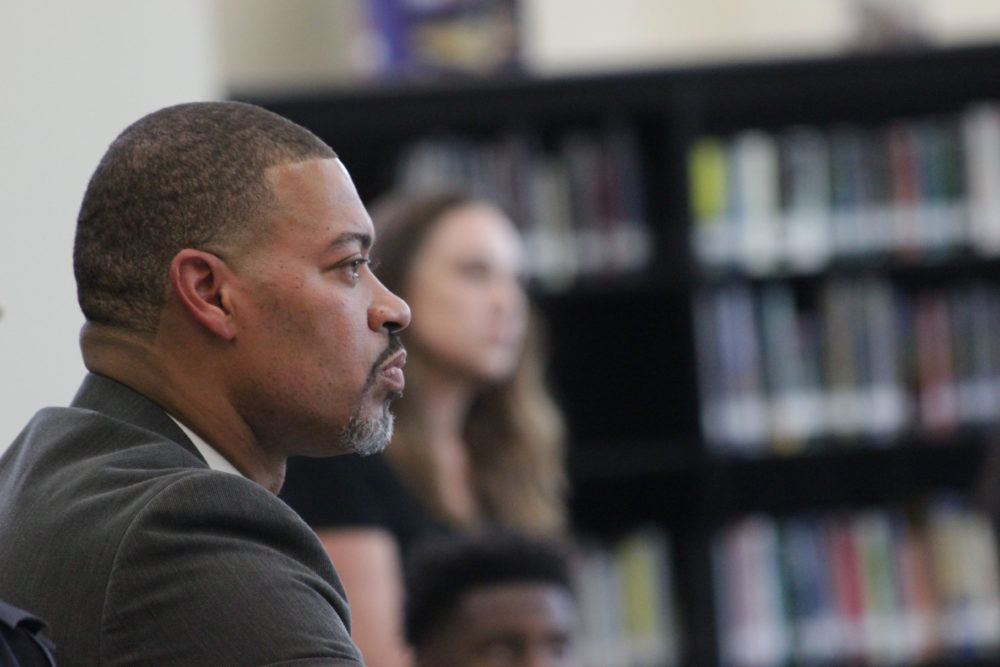 For seven years in a row, Wheatley High School in Houston's Fifth Ward has failed state standards, likely triggering a state takeover of the entire elected board for the Houston Independent School District.
The struggles at the school have prompted calls from education advocates for the interim superintendent to appeal its "F" rating to try and stave off sanctions.
Elected officials, teachers, students and union leaders rally against potential state takeover of @HoustonISD , calling it a political move by @GovAbbott and punishment for a district that as a whole is performing at a B and improving #hounews #txed #hisd pic.twitter.com/PXuB7o1QcZ

— Laura Isensee (@lauraisensee) August 21, 2019
Wheatley alumni have also started a petition for the Texas Education Agency to install a board of managers — in an effort to avoid the other potential penalty: closing the historically black campus where the likes of former U.S. Reps. Mickey Leland and Barbara Jordan studied.
Caught in the middle is Wheatley High School, where some 870 students attend school. The vast majority of them are students of color and over 94% of the campus is economically disadvantaged. The principal, Joseph Williams, is starting his second full year at the helm and recently talked with News 88.7 about his focus, regardless of what happens with state intervention.
Below is the conversation, which has been edited for length and clarity.
Q: How do you feel about the new year?
A: I'm excited about it. We have a lot of great things in place. Certainly, the state charges us to make sure that our scholars receive the academic curriculum, right? But prior to that we know that there are many other needs that need to be met. And so I'm really excited by the wraparound services that we'll be providing to help address those physical needs, those psychological needs. I'm excited about it.
Q: Are you going to have any different focus this year or intensify a certain focus to really turn things around?
A: We're excited about the growth we had last year. I mean, we had pretty much double digit gains in biology and algebra. U.S. history — we maintained a great level of achievement. But for whatever reason, we're still trying to figure out this English piece, you know, this literacy piece. And so that's going to be the key focus this year — to really you know (focus) not only on those English I, English II classes, but to embed those literacy routines across curriculums.
Q: I asked (Interim Superintendent) Dr. Lathan earlier about where she sees the focus for Wheatley and what they're doing at the district-level to support Wheatley. She mentioned adding additional teachers in core content areas, adding more tutors, enrichment activities. How do you feel about the staffing level?
A: As it relates to the number of teachers, we're certainly grateful that she's added three intervention teachers that are going to support our programs. We have a large at-risk population — which each year we're going to reduce that population.
Q: Which population?
A: At risk — and I'm defining that as (performing) "below grade level." So with that said, when you have scholars on those low reading levels, you know, you have to do some intense intervention … And that requires that guided reading with small groups. So that requires more folks.
So we have teachers that are going to be co-teaching with our core teachers. In addition to that, (Lathan's) provided us some funding so that we can have some additional tutors. We do have a grant from (the Texas Education Agency) where we are going to have some UH tutors that are going to be supporting us as well. So we're going to just overwhelm that problem — that literacy problem — and give these scholars the support that they need.
As it relates to quality, you know, that's one thing that we're going to continue to build the capacity of our teachers. That's one of my things I'm pushing my leaders to do — to make sure that we're coaching teachers and giving them that support.
Q: How much of a challenge in the turnaround are the support services, the school culture?
A: Number one, we're grateful that we have so many different partners and service providers to help us address all those different needs, right? Because as I said earlier, we have a lot scholars with different affective, psychological needs. And they just need support.
But, you know, it's really all about changing mindset … Because you can have that strong teacher in place. You can have all the great interventions and so forth. But if that scholar is not in there, and they don't have the mindset to want to learn, then it's kind of all in vain, right? So you need those wraparound services to help with mindset and help scholars to stay focused and so forth. But, at the same time, you need the other piece, too.
Q: How much would you welcome state intervention? I'm not talking about a board of managers, but in the turnaround?
A: Anybody's who's willing to help, I'm all for it. Anybody that knows me as a principal — this is my 13th year as a head principal, I've been at three other turnaround schools — and anybody that knows me, I'm always receptive. If you're coming here to support and help my scholars, then come. I'll find the office space, right? I'm OK with whoever's here to help our scholars.
Q: I know some members of the alumni association have a petition going, asking parents to support a state board of managers because they don't want to see Wheatley closed. Do you have any thoughts on that petition?
A: All I can say is that they have a great passion for their school. And one thing I've learned in a year and half here is that the roots go really deep. What, 90, 93 years here at Wheatley? The likes of Barbara Jordan, Mickey Leland and so many countless others that have come through here. And so that's the one thing I love about this community is their passion for their high school and they want to be successful and they certainly don't want to close.
So if they're looking at any safeguards — and that being one of them, the petition — then I certainly understand. Because I don't want us to close either. I want us to be here and I'm confident that we're going to get there. We came up just a little bit short.